Welcome to Act Six Abroad!
The Unity Multicultural Education Center (UMEC) desires to keep the Gonzaga community informed about the inspiring pursuits of Act Six scholars who are currently abroad.  As we continue to seek ways to develop the whole person, we encourage you to take a few moments to stay up to date with these emerging urban leaders and invite you to post comments.
This spring 2013 semester, one scholar is expanding his educational experience. Jesus' Esqueda from Cadre III, is in Florence, Italy.
Enjoy…
April 19, 2013
Being abroad has impacted me intellectually because I have realized the importance of ethics in situations. For example, on times I was sitting down, discussing lifestyle and politics with my English for pasta family, and I was able to recognize that their perspective was as important to them as mine was to me. In this situation, I would push myself to keep an open mind and to take their perspective into account, no matter if I agreed or not. This is a utilitarian state of mind that is perfect for this situation since thinking like this helped me socialize with my English for pasta family a lot easier.
I have also been impacted socially, because I had the opportunity to be a part of a close knit group within the Gonzaga-in-Florence program. This group was the people in my hotel. I don't think I have ever been a part of such a socially dynamic group in my life. The group of guys and girls in this hotel were very understanding of each other and outgoing. Being with these people, I realized that being a part of the same team with these people helped us in establishing this close knit friendship that we had. I say this, because a couple of the guys and I would constantly go out to play basketball or calcetto (soccer) with one another and when we were out there, I realized that these guys were competitive, but would still complement you when you did something wrong. With this experience, I feel like I will be able to take away some good team building skills after noticing the closeness of our group.
Lastly, being abroad has impacted me spiritually, because I have been able to see the impact the Christianity has had in Europe. Also, I was able to recognize that the mark Christianity has made on Europe seems to be more of a tourist attraction, rather than a spiritual connection. Recognizing this has set me back in my spiritual journey, but I regained faith when the Pope Francis was elected. I have admired the way Pope Francis has stirred up some of the traditions of the Catholic Church in order to focus on the poor and the marginalized. I am looking forward to the future with Pope Francis.
Looking back at how prepared I was I felt like this was something I needed to focus on in coming to Florence. I had so many expectations of having cross-cultural interactions, but it didn't play out how I wanted. I could not communicate effectively with the Florentine/Italian people, so I didn't get to have the conversations I wanted.  Outside of what the school offered, I did not push myself fully to find opportunities where I can learn about the Italian history and cuisine. Being this unprepared, I realize why Act Six has this theme. I have now experienced that going into a situation unprepared, you will immediately become disillusioned about your goals, and you will recognize that this could have been prevented through preparation.
March 27, 2013
I am excited about Pope Francis, because he represents two major things to me. First, he is a Jesuit, so right off that bat he pledged to serve "the poorest, weakest, the least important". Being a student at Gonzaga and embracing its Jesuit traditions, I feel a connection with the plan of the new Pope. Second, is one that was discussed in my Catholicism class, which is the rise of the south (the south being Latin American, African, and southern Asian countries). I am glad to see that the election of the new pope represents the Catholicism in the south. I felt like there was a need for a non-European Pope, because as of today, Europe only represents a fraction of the Catholic population. Many of my peers in Florence voiced that they are really excited, becasue  Pope Francis is changing some of the structure of the Catholic church while maintaining the Catholic tradition.
March 7, 2013
This month I visited the city of Viaregio and I got to experience the carnival, which the city has hosted for the last 140 years. The Carnival was a great experience because of the decorative floats and because of the way the community gathered to host this event.  Also, this month I have started to go out to the city parks to play calceto (soccer) and basketball. Playing these sports have been a great way for me to interact and meet some Florentine people.  In playing calceto, I have noticed that there are more Latin American immigrants than I had expected, which is great because it is much easier to communicate in Spanish (relative to my elementary Italian and their elementary English).
I have just had a great intersection with community here in florence because of the Socratic club that Father Jerry put together.  I would say the intersection was through vision and community. At this meeting, the topic of discussion was religion and art and it made me reflect on my experience in Paris. in paris i realized that churches in europe  have become centers for tourism instead of worship and spiritual connection. This troubles me and the reason why I bring it up is, because the Socratic club was a great place for me to share this. It was a setting were students and professors gathered to have academic dialogue. This to me represented the a community gathering for the purpose of evaluating our vision and sharing different ideas that would enhance the vision of the community.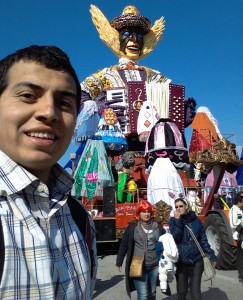 January 15, 2013
Hey everyone! I decided to go abroad because it was an opportunity that engineers rarely get the chance to do. Also, I thought it'd be a good opportunity for me to jump into a culture that I don't know much about. Being in Italy really helps me understand how people interact with one another in this culture.  I hope I get a good understanding of the lifestyle that Italians live. I wish to do this because many times I take for granted the lifestyle that I live in the US. By the way, I miss the fast internet! That is one of the first things my friends and I noticed about Florence. But I miss my friends, my girlfriend, and the campus.
Stay tuned for more…
June 29, 2012
It's been almost a week since I've returned from my study abroad journey and after spending time reflecting and looking back at my experiences, I have to say that my time in London was probably the best time of my life. Looking back at it, I realize that I was so blessed to have taken a trip like this and I am so grateful for those who made it possible for me embark on this journey.  I definitely had a lot of fun on this trip, but besides the fun and besides being entertained by the allure of London's colorful nightlife and bountiful opportunities for shopping and commerce, I feel that this experience has also impacted me on a deeper, more meaningful level. During my very short five-weeks abroad, I've learned much about myself, about life, and about this very small world we inhabit. One very important lesson I've taken away is that this world thrives on the endless connections made between countries, communities, families, and people.  One obvious connection I've noted during my stay in the UK, is the long-term, often overlooked, intertwined heritage of America and Britain. It's quite ironic that my grade school textbooks characterize America's "revolution" as heroic and brave, while the information I've gathered from the many British History Museums I've visited says otherwise.  Nonetheless, while abroad, I realized that this connection between America and the UK has a much greater significance. It signifies that whether we rebel, revolt, or seek independence, we inevitably are all parts of a whole. A connection can be good or bad, but it can never really be severed. For me, this realization has implications on a personal level as well.  I took this trip in hopes that I would become more mature and independent and I did mature, but I also learned that because this world thrives on connections, complete independence is completely impossible!
As an Act Six Scholar, it would be very difficult to view this trip and my experiences without keeping in mind the lessons I've learned during training and throughout my Act Six journey thus far.  I've previously written about how my experiences have intersected with the Act Six theme of diversity and I've lightly touched on community, but further retrospection has urged me to expand upon the notion of community.  As a final project for the Spirituality course I took abroad, I had to do a report on GK Chesterton, the author of "Orthodoxy".  For those of you who aren't familiar with Chesterton, he was a British author and Christian apologetic. During our Act Six Training, we had to read an excerpt from "Orthodoxy" which read "Rome was not loved because was great, she was great because she was loved". This passage encourages us to remember that the situations we face may not be the greatest, and our communities may not be the best in the eyes of the rest of the world, but when we truly become invested in our communities and are willing to love them unconditionally—that is when they become great. I just think it's amazing how I got to live this out first-hand and experience London the way GK Chesterton encouraged other Londoners to experience it.  The fire and love Londoners seem to have for their city is the same passion I wish to bring to Lakewood, my home community.
June 18, 2012
Greetings once again from London! This week our group toured the British Museum & British Library, as well as saw an amazing production of the Broadway play, Wicked. At the British Museum, I saw some remarkable exhibits, including the Rosetta Stone, Cleopatra's Mummy just to name a few. On our tour of the British Library, I saw the Magna Carta, which was very exciting for me as I'm considering a career in law & public policy. Besides visiting museums this week, I was challenged to reflect on a couple of Act Six themes and how they may relate to this trip. One theme that I am continuously experiencing here in London is diversity. Despite London's controversial, imperialistic history, it boasts one of the most diverse populations in the world! It's truly inspiring to see people of all colors and backgrounds live amongst each other in harmony—especially now during the Queen's Diamond Jubilee season when everyone seems to have put their differences aside and have come together to celebrate the Queen. Another Act Six theme I've been reflecting on is community. This theme is very much prevalent because people here in London really love the city. It might not be the cleanest, safest, or best place in the world but the sense of patriotism I get from Londoners in regard to their community is quite infectious.

June 5, 2012
Greetings everyone! I decided to go abroad in order to broaden my worldview and get a true sense of how interconnected the world is. London is a great place to experience such global interconnectedness because it so diverse. I hope to learn more about the world as and international community rather than just a collection of separate countries. Through my travels and by navigating such a big city I hope to become a more independent, mature, cosmopolitan young woman. I haven't really had a chance to miss GU yet. It's so awesome here, at this point, I don't want to leave!
July 16, 2012
Now that my experience in Mexico has ended, I can clearly see how much Mexico really effected me. While there, it was hard to see the bigger picture. We just went day to day trying to communicate in incorrect Spanglish. However little by little I found myself growing accustom to a different way of life. In Mexico it seems everyone has never ending patience. If there is something that needs to be done, it doesn't matter if it takes ten minutes or twenty as long as it gets done. It takes a lot to get people stressed out. There is a different gauge of urgency. This is something I really enjoyed about Mexico. In college, we all have the tendency to get caught up in our busy schedules and not just step back and relax, and this relaxing time is very important. I've really learned how to do this and developed a "go with the flow" attitude and I am excited to encourage this attitude in my friends and family. I've found myself saying "its okay" or "don't worry" more than I ever have in my life and with this outlook I'm much happier than I've ever been.
Another thing that life in Mexico taught me is life is meant to be lived and enjoyed. There are people in Mexico who clearly struggle everyday to simply feed their families and survive. However, when it's time to forget worries and have a good time, all concerns go out the window. Whether it's a salsa club or a simply trip to the movies, everyone sets time aside to have fun. This is the way it should be. The biggest lesson I took away from Mexico was that life is meant to be lived. We should all have a time where we throw our worries away and just enjoy each moment that we are in.
One thing I found to be very inspiring is the unwavering spirituality of Mexican people. Mass and religion are the foundations of the family and there is no question  that the people are faithful. This is something that I find very inspiring and encouraged me to start my own faith journey to find the resolution and strength in faith that many Mexican people have.
There are many aspects of my experience that intersect with the Act Six themes. The clearest intersection was with regards to diversity. There is an amazing amount of diversity in Mexico, and it is something that the people really struggle with. There is an amazing amount of tension between the indigenous people, mestizo people, and afro-mexican people. There was even more tension than in the US. The struggles in Mexico are a very real and everyday reminder of how important embracing diversity is.
Another theme that was very evident in Mexico is community. The family community in Mexico is the most important thing in Mexican society. The family however is not just the mother, father and children. The family is aunts, cousins and neighbors. The bonds are strong and provide a foundation for daily life. This is something I really would like to see in our Act Six family, a bond that endures all. We need to foster a bond of people that can laugh together, cry together and grow together. It was very inspiring and solidified my commitment to Act Six.
June 18, 2012
Of course as a good scholar I've seen many connections to what I learned in Act Six. One thing that is very prevalent here is diversity. You would think that people would have a collective Mexican identity. Instead, there are more separations than I would have imagined. Here there is a very clear line between the Indigenous people, the Mestizos (or what we would call Mexican) and the Blancos (which is very different than White in the US, here this is a light-skin Mexican or someone of European dissent). It is even obvious to tell just by looking around you. You can also tell what part of town you are in by what the people look like. The area on the outskirts of town that we drive through to leave the city is clearly indigenous. All the people there look different from people in other parts of town. These are also the poorest parts of the city. When we go to exchange money at the shopping mall in downtown Cuernavaca you would think you were in the South Hill of Spokane. Everyone there is very fair with light hair and clearly affluent ( I've seen quite a few Coach bags and  Louboutin shoes- ladies, you know what I'm talking about). The diversity is striking. In the States, we see Mexicans as Mexicans, here the difference between Indigenous and Blanco is as clear as the difference between Black and White in America. Because of this the people struggle with racial tension and problems with unity, just like we do.
I have officially reached the half-way mark of my experience in Cuernavaca, Mexico! The trip has been amazing so far. The first weekend we went on an expedition to the Toltec pyramids in Teotihuacan. It was an amazing to experience a place that predated the Aztec Empire and Spanish colonization. The site has two major pyramids, La pirámide de la luna y la pirámide del sol. We climbed both pyramids in 93 degree weather. Needless to say it was difficult at times but the view was worth it. After climbing for six hours we went into Mexico City. The city was amazingly beautiful but clearly showcased the income disparity in Mexico. While in the city we went to the Cathedral de la Virgen de Guadalupe. The cathedral is the largest outside Europe, and in my opinion, the most beautiful.  The next weekend we went to Puebla and Cholula, both small towns famous for their cathedrals, churches and of course more pyramids. Cholula was our first stop, although it took us more than double the time to get there because our bus got stuck in an ally and caused a 32 car traffic jam. Once we finally arrived it was beautiful. We saw of course more pyramids, this time they were inside a mountain. The pyramids were Aztec and used for human sacrifices, very exciting. Next stop was Puebla.  It is said that Puebla has a church for each day of the year and I think we went to all of them. The city is absolutely stunning and was built for Spaniards living in Mexico, because of this it is very European looking and quite glamorous. While in Puebla we tried some of the famous mole, a dish with meat and chocolate sauce. It is quite popular here in Mexico, but I have to say I am not very fond of it. It's a little strange eating chocolate on your chicken. After visiting ten hundred churches, one who's interior is constructed completely out of gold, we returned to Cuernavaca. This past weekend we went to yet another pyramid site. This one was on top of a mountain instead of inside one. It took us about an hour (in the pouring rain) but we made it to the top eventually. While I'm not searching for pyramids or taking pictures of churches the majority of our time is spent doing homework and going to class, which is a bummer because I am practically in summer school. Luckily, we have some free time to have fun as well.
June 5, 2012
Mexico is great so far! I decided to go abroad because I knew I would have an experience that I probably would not have the chance to have again. For my future career, it is very important for me to be culturally aware and speak Spanish well, so I knew an immersion program would help me grow as a Spanish speaker and as a person overall. After these six weeks I hope to have a much better command of the Spanish language. I want to have experiences that I would not be able to have back home and grow as a person, as well as a student. I know this will be an experience unlike any that I have had before. I don't know exactly how I will grow and change after Mexico but I know it will be significant. I had to leave Gonzaga to realize how much I absolutely love it! I miss everything, even the COG. I would have to say I miss the close friends I made last year the most, as well as UMEC staff of course. I am looking forward to my summer and I know I will enjoy it, however I am excited to come back to Gonzaga in the fall.
Reflections from Spring 2012 semester from three scholars from Cadre I, are expanding their educational experiences. Thuy-Anh Vo is in Washington, DC, while Jasmine Linane-Booey and Ylisse Bess are in Florence, Italy.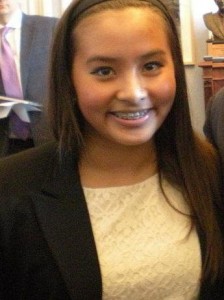 Thuy-Anh Vo, Act Six Cadre I Junior
I am a double major in Political Science and Philosophy and a minor in Business and Women Gender Studies.
May 2, 2012
As a 20-year-old student still pursuing her undergraduate degree, I am proud to say that I have successfully pushed for the reintroduction of a bill in the House of Representatives, and I have been interviewed by a NY Times Reporter working on a story about GI soldiers and their children as well as a reporter from Saigon Broadcasting Television Network and Radio Free Asia. The interview is up in Vietnamese, and I am trying to get a hold of the link. The NY Times reporter is still writing the story, which will take awhile. I am supposed to call him when I get back to Spokane. Ms. Zoe Lofgren (D-CA) had been hesitant about reintroducing the bill with no Republican sponsors. After I lobbied in Mr. Chris Smith (R-NJ) and Mr. Peter Roskam's (R-IL) office, they were unresponsive about whether they would be on board again this time. I asked her to introduce the bill to at least get the issue out there even if it dies, so that I can use it to activate Amerasians in the United States to help me with advocacy efforts as well as the Veterans Association of America. Ms. McMorris Rodgers (R-WA) is currently reviewing the bill to see if she would like to hop on. I know the chances are very low for the bill to survive getting past the Judiciary Committee since I need to do more work to gain allies that would be critical to the passage of the Amerasian Paternity Recognition Act (ARPA). Not only that, but there's also the "dark side" (the Senate) that I would have to figure out.
All in all, it was successful because I accomplished a stepping stone. This week, I also got a call from Debra Wada from the House Armed Forces Committee who is interested in sitting down with me to talk about protecting women in third world countries during war especially in light of the recent incidents with the CIA, secret service men, and ICE agents. I am not sure how I could ever leave DC with these calls for meetings coming one after another, but I know I am young. Somehow, I will be back. I need to finish school back home and work on a grassroots level for my senior year. I am also trying to find time for myself, my friends, and my finals right now. My professor said "Welcome to the Public Life, where you will be extremely busy working to serve your community, but it will be rewarding!"
A lot of Amerasians look at me like I'm a celebrity, but I'm only a regular college student trying to do good. My inbox is flooded with requests from Amerasians who would like me to represent them at their meeting with their congressmen as well as from staffers in Congress. The biggest challenge right now is balance!
Friday was also my last day working at HIAS, and my Senior Policy Associate teared up hoping that I will come back for the summer. It has been an unbelievable week. I was even shocked when Ms. Lofgren compared my situtation to Norm Mineta's legislation of compensating the Japanese who were put in internment camps by the United States. There is no way I can take any honor like that until I keep fighting and accomplishing the end goal.
Today, I got an email asking for me to write a first person 1000 word essay to be published in the November issue of Hyphen magazine.
March 20, 2012
I had the wonderful opportunity to participate in the 2012 HIAS Advocacy mission in Washington DC. It was inspiring to see individuals who are passionate about the same issues get together to promote HIAS' advocacy goals and to educate the Washington policy community about HIAS. It was also incredible to see the program come together after weeks of planning and finalizing details. I want to personally thank everyone who participated and those who were critical to the success of the mission.
The Hebrew Immigrant Aid Society is an organization based on Jewish values, focusing on a shared history of migrations. HIAS provides rescue and refuge for persecuted and oppressed Jews around the world as well as other refugees. In relation to advocacy, HIAS' work is interfaith and secular. Immigration and refugee policies affect a variety of marginalized populations. While researching legislative vehicles to prevent religious persecution for my internship, I learned that the Lautenberg Amendment has also helped many Vietnamese  refugees. HIAS supports legislation that respects the humanity and dignity of all immigrants and refugees such as the DREAM Act and the Refugee Protection Act.
Throughout history, Jews have identified with the margins of society and have known what it means to be an immigrant, refugee, or a "stranger." It is through this consciousness that HIAS is compassionate towards others, being a voice for Jews and non-Jews. As a student at a Jesuit University, I have always been taught to be a woman for others and to utilize my privileges for social justice. HIAS promotes the Jewish values of aiding the oppressed and welcoming the stranger. The more I learn about other cultures, the more I realize the multitude of commonalities that exist between them despite the differences in geographic location, language, and skin color.
Ms. Marita Dresner spoke at the "Unconventional Refugees" luncheon on March 12th, during the HIAS mission. She shared her experiences and her story working in refugee camps. Even though her story and situation was completely different from my family's story, her description of the plight of refugees was still similar. I could still make connections between our stories. Ms. Dresner spoke about the spies in Russia, and my maternal grandfather was a spy in Vietnam for the U.S. government. Ms. Dresner also spoke about the ways in which Jewish refugees had to prove that they were Jewish. They were asked questions about holidays and their culture. This reminded me of my father's story as an Amerasian, the son of a Vietnamese mother and American soldier. After the Amerasian Homecoming Act, Amerasian children born before 1982 were allowed to come to the United States. The only way officials could tell that an individual was Amerasian was through physical appearance. In both of these instances, the common issue was that these oppressed individuals faced the injustice of others defining them, rather than having the freedom to define yourself as Jewish or Amerasian.
At the HIAS Advocacy mission, I was asked quite frequently whether I was Jewish and why I decided to work at HIAS. It was a good question. While researching for internships this spring, I have to confess that I skipped over the HIAS job posting quite a few times. I do not know what it was that finally got me to go back to the posting and apply for it. I figured that at least it would be interview practice and maybe I should broaden my horizons. After meeting the DC staff and checking out the website, I knew that I wanted to intern at HIAS.  Despite the other options that I had, I wanted to work at HIAS because I wanted a challenge. I have always believed that intercultural dialogue was the best guarantee of a more just and peaceful world. Working at HIAS was an opportunity to live out one of my values. The only way to combat prejudice would be to learn about other perspectives and perhaps share my own. At a Jewish organization, I am without a doubt outside of my comfort zone, but by the end of the semester, I expect to have a more genuine understanding of another culture and religion, maybe even a little Yiddish!
February 16, 2012
If you ever asked me what I thought I would be doing right now five years ago, I would never say that I would be studying in Washington DC, meeting important elected officials (Supreme Court Justice Alito, Mr. Lamar Smith, etc.), interning at an immigration advocacy organization, doing my own Amerasian advocacy work, and attending a private Jesuit University. I knew that these privileges were not usually given to individuals in my social location, which is why I often find myself thinking, "Is this really happening to me?" My life here in DC just seems so unreal. As a first generation college student from the west coast, I never thought that I would be experiencing life in the heart, soul, and lifeblood of politics in America, where laws change and everything happens.
During my first couple of years in college, I had no idea where my niche was. I could not find purpose to what I was doing even though I knew that my heart was in social justice, but where? I was struggling with an existential crisis! It wasn't until my trip here to DC in November lobbying with the Ignation Delegates of Gonzaga that I knew exactly what I wanted to pursue. I finally discovered a passion that gets me out of bed every morning.
Adjusting to life on the east coast was definitely a struggle the first couple of weeks. I had never been away from my family or hometown for an extended period of time, and the fast-paced, go getter mentality here was definitely a culture shock. It's abnormal to take five minutes thinking about what food I want to order here. I went to the eye doctor and talked the saleswoman's ear off until she warmed up and finally started talking back to me. (I discovered that are common interest was hamsters.) My roommate from Boston likes to walk as fast as I normally run. Why would you use the term "wicked" instead of "hella?" Baristas don't care what you're doing today, and you can wave for a taxi, just like in the movies. At Gonzaga University, I find that students are stuck in a positive, overly optimistic, safe little microcosm where everyone is pretty darn sure they are going to change the world. It is great to be optimistic, but words need to align with actions. I get frustrated thinking about the things students could actively do to challenge and engage elected officials, but they don't.
On February 15th, I had the honor and privilege of meeting Congressman John Robert Lewis. Here was a man that's been arrested 48 times for nonviolent civil disobedience, has a speech impediment from having his jaw broken in two places, believed in the justice of getting into good trouble, and still continues to fight for justice! I was in the presence of a man that was a major contributor to American history, who had been beat down by the system continuously but still continues to endure the struggle. It was a good reminder that hard work does bear fruit. Advocacy work can seem tedious, never-ending, and producing no short-term results and it is important to remind ourselves why we are doing what we are doing. Nothing has been more incredible than meeting the congressman.
My first day at HIAS was not like I imagined. I was in over my head trying to understanding the language surrounding immigration law and lingo. ICE, DHS, CBP, VAWA, ORR?! What I had known about the injustices of the legal system had only been on a personal level. I was familiar with stories of the oppressed, not necessarily the legal process of detaining and deporting an individual or minor changes that could be made in the legal system that would make the lives of refugees much easier. It was a humbling experience, and I did not feel smart at first. Eventually, with some help from my supervisors and mostly Google searches, I had the ability to navigate through the lexicon of immigration terms. It was not as difficult as I thought, and I am thoroughly enjoying the fact that I learn new things every day about a variety of marginalized populations. At a Jewish organization, I am without a doubt outside of my comfort zone, but by the end of the semester, I expect to have a more genuine understanding of another culture and religion, maybe even a little Yiddish! There is a value of actively listening to those around you and soaking it in. As my professor always says, "You have two ears and one mouth for a reason!"
I hope to get the full DC experience this semester, and I am even thinking about staying here for another. The value of my time here is definitely up to me and what I make of it. With a positive attitude and an urge to learn and squeeze out everything I can from this city, I am convinced that my time here will be worthwhile. Through these experiences, I can already see myself growing mentally, spiritually, and physically; it's astounding how much being in a new place can change and challenge you.
Thuy-Anh sitting where the impeachment of Clinton Hearing took place and doing a mock hearing on the second amendment and HR 1234 on safety courses for owning guns.
Jasmine Linane-Booey, Act Six Cadre I Junior
Major: Applied Communications Minor: Environmental Studies
April 27, 2012
Recapping my Study Abroad Experience
Over the past ten months of travel I have learned so much about myself, some of which I do not think I will ever be able to fully articulate. I discovered what truly makes me happy in life and what I will stand up against in any situation. During my time in Germany I was able to really start believing in myself. I went completely on my own and traveled by plane, metro, train and bus all on my own. This was the trip when I lost a lot of fear and realized that everything I wanted in the world was simply within arms length. All I had to do was go. I have always been a fairly dependent person but being in Germany reinforced that. Working with the kids also helped me understand once again that that is a direction I want to take my life. Although it may be later down the road, I definitely rekindled a forgotten passion.
Coming home from Germany and only having three weeks until I departed for Turks and Caicos was a difficult transition. I felt that by the time I had gotten comfortable back at home it was time to leave, and I was not ready. Turks and Caicos was a constant challenge intellectually, physically, and mentally. I was the only non-science major in the program and took that in itself as a challenge to prove my worthiness in the program, I had to read assignments twice and work on days off but in the end it paid off and I have never been more proud of an academic endeavor. The combination of a small group of people, an even smaller island and extreme heat offered its own unique challenged as well but in the end, my fall semester in Turks and Caicos will be one of the best time of my life and something I will always be proud of.
Jumping into city life in Italy was unique as well. I took this time to do a lot of self-reflection. Throughout this past spring semester I really began to piece everything together from all my travels, what I have learned from home. I took this last semester before my senior year to compile all that is "me" and play with all of my theories, values, passions, dislikes and I worked to make that a coherent thought. I have returned to Spokane with a clearer view of what I stand for and where I want my life to go. I am excited with the idea that once again, that will all change but for now, I'll work with what I've gotten.
I think my travel experiences have intersected most with the Act Six theme of transformation. I have learned so much about who I am and what that means in terms of my future as well as my present. I more clearly can see who I want to be and how I want to act. One of my weaknesses that I have been working on is the diea that every person has goodness in them. I truly believe that within every human there is intrinsic good that can be harnessed and shown. My weakness is presented when I disagree with how a person acts or presents him or herself. If I want to stay true to my beliefs, I need to find that good inside each person and work with that, despite outside influences. Through my travels, experiencing different cultures, living in close-quarters with small groups of people and understanding different ways of life, I have better been able to understand that weakness and work to break it.
This is me in the Coliseum in Rome during our opening tour in January. This was by far my favorite place in Rome. The history that lingered in the walls was unreal and the size was overwhelming. To understand what took place here and the lifestyle was extremely interesting to me.
This is me after I finished my first half marathon. I trained all semester in Florence (and other random cities). I ran the Rock n Roll Half Marathon in Edinburgh, Scotland.
This is my group of campers in Rostock, Germany. We were team America for the end of the week LEOlingo Olympics. Learning how to work together despite a language barrier was always an exciting challenge!
March 7, 2012
February 20, 2012
I always knew I would study abroad from before I even entered college, it was just a matter of deciding where! Since I was born and raised in Spokane and decided to attend Gonzaga, I felt I needed the "being away from home" experience for at least a year. I also made the goal for myself that in school, I would push myself to do something completely new and outside my comfort zone. I decided to pick up a minor in Environmental studies as it is a relevant topic today and something I knew NOTHING about. With that I chose to study marine science in the Turks and Caicos Islands for Fall 2011. For my decision to go to Florence I was recently in Europe and just really wanted to go back and live for a longer period of time!
From this experience I hope to learn a lot about myself; my likes and dislikes my strengths and weaknesses and that process has already begun in a big way!
What I miss most about Gonzaga so far is my Admissions family (where I work), my friends back on campus, the Chocolate Milk at the COG, and the Gonzaga Spirit. I love being able to walk around the campus and always see someone you know, who cares how you are doing and is always willing to offer a friendly hug. This feeling is definitely felt here in Florence on a smaller scale but it will be great to have back in Spokane as well!
This weekend, I met up with friends and we tasted mouth watering chocolates at Florence's Chocolate Festival! For those of you who have not experienced Italian hot chocolate try melting some good old dark chocolate into a cup and there you have it! It's unreal. After a sugar overload we warmed up with a walk around the Gucci Museum and bought a few hand bags… bahaha, NOT!
The very next day my Friend Victoria and I got up early to catch a bus to Venice to experience Carnivale! What an experience it was! The masks and extravagant costumes were so fun to look at. Venice in itself is simply beautiful built solely on canals, it was even more magical than I imagined it would be. When the sun went down all the streets were lit with string lights and reflected off the water! Bliss!
After our 3 hour-dethawing bus ride home last night it is time to hit reality and do some homework! I am heading to Sardegna this coming weekend to spend some time with my Italian family, the Pani's! Until next time!
Arrivederci!
Ylisse Bess, Act Six Cadre I Junior
Major: Sociology and Religious Studies
May 4, 2012
Recapping my Study Abroad Experience
Studying abroad in Florence Italy, I had the opportunity to experience a variation of cultures. This expanded my perspective on my life and the idea of a "global society." For my studies I read Marsillio Ficino, Michaelangelo's poems, however, this was unlike any other school experience. I read Michaelangelo's poems about his sculptures and paintings and could leave after class to see his work, his home, his study, in PERSON! I found that in his time artists were more than painters or sculptors. They studied anatomy, wrote poetry, had political and religious influence. I was reminded that life is interdisciplinary, that the idea of educating the "whole person" is not some simple concept, but a reality. Studying abroad opened my mind to the possibility of being a part of everything, and that I should never limit myself but learn all I can and to share that knowledge with my peers. It was truly a transformative experience.
Transformative in the sense that life is an immeasurable gift, a gift that grows, develops and becomes new every day. I visited the home of Galileo Galilei and was amazed at his works and philosophy on life. One quote I really enjoyed from him was "I do not feel obliged to believe that the same God who has endowed us with sense, reason, and intellect has intended us to forgo their use." I am so truly blessed to have the chance to apply my knowledge to my every day experiences. As I watched my application I was amazed at the way I saw the world in which I live. My reason allows me the opportunity to step outside of myself, and it's a wonderfully feeling to be reminded how small I am and how much more of there is to learn.