Experience the magic behind the stories you grew up with…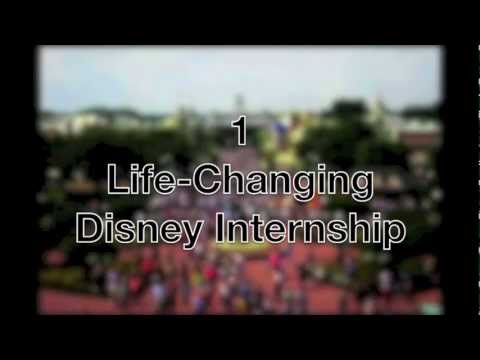 Semester-long intern program and opportunities for recent grads
Network with leaders, take part in personal and career development, build transferable skills like problem-solving, teamwork, guest service and effective communication.
Here's a preview to the application. Please feel welcome to bring questions on information night!
Application requirements:
Be enrolled as a Full-Time or Part-Time Student and Taking Classes in the United States
Meet any school requirements for participation (ex. G.P.A., grade level, # of credit hours earned)
Be at least 18 years of age by the time the Program Begins
Possess Unrestricted Work Authorization
For international students
Be currently enrolled in a college/university in the U.S. and possess unrestricted US work authorization (studying on a F-1 or J-1 visa).
Contact your international student advisor with questions on eligibility.
Be sure to have a US Social Security Number issued to you. Should be invited to participate, you will be required to submit verification of your legal right to work in the U.S. at the time you arrive.
Locations in Anaheim, California (Disneyland ® Resort) and Lake Buena Vista, Floriday (Walt Disney World ® Resort). Career opportunities all across the country.
From Andrew Kover Class of 2011
During the spring of my junior year, I decided to do a semester long internship at Disneyland to work at the Happiest Place on Earth. I worked in Custodial Operations, maintaining the levels of cleanliness only Disney knows how to do. While that may not sound like an internship, I was able to learn how a theme park maintains their show standards after hosting over 250,000 guests a week. From this initial internship, I networked with leaders and executives throughout The Walt Disney Company, and was able to return after graduation to take part in a Professional Internship in the Finance department. I managed the monthly forecasts for multiple Business units and created the yearly Annual Operating Plan for those departments. Since then, I have held multiple "roles" (since all Disney employees are "Cast Members" in the show we provide), before moving to Walt Disney World in Orlando, Florida. I have had many memorable moments throughout my time with Disney, but the one thing that makes me want to stay is seeing the satisfaction from the guests that visit us day after day. For many, visiting is a once in a lifetime experience, and we all play a part in making that experience as memorable as possible, from the sweepers, to the chefs, to the executives. Gonzaga played a major role in bringing me to where I am today, and I still use those values in every part of my life. My education is put to use in the most unique and fascinating ways possible.
You, too, can experience the magic like Andrew!
Disney offers 20 Different Positions to from. For full descriptions, visit Role Descriptions
Audition for a Character Performer Position* offered only at Walt Disney World ®)Resort in Florida
See Restaurant Environments for information about the Disney Culinary Program
Careers for ALL MajorsDisney encourages a career where you "Make a world of difference." Being part of the Disney family offers job positions in:
Broadcast/Media
Corporate
Creative
Entertainment
Operations/Travel
Sales/Marketing
Students/Recent Grads
Technology/Digital
10/17 Disney Information Session Wednesday, College Hall 135  5:30-7 p.m.
RSVP at Zagtrax.net