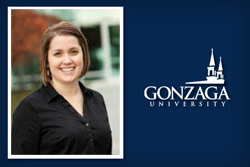 Sarah Arnold, graduate of Gonzaga's M.A. in Communication & Leadership Studies online program, attributes her COML degree with giving her the confidence and knowledge to start her own company.  Socially Seasoned, a marketing firm focused on social media management, caters to small and medium-sized businesses in Arnold's hometown in Indiana. "The information I learned about CMC and strategic marketing planning helps me every day in my roles." says Sarah.
Sarah tells us, "I totally recommend this program to anyone that wants to further their education in the Communication & Leadership fields. You can't find a program like this that integrates both subject matters, which I feel go hand-in-hand. Being able to complete the degree almost completely online was perfect for my lifestyle and schedule, but just when you think it can't get better, you go to Spokane for your practicum and are blown out of the water by GU's hospitality, history, and just pure awesomeness!"
Also an adjunct faculty at Indian Wesleyan University teaching Communication courses online, Sarah realized her love and passion for Higher Education while earning her M.A. at Gonzaga. "My COML degree has made a profound impact on my life," remarks Sarah.
Learn more about our M.A. in Communication & Leadership Studies online program and what it can do for you on our website.