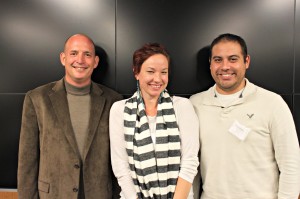 As Melanie Steel worked toward an M.A. in Communication & Leadership Studies online degree (her second master's degree), there were several factors that were important.  "Among others, it was important that the degree come from a quality school, offer me growth both professionally and academically, offer convenience, as well as allow for the nurturing of relationships among classmates," says Melanie.  As a member of the National Communication Association, Melanie was aware that Gonzaga's COML program had been honed withe "most innovative program. "I quickly determined that the program could offer me quality, growth, and convenience.  I jumped in hoping the relationships would fall into place," she continues.
Melanie tell us, "My first class through Gonzaga was my first experience with a fully online class.  By the end of the first eight weeks, I made a close friend with a classmate from Washington.  After three more classes, names started to sound familiar and I began to recognize the ideas, attitudes, constraints, and personalities of my classmates – all of this from taking classes together while residing in different corners of the country.  Personally, the relationships really came together after ten months in the program when I attended my first on campus residency.  The experience was similar to finally meeting someone you've known virtually for years.  Within hours, the entire group had clicked and it felt as though we had sat in the same room with each other for each and every class.  It was beautiful.  It was fulfilling.  It was exciting."
"I am now over half way through the program and some of my closest friendships have developed through my time as a Gonzaga student.  I live in Houston, but I have friends in Maryland, Oklahoma, Florida, Washington, and California.  We all talk on a daily and/or weekly basis.  They know my daughter and we share Christmas/Valentines/Sympathy/Just Thinking of You cards.  My daughter even refers to one of my friends as "Uncle Jeff!", Melanie continues.
Melanie recommends, "Those considering this program, the prestige of Gonzaga and the convenience of an online education are easy to see.  What may be unexpected, as it was for me, is the quality of relationships that you can develop and nurture through a virtual connection – partly due to the required residency component, which solidifies the connection of the students.  To say the least, it has and will continue to be the experience of a lifetime."
Melanie will graduate from the COML program in the Spring of 2014. Gonzaga's M.A. in Communication & Leadership Studies online degree provides opportunities like these to Melanie and many other students for a flexible and unique learning experience.