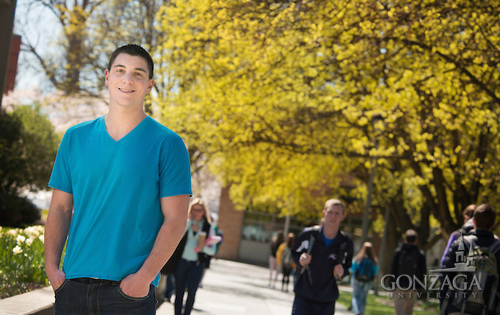 Throughout his four years on campus, Tyler Knop has forged scores of memories. It's hard to pick a favorite, he says, but his time at Gonzaga has certainly left an indelible impression.
"Members of the Gonzaga community are always so positive," he said. "They seem to have a true knack for inspiring me to be my best and achieve greatness."
Knop, a native of Reno, Nev., graduated with degrees in mathematics and economics. He also left GU with a minor in analytical finance. And while he can't choose a favorite, there are a few memories that stand above the rest. Studying abroad in Italy, for example, tops the list. He also cherished his Mission: Possible trip to Denver and his time working in Telefund.
"It is certainly bittersweet," Knop said of graduation. "But I have no regrets about how I spent my time here, so in that sense, I think I am ready to graduate and experience new adventures."
Knop already secured a job that followed graduation. He moved to Portland, Ore., to work as an account executive at Zones, Inc., an information technology products and services firm.
"I am excited for classes to be done and proud of all that I was able to experience and accomplish over my four years. However, my Gonzaga experience has been such a defining part of my life. When an experience like that shapes you so dramatically, there will certainly be sadness upon departing."
Before he begins that new chapter of his life, however, he recently shared his thoughts about his time at Gonzaga. Below are his responses.
What inspired you to major in mathematics and economics?
I didn't start with either of these as my major as a freshman. I eventually ended up with math as a major because I have always loved messing with numbers and always loved that math was so black and white. There was a right answer and a wrong answer. Then, I decided eventually to choose economics as a major because … the social science aspect of the subject really intrigued me. The economy is based on so many human elements, such as market expectations and human behavior.
Why did you choose Gonzaga over other schools?
Gonzaga was already my top choice, but immediately after traveling to Spokane and taking a tour, I knew my heart was set on being a Zag. The beauty of the campus, the beauty of Spokane, the friendliness of the people and the opportunity to explore the Northwest all told me Gonzaga was where I needed to be.
What have you learned working in Telefund that will help you in your career following graduation?
I have learned just how much the support of so many people truly matters. At Telefund, it is the support of alumni, parents and friends of the University that allows the school to stay in operation … their support makes Gonzaga possible. Telefund has taught me the importance of appreciating, thanking and accommodating the people that truly allow the organization to run.
How has Gonzaga shaped your perspective on life and the world?
Gonzaga has shown me how important it is to chase what ignites your passions in life. I have been fortunate enough to meet so many wonderful people at this school who either do what they love every day or are on track to live out their greatest passions each day.
What will you miss most about Gonzaga?
The thing I will most about Gonzaga is the people. The friends I have been lucky enough to make and the relationships I have built have brought so much happiness over the past four years and given me so many good memories that I can always look back on. I am hopeful and confident that several of these friendships will prove to be lifelong relationships.