During the annual Tomorrow Made Possible event, students stop to sign "thank you" postcards to generous donors who make their Gonzaga education a reality. One particular student had her daughter, a second-grader who was at GU on spring break, by her side. As Mom signed a postcard, the young girl followed suit.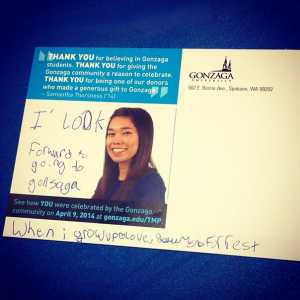 I look forward to going to Gonzaga when I grow up.
This young girl's note of thanks is more than just a sweet imitation of her mother's gratitude; it is an ideal sentiment to share just how far the impact of donor generosity can reach. If this second-grader indeed does come to Gonzaga, she will be part of the class of 2028 and will likely still benefit from the loyal generosity of alumni, parents and friends.