April 15, 2015, will mark the annual celebration of those who believe in Zags through their support the University.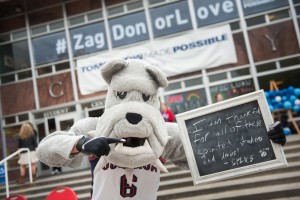 For this campus-wide event, students are invited to sign The Wall, share photographs and messages of gratitude on social media using the hashtag #ZagDonorLove and sign "thank you" notes for the more than 14,409 donors who gave in support of Gonzaga last year.
Every year, tuition is supplemented by thousands of dollars of additional support, provided by the generosity of Gonzaga donors. This support helps keep tuition costs down while still allowing Gonzaga to provide the best Jesuit education and student experience possible. Tomorrow Made Possible is a day to celebrate the parents, friends, alumni, faculty and staff who help to offset these costs.
Learn more and see pictures from last year's event at gonzaga.edu/TMP.