The first day of orientation started 5 days early for a group of 38 new freshmen Zags, as well as 14 student leaders. They arrived on Gonzaga's campus early for Reality Camp, a service immersion program put on through CCASL (Center for Community Action and Service-Learning), where students engage in community service projects both on and off campus, jump-starting their social justice education and meeting new classmates.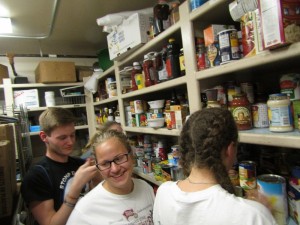 This year's camp was coordinated by senior students  Donald Hitzeman ('16) and Olivia Schneider ('16)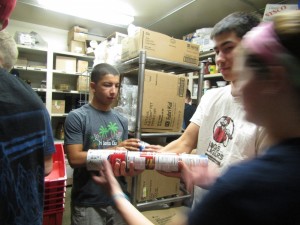 . Olivia explained that, "Reality Camp aims to inspire students to acknowledge the simplicity of providing care in a world that sometimes falls short with caring. We are one people and it is a magnificent thing to just be in the presence of one another." Olivia has participated in Reality Camp in the past, but she notes that, "no year is the same, it feels like every year, I am learning with the campers in a different way."
Seen here, a group of students organized canned goods in Campus Kitchens, which will soon be used to package meals to send to families who lost their homes in our state's recent wildfires. Other groups volunteered at sites like Global Neighborhood, East Central Community Center, YWCA's Sister's Closet, Women and Children's Free Restaurant, Camp Cross, The Arc, The O'Malley Apartments, Second Harvest, House of Charity, and The Women's Hearth.
It is because of Gonzaga's supporters that students are able to experience such humbling connections within our larger community, all before they even set foot in a classroom. Pre-orientation programs like Reality Camp could not be possible if it weren't for the belief and support our donors show.
If you would like to make a gift of support to Gonzaga's Reality Camp, visit gonzaga.edu/giveonline.