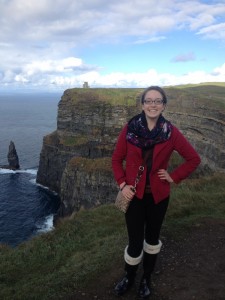 Music is in Kayla O'Sullivan's ('15) blood—it's been an important part of her life for as long as she can remember. Science has also been a passion, which explains why she majored in biology and minored in music. She has a natural curiosity about the world around her and plans to pursue a future in medicine.
O'Sullivan's parents are both Gonzaga alumni. She heard from them about how special being a Zag would be, but didn't realize how truly special it was until she experienced it for herself.
"I was excited to build relationships with my classmates and professors," she said. She indeed built many relationships, one of her most memorable being with a music professor.
"My entire life, I struggled with performing with confidence and volume," she admitted. "This professor wouldn't allow it. He encouraged me to play my violin with all I had. He vocalized the notes with such volume until I played over his voice. He made sure I understood the history behind the pieces and shared so many stories. Sometimes, he would get so into these explanations that he would start dancing to the music as we played. I am so grateful to have the opportunity to have learned, practiced, performed and become friends with such a talented instructor."
O'Sullivan is also grateful for the scholarships that made her Gonzaga experience possible.
"I am so thankful for the kindness that has provided me the opportunity to attend my dream school," she said. "Because of you, I have been blessed to study in Florence, perform my violin under the instruction of phenomenal faculty, and feed my fascination for science. Thank you so much!"