Remember those coloring pages where you had to connect the dots in order to make a bigger picture? I think those are a lot like meeting and coming to know a person. The facts of a person's life are like the dots of his or her own picture. Where did they grow up? Did they move a lot? Do they have siblings, or are they an only child? What music do they listen to? Why did they pick their major? Do they prefer sunrises to sunsets? Are they spiritual? In conversation we go through the routine of attaining the dots, but usually treat them as facts to be memorized rather than connected and understood. On paper they may seem bleak and lifeless, but once they are connected, they show the fullness of a person's life. This is my way of explaining what a Gonzaga Telefund caller does during every phone call. We collect the dots of those who pick up the phone, make connections to what that person values and encourage giving back to the aspects of GU that foster those values. That said, here are the "dots" about a few of our student callers—people we affectionately call "Telefriends."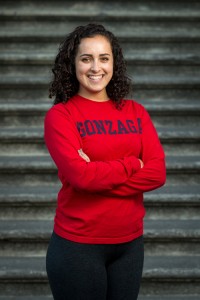 Kristin Gunderson ('17) is from Shoreline, Washington. She is an accounting and management information systems major at GU with a younger sister named Melanie, and a pet named Tosha (described as a big, wiggly, white dog of fluffiness). Her favorite color is green. If you were to play some funk music, memories of her family's "Funky Christmas" will flood into her mind and a reminiscent smile will flash upon her face—the focal point of Kristin's picture is her family, which leads to her next dot: Gonzaga.
In her time at GU, Kristin found her home away from home. As an empowered woman anxious to stick her toe in the business world, Kristin has poured her heart and soul into the family of like-minded students that is Alpha Kappa Psi, the co-ed student business fraternity on campus. In this family, she serves as secretary on the executive board, which connects us to her next dot: leadership. Kristin keeps a watchful eye on the back-burner details of the group's activities, taking notes and arranging awards.
Numbers make sense to Kristin. Her resilience through mathematical struggles stems from another very special dot: Mr. Martinez, Kristin's high school math teacher, who she described as a funny, quirky man who taught her the true bliss of persevering through tough equations. This love of math helped put Kristin on the path she is walking today with her accounting major, and is a passion she hopes will help her travel the world in her career, perhaps as a traveling advisor. She's excited for what is ahead, always guided by what she treasures most—family.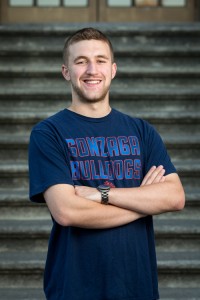 Next up are the dots belonging to Alex Read ('17). Originally from Kirkland, Washington, he is double-majoring in business administration with marketing and operations along with a minor in Spanish. He has a younger sister named Taylor. The first concert he ever attended was Avril Lavigne in the 4th grade, which led to him choosing his future wife: Avril Lavigne.
Alex prefers sunsets, especially in the company of his Dad. His favorite color is blue and he feels a sense of calmness in walking up and down grocery store aisles. Ask him about a dream or goal and he'll reply with a mischievous smile that he aspires to be famous. The most foundational dot in Alex's picture and the driving force in all he does is his creativity. It gives Alex a deep passion for all that exercises his mind, like utilizing his ridiculous sense of humor or developing a brilliant marketing idea to deliver the outcome he craves.
Don't hold your breath while Alex makes a decision though, or you'll find yourself unconscious due to his meticulous nature. Every decision Alex makes for school, his career, or even in answering a simple question is calculated. He has a constant desire to create something not only outside the box, but five lengths of a football field outside the box. Like Kristin, Alex enjoys this process of creating in the company of the co-ed business fraternity, Alpha Kappa Psi. If you get to meet Alex you will find a goofy, yet approachable fellow; a person who enjoys the presence of others, while waiting to enjoy his sweet successes.
Kristin and Alex both enjoy finding where their dots intersect with the alumni, family, friends, fans, faculty and staff of Gonzaga University during their nightly calls from the Telefund. The stories, advice and donations they collect help to fill out the pictures and continue to connect the dots for themselves and others, so be sure to answer when the Telefriends call!
By Erin Cairns ('18), Telefund caller and GU student.