Gonzaga's online Advent calendar has become a family tradition year after year, sharing GU-themed fun and an inspiring countdown to Christmas Day. This year's calendar featured a Jesse Tree activity, with printable ornaments to color and cut out. It's a fun activity for the whole family and a dynamic way to trace God's promises and the stories from creation to the birth of Jesus. This new feature behind one of the calendar doors was especially enjoyed, as Pam Henager shared on the Gonzaga University Facebook page: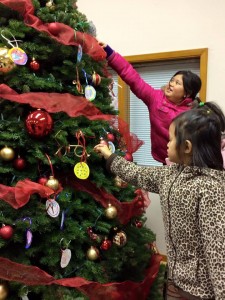 "Here are some photos of our Kid Connection kids hanging their Jesse Tree ornaments (from the GU Advent calendar) on the church Christmas tree at Family of Faith Church in Kennewick, Wash. Our lesson was about how God kept his promises to Abraham and Sarah—so it was a good fit to talk about how God kept this promise (among others) by sending Jesus. We loved the simple, beautiful pictures to color. Thanks for this great resource. Most of the kids who attended this midweek program are from refugee families, primarily from Myanmar (Burma)."
(Photo credit: Lora Roosendaal, sister of Katy ('15))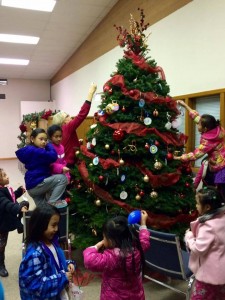 We are so grateful for Pam and her kind words. It is truly heartwarming to see the way these children are engaging with the spirit of Advent.
You too can still print out the Jesse Tree ornaments and enjoy many more fun activities, videos, stories, games and surprises behind each door of the Gonzaga online Advent calendar.
From everyone here at Gonzaga University, we hope you are having a joyful Advent and a Merry Christmas!