As an institution dedicated to producing well-rounded individuals who foster the Jesuit ideals of being men and women for others, Gonzaga University has a handful of students who go above and beyond the standard and are truly selfless individuals devoted to social justice—students like Brahiam Villanueva ('18) and Cierra Dauenhauer ('16). Both are callers with the Gonzaga telefund team, affectionately known as the "Telefriends."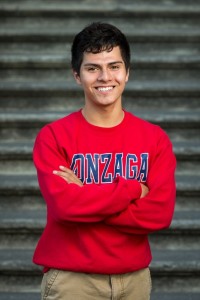 Originally from Michoacn, Mexico, Villanueva moved to Moses Lakes, Wash., when he was seven years old. He has two younger brothers: Francisco and Jonathan. He is double-majoring in history and English/writing. His goal is to become a successful lawyer and also one day publish a children's book. Since he was a child, he dreamed of becoming a teacher.
In his Mexican household, it was customary for the eldest child to be in charge of sorting through and organizing business affairs for his or her parents. This responsibility sparked a passion for learning in Villanueva early on. If he did not understand something in his father's papers, he went to the library to check out the dozens of books it took to learn more about it. Speaking on behalf of those he loved made him feel important in his role; his little brothers would ask him what two plus two equaled and Brahiam would gladly sit down and explain why the answer was four. He loved gaining knowledge and applying what he learned to life, so when it came time to pick a university, he was shown how this knowledge could be steered toward a life of stewardship by an important person in his life: Mariel.
In the tight-knit community of Villanueva's local church, everyone knew everyone and seemed to have a shared opinion that women were meant to get married and produce a big family. That is, everyone except Mariel—she had other opinions. When she walked up to the altar to deliver an announcement to the congregation regarding education, she commanded respect. She had no fear, no doubt about who she was and where she wanted to go in life. When Villanueva saw this, he decided to do everything he could to go to the same school as Mariel. That school was Gonzaga University.
Since then, Villaneuva has embraced his thirst for knowledge in every capacity Gonzaga has to offer, especially through the student mock trial team. It is his hope to one day command the respect of a courtroom, fighting for the justice of others just as Mariel had fought for her respect that day at the altar of their hometown church. Now, Villanueva knows exactly who he is and how he wants to affect the world—as a steward for knowledge and a representative for those who are unable to represent themselves.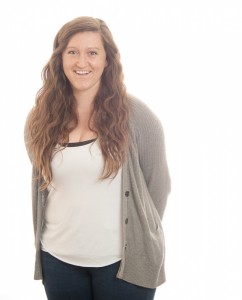 Cierra Dauenhauer is a young woman who displays the character of her Irish heritage and Montana upbringing in her everyday interactions. Originally from Butte, Mont., this biochemistry major has three sisters: Aubree, Marki and Lexi. Minoring in religious studies, her favorite part of her Gonzaga experience has been the Search retreat. Her childhood dream career was to become either a pediatrician or an Olympic athlete. When asked for her favorite color or season she simply replied, "I love it all," which perfectly reflects her personality.
Dauenhauer has an "I can fix it" attitude, thanks to her father providing her with lessons in the constant renovation and upkeep of their family's cabin near Georgetown Lake, Mont. He taught her to not be afraid of getting down to the root of a problem and fixing it herself—a mindset she has carried with her wherever she has gone, especially within Gonzaga's community dedicated to social justice. Her family volunteered at soup kitchens, clothing drives, and several opportunities in the community where they lived. Dauenhauer continues giving back through Justice in January, Campus Ministry, and Residential Life Block Council here at Gonzaga. They've been experiences that played a large role in shaping her passion for service.
For Dauenhauer, it does not matter how much her career pays or how impressive the job title sounds, because her vocation is central to her identity—she said she will not rest until she fulfills her dream to make this world a better place by utilizing her knowledge in the lab for others—perhaps by starting a free medical clinic or serving as a doctor in a refugee camp.
As a little girl, Dauenhauer refused to make turns on the ski slopes because she loved the exhilaration of flying straight down a hill, arms stretched out, jacket unzipped and shouting like Tarzan. If you look at her today, you will most certainly still see that little girl in her spirit. She is a young woman headed straight towards what she believes she is called to do, not bothering with the turns that may slow her down from reaching her dreams, arms outstretched and ready to go out and fix injustices, or as St. Ignatius directed, "set the world on fire."
"This is the right thing to do. This is what I have to do," she said.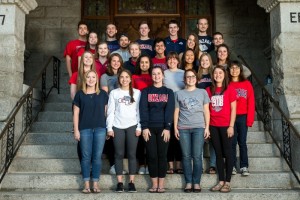 Villanueva and Dauenhaur have formed their identities to represent a desire for justice in such different ways, but find themselves connected through the values found in a true Zag. They also share in the experience of talking with GU alumni, families, friends, faculty and staff through their work with the telefund and look forward to the chance to hear your story, too!
By Erin Cairns ('18)