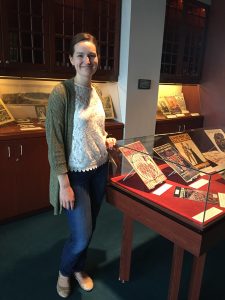 What started as part of her work-study job in the library of the Foley Center Library quickly became an inspired senior honors thesis project for Gonzaga University Honors Program graduate Margaret Thompson-Johnston ('16).
"I started with a deep interest in World War I history," she explained. She had already worked to help digitize pieces in the University Archives and Special Collections, including some of the nearly 20,000 pieces in The Howard W. Wildin Sheet Music Collection when a recommendation from her boss, Special Collections Librarian Stephanie Plowman, connected the two.
"She suggested that I curate an exhibit to go up in the rare books room, using the Wildin Collection," said Thompson-Johnston. "I started exploring the music again and I noticed some recurring patterns with respect to the portrayal of gender and gender norms specifically related to the war."
America, Here's My Boy: Gender in American Popular Music during World War I was the 40-page thesis and special exhibit curated by Thompson-Johnson, who noted that while gender in WWI has been widely studied, the bulk of the existing research she found had used letters and literature as the primary sources. Her research involved the close examination of 369 individual pieces of sheet music.
"I found great value in working closely with primary sources," she said of the experience. "As an undergraduate, having the opportunity to work with the physical pieces of a collection and picking apart patterns in a body of historical records like this has been truly formative. I am grateful for the experience provided by the interdisciplinary research requirement of the Honors thesis project and the way it challenged me.
Support for academic innovation helps to fuel initiatives and programs like Honors, which Thompson-Johnston credits with having provided her with a rewarding learning experience and inspiration for her future plans.
"In the fall of 2016, I will be an Honors Program Assistant, taking on a number of roles throughout campus," she explained. "Beyond that, I want to get my master's in library science."
You can experience the result of Thompson-Johnston's research and the America, Here's My Boy: Gender in American Popular Music during World War I exhibit on the Foley Center Library's website. Thanks to the generosity of Howard and Nancy Wildin in donating this collection of music and to all who support Gonzaga University each year with their gifts for making Thompson-Johnson's experience and that of many other students possible.