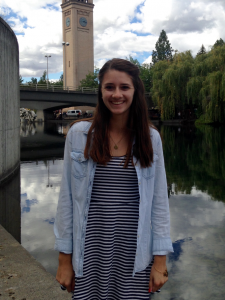 Sponsored Zag and future pediatrician Danielle Boggs ('20) has always had a clear vision for her bright future. Inspired by her grandma, Boggs had a strong desire to keep her Catholic background at the root of her education. Boggs is set on the track to become a pediatrician with an extensive knowledge in chemistry, a love for science and the call to serve others.
"My end goal is to improve the lives of others, give some a second chance at life, and help raise the next generation of our country. This goal outweighs all of the challenges and years I will take to get there," she said.
It was evident to Danielle that Gonzaga University was the place to get her where she wants to go. The Catholic environment and the University Mission exemplify everything Danielle hopes to learn more about. She chose Gonzaga specifically because of the caring, friendly and genuine nature of her fellow Zags. With two younger siblings soon to be following her lead in higher education, Danielle's dream of attending Gonzaga wouldn't have been possible without the financial contribution of the donors.
"Because of your assistance," said Boggs, "you gave me the ability to attend Gonzaga where I will not only be educated in my selected course of study, but also in my faith and in realizing my role in our society today. Thank you!"