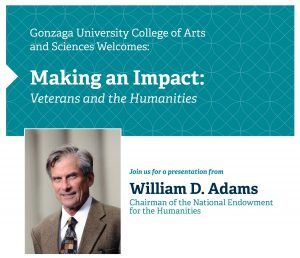 The College of Arts & Sciences and the Center for Public Humanities are proud to welcome William D. Adams, Chairman of the National Endowment for the Humanities to Gonzaga University.
As part of the Center for Public Humanities focus on the lives of veterans, Adams will be presenting a public lecture titled "Making an Impact: Veterans and the Humanities."
William D. Adams, the tenth Chair of the National Endowment for the Humanities, has had a distinguished career as a professor of political philosophy and as President of Bucknell University and Colby College. Prior to completing his degree, Dr. Adams served three years in the Army, including one year in Vietnam, which he cites as having had a profound influence on his decision to pursue philosophy.
Long an advocate for liberal education, Dr. Adams has said that, "this kind of study is not merely defensible but critical to our national welfare." In this talk, Dr. Adams will discuss the importance of the Humanities to our society, particularly our military veterans. Join us for this historic first-ever visit by the NEH Chair to Eastern Washington!
THIS EVENT IS FREE AND OPEN TO THE PUBLIC
Monday, November 14, 2016
Lecture – 7:30 pm
Cataldo, Globe Room
For more information, visit: www.gonzaga.edu/publichumanities or contact Brian Cooney.