On April 9th, 2015, Gonzaga University's School of Business Administration held the official dedication ceremony for the new Jack H. Hemmingson Finance Lab with an enthusiastic crowd of alumni, community leaders, and Gonzaga students, faculty, staff, and administration attending.
Located near the west entrance to the Jepson Center, the state-of-the-art facility will have an immediate impact on students, the business community, and the region. This finance lab will provide students an opportunity to combine advanced experiential learning with our traditionally strong curriculums in the liberal arts and business. The renovation completely transformed a former classroom into an active collaborative space replete with advanced analytic, simulative, and real-time trading information and technology to allow the School of Business Administration, in concert with our community partners, to broaden its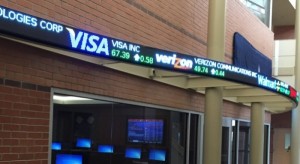 educational offerings to the greater Spokane region.
To learn more, please visit: http://www.gonzaga.edu/Academics/Colleges-and-Schools/School-of-Business-Administration/sbaevents/Hemmingson_Center/Hemmingson_Center_Email.pdf