November 18th, 2013
Comments off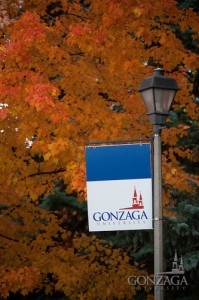 As many of you already know, this summer and fall involved a major transition for Gonzaga's Graduate School of Business (GSB). Under new leadership, the GSB continues our commitment to students and alumni. Our new Associate Dean of Graduate Programs, Dr. Gary Weber, hopes to meet many of you this December at our annual Battle in Seattle event–do you have your tickets yet?
In this newsletter you'll find great news about Gonzaga's MBA and MAcc program rankings along with University-wide recognition for some of our wonderful faculty. We also held some great events since the last newsletter, including a successful networking event at Saranac Public House this September, organized with the help of our Alumni Board Networking committee.
Be sure to select the "Upcoming Events" tab above for an updated list of our events!
We had a wonderful celebration last spring for our newest alums who are receiving this newsletter for the first time – Congratulations, graduates! Additionally, be sure to check out our newest feature, What's New in the Graduate School? We're featuring Dr. Mirjeta Beqiri's fantastic service learning opportunity offered to students in her statistics class. And don't miss our alumni updates; our graduates continue to do great things!
Look for our spring newsletter in March. As always, we look forward to hearing from you. Be sure to contact Adriane Leithauser (leithauser@gonzaga.edu) with story ideas, suggestions for featured alumni, and your personal and professional achievements.