by Judi Biggs Garbuio, Ph.D.
Vice President for Student Development
Some of you might have seen me when you were on your campus tour because my office is right across from Admissions or some of you might have heard about my now infamous emails I send out to students throughout the course of an academic year. In case we haven't had a chance to meet or you haven't heard of me yet, let me give you a snapshot of who I am…. I am starting my fifth year at Gonzaga University as the Vice President for Student Development. I have also worked within Student Affairs at The University of Southern California, Arizona State University, and Bowling Green State University. I am the mom of two teenage boys, one is attending Spokane Falls Community College and one will be starting college this fall, and my partner is originally from Argentina. I am originally from Kansas and am the sixth (baby girl) of seven kids. Fun fact: my senior year I played tennis (singles) in the state high tournament. I truly feel blessed and humbled to be leading the Division of Student Development.
So, how is "student development" informed by the university mission? "In keeping with its Catholic, Jesuit, and humanistic heritage and identity, Gonzaga models and expects excellence in academic and professional pursuits and intentionally develops the whole person – intellectually, spiritually, culturally, physically, and emotionally." I often tell colleagues throughout the world that St. Ignatius of Loyola was the first student development theorist because he realized the inherent nature of being able to focus on the "whole student". As a Division we want to create a community where students actually LIVE the university mission. We make this vision statement come alive through our four shared priorities: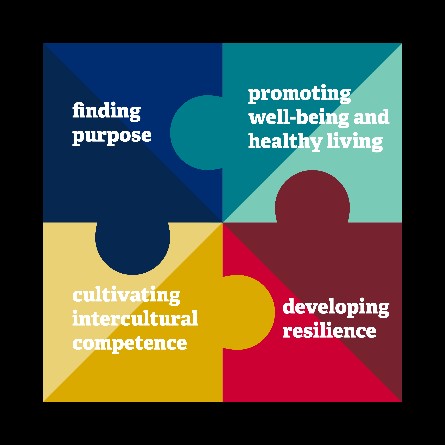 Purpose – college is all about exploring student organizations, community engagement, internships, or research opportunities (to name a few) to determine what is your purpose in life. For those of you that like lists, check out this link from Career & Professional Development (PDF) that provides a four year checklist of ideas to begin your discernment process of discovering your purpose. I would also suggest you attend one of the First Year Retreats sponsored through University Mission and Ministry (1st floor Hemmingson). Our staff will accompany you through this ongoing process of identifying your talents, discerning your vocation, while discovering your future career direction.
Promoting well-being and healthy living – "cura personalis" is a Jesuit term meaning care for the whole person – mind, body, and spirit. This recognizes that we are all complex individuals with strengths as well as areas in which we can improve. While we practice care for one another in this community (Zags help Zags), it is important for each individual to also take on habits of self-care that promote balance, wellness, and the ability to work toward health in all areas of our lives. Transitions in any form offer us opportunities to become aware of the skills we possess that help us thrive as well as the types of support we need – success is important, but so is failure – both are essential learning experiences! I encourage you to be on the lookout for programs, presentations, discussions, and opportunities to learn and grow in your personal well-being! These skills will be with you for the rest of your life.
Developing resilience – we have a great on-line resource that provides a wellness toolbox that covers the issues related above as well as a special emphasis on resilience. The Center for Cura Personalis have established some resilience activities that include: creating a gratitude of attitude, trying new things; and sharing your story. In addition, "The Examen" is a daily meditation/prayer developed by St. Ignatius of Loyola and is based upon the Spiritual Exercises. I use a variation of the Examen on a daily basis, but, if you are new to this concept I would encourage you to use this approach examen (PDF).
Cultivating intercultural competence – is embedded in our mission statement and is lived out in our residential communities, through coursework, and programs that include: intergroup dialogue, diversity monologues, invited speakers, and volunteering in the community. If you are interested in developing your own intercultural development plan you can stop by the Career and Professional Development, 1st floor Crosby and take the Intercultural Developmental Inventory (IDI). As an institution, we believe in the God-given dignity of the human person, we accompany students in exploring their own identities, and developing skills, attitudes and behaviors that allow them to be in respectful relationship with all people and learning to put the best interpretation on others' words and behaviors.
We are committed to these priorities because we believe Gonzaga students, as individuals and in community, are on a quest for self-knowledge and character formation. I look forward to welcoming you on campus during Orientation and accompanying you through your tenure at GU as we "transform together".