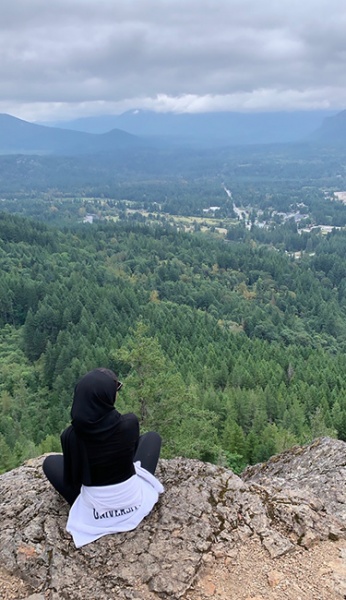 Be still. To be perfectly honest, the initial reason why I decided to study away from campus this school year was because I need to find a way to justify taking a break from being at GU and "all its glory". In my mind, the perfect way to do it was studying abroad. The perfect way to escape feelings of anxiety and depression that was not only weighing me down, but my grades, relationships, and experiences on campus thus far. Taking a gap year wasn't an option and there was no way my cadre members would let me leave Gonzaga and ACT six behind without a fight. So here I am, halfway across the world, vulnerably sharing my truths with you all today.
My first week in Spain was amazing to say the least. I live with nine other girls from all over the U.S. also studying abroad who I've grown to cherish. Along with our lovely host mom who works relentlessly to accommodate everyone the best she can. One of the first things we all did together was watch a film called "Eat. Pray. Love." Everyone seemed to be raving about it, so we spent Saturday night in drinking horchata and eating sweets our host mom had prepared for us.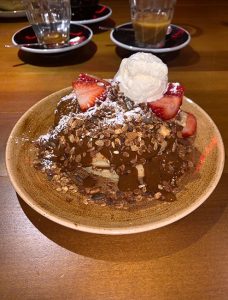 Three words: eat, pray, love. They're simple, sure, but the true meaning behind them has inspired me to reflect on how I relate to all of it. There are many universal themes within the film that I think we've all gone through or can relate to including self-discovery, heartache, uncertainty or just wanting a change in our lives in someway. This particular journey of self discovery the main character (Julia Roberts) embarks on almost mirrors everything I have felt and still feel. She goes on this journey around the world in hopes to find herself and her place in the world. In her travels, she connects and builds relationships with strangers through sharing stories and meals by eating in Italy. She discovers the power of prayer and is enlightened spiritually in India. Finally, she unexpectedly finds love, balance and inner peace in Bali.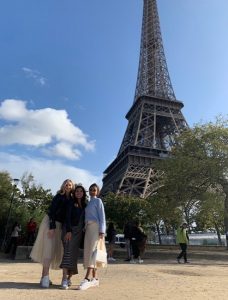 I bring up this film, to not only share about how great it was but to encourage you to reflect on your life, your relationships, how you feel, and where you are right now in this moment; physically, spiritually, mentally and emotionally. In the film, Julia Roberts comes across a Zen Master in Bali who helps guide her through her journey of self discovery. One thing the Zen Master mentions to Julia that really spoke to me is "you cannot see your reflection in running water, only in still water". In some ways, I felt that was a sign from God- telling me to stop running away from my emotions, problems…reality. For me, studying abroad was my escape. However, I realize my problems have now chased me halfway across the world to Spain- leaving me no other option then to face it. But I am grateful for it because for the first time in awhile it has allowed me to stop in my stillness and reflect. I have been able to assess and address my problems, through journaling, praying with well intention and eating (BIG emphasis on the eating part!!!). Also, not to dismiss any of my feelings, but traveling has made me realize how little my problems are compared to others and everything that is going on around me. It has widened my lenses and has made me realize how grateful I am for this opportunity I've been given to see the world outside of mine.
So, here I am, day twenty-six still reflecting, learning, failing, self-loving, laughing, eating, stepping out of my comfort zone one to many times and enjoying every bit of it. And here I thought I was just studying abroad. Little did I know that I'd be in for a bargain embarking on what I would call "the road to Aisha 2.0". So, I challenge you all to face your reflections in still water, flaws and all. To explore new things, rediscover your passions, question your work, your relationships, your habits, etc.. Continue to be the best version of yourselves. Never find contentment in complacency. Be grateful and smile. Always. Most importantly, "Eat. Pray. Love."