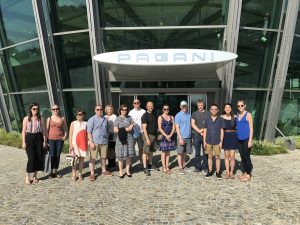 Our visit to Pagani was definitely one of the most interesting tours during the Gonzaga in Belgium and Italy study abroad program. The tour opened with the Pagani Museum, where we were presented with the history of Pagani, as well as all the different car models belonging to the company. Pagani is located in what is known as the Motor Valley, the area of northern Italy renown for the manufacturing areas of the best of the motor and racing world. Competing with Lamborghini, Ferrari, Ducati, and Maserati, Pagani has earned its place alongside the legends of the motor industry. Our docent, Chiara, emphasized the passion of Mr. Pagani and his desire to build the most beautiful car in the world. The first 100% Pagani-produced automobile, the Zonda C12, was designed in 1992 and produced only 7 years later in 1999. As Chiara explained, the Zonda C12 was modeled in a "unique and sensual" way, in order to captivate customers and entice them to buy without even thinking, as their website says. Two main things that stood out from the Pagani Museum are the following phrases: "The client is our boss" and " Pagani allows the growth of both us [as a company] and our families."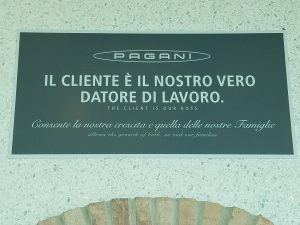 As Chiara also mentioned, the strong customer focus of Pagani has been key to the company's success. Additionally, we were presented with Zonda S, Zonda F, Zonda Cinque, Zonda Tricolore, Zonda R, and Huayra BC models. Later, the tour continued to the production area (no photographs permitted) where we were familiarized with the production line of Pagani cars.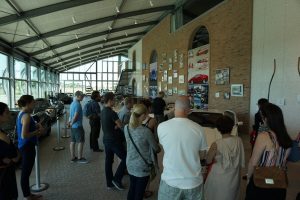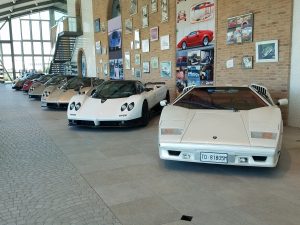 Economics and Market
Pagani Automobiles is also known for their exclusivity, which we learned all about while visiting their headquarters. It was during our tour that we all realized how Pagani markets and values their automobiles. All they do is done purely to make a market for these very exclusive automobiles for their very exclusive customer base. Their cars are completely customized to whatever the customer desires. This means that every car produced is unique and will not cost the same amount. Our tour guide walked us through the process of ordering a car — the customization options and combinations were essentially unlimited. Due to this, none of their automobiles costs the same amount or even shares an identical specification. A Pagani can range in price anywhere from €2 million to around €10 million. Part of the perception of value is established by limiting production runs to anywhere from 20 to 40 automobiles per year, as well as having maintaining a customer backlog with a 2-year waiting list. Production never begins on a Pagani unless a customer has first ordered it. As Chiara explained, their automobiles only appreciate and never depreciate, making this piece of art not only a stellar automobile, but also a great investment for those who can afford one.
To expand on the market Pagani has created, and to protect and nurture the relationship with their customers, they also create limited runs of special edition automobiles. These automobiles are always one-off and create not only a story, but tell a story with every car made. This example was made very apparent when we stumbled upon the gorgeous Pagani Cinque
Roadster numbered 5 out of 5. This car was specifically made for their Asia market and comes at a very hefty price now, estimated between €5 to €10 million, according to Chiara. We also witnessed the production run of the brand new Pagani Huayra BC model. This new "Hypercar" design pays homage to Mr. Pagani's first customer, Benny Caiola. This demonstrates just how much the company pays attention to their customers, building very close personal relationships with them. The Huayra BC will be limited to only 20 production units — all of which immediately sold out over two years ago. From the automobiles Pagani produces to the personal relationships they foster, they have created a great value through their market for automobiles and overall customer care.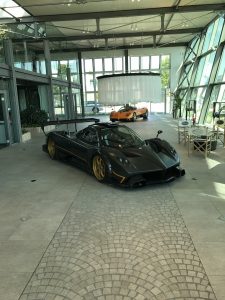 Production Floor and Manufacturing
The intentional choices Pagani has made in their business model have comprehensively shaped their production operations. Unlike direct competitors Lamborghini and Ferrari, who make multiple copies of their models, Pagani has decided to make each automobile one-of-kind, and even then, to produce only low volumes. This distances Pagani even further from high-volume, mass-production automobile companies such as Audi or Chevrolet. Thus, economies of scale that are typical, and considered an essential characteristic at major automobile manufacturers for achieving competitive advantage, are eschewed at Pagani.
The production floor is part of the consistent marketing message Pagani delivers. This is important for at least two reasons. The first is that customers normally will visit Pagani in order to make their selections, so Pagani wants to make an impression during the customer's visit, and second, Pagani wants to make a work environment that is pleasant and efficient for its workers. Everything on the main production floor was organized, clean – as clean as the cars on display – and well-lit. Car chassis are mounted on dollies with lockable wheels so they can be rolled from one production work cell to another as they progress through their manufacturing operations. We also were permitted to view examples of their books containing job travelers and quality checks.
The factory floor was probably about 10,000 square meters, and manufacturing operations could be directly visually observed between each of the rectangular work cells, which were of roughly equal sizes, varying around, 100 square meters each. The production floor was very quiet, with work at the time being done by hand, and I do not recall seeing any air tools.
The carbon fiber manufacturing process was explained to us. To limit discussion to just two highlights: some of the carbon fiber used very thin gauge titanium wire interwoven with the carbon fiber to build semi-monocoque structural members, and Pagani maintains the original molds for each of the approximately 250 carbon fiber parts made for every one of the custom carbon fiber automobiles they have ever manufactured.
Paganis, it's an understatement to say, make an impression. They are power and beauty, works of art, and this is reflected from the leather door-handle on the entrance to the bathroom replete with carbon-fiber sinks, to the assiduous and passionate detail to every part Pagani designs, manufactures, and sells.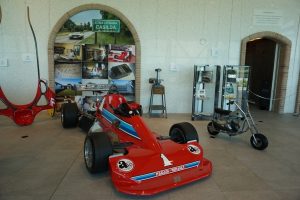 Written by,
Ines Troshani, Tim Hill, Blake Sanderson