On Thursday, May 25th, our class gathered at the Gonzaga in Florence building to meet Guido before walking together to the Firenze Santa Maria Novella Train Station to travel to Pontedera, Italy. In Pontedera is located the headquarters and one of the global manufacturing facilities of the Piaggio Group, which is the maker of several vehicle brands including Vespa, Aprilia, Gilera, and Moto Guzzi, amongst others.
Getting off the train at Pontedera, we immediately found ourselves on Piaggio Street, which was indicative of the size and importance of the factory under the same name. After walking five minutes or so along the seemingly endless factory, we reached the outside of the visitor's center, which was decorated not only with iconic Vespa's, but a small plane and railroad cars.
Upon arriving at Piaggio, we were greeted by a member of the Human Resources team who presented us with the history and present corporate view of the corporation. Beyond Italy, Piaggio manufactures vehicles in Scorze, Italy; Mandello del Lario, Italy; Baramati, India; Vinh Phuc, Vietnam; and Foshan, China. This latter operation is the result of a partnership and is not a purely Piaggio venture.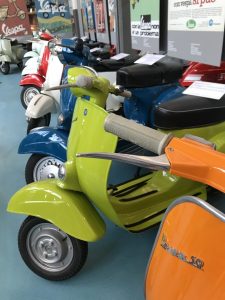 After this presentation, we were provided with a directed tour of the Piaggio Museum, which detailed many of the historic vehicles made by Piaggio over the past 70 years. In the past, Piaggio was not simply a manufacturer of compact transportation for the public. Beginning as a producer for the Italian Air Force (explaining the airplane out front), Piaggio established itself as a mechanical producer, but could not maintain the airplane business as their demand ended along with World War II. They dabbled in railroad cars for a time, however, Piaggio focuses predominantly on compact transportation. The museum was almost exclusively focused on Vespa and Gilera, which may be because these are the central brands of the company while other brands were only recently acquired in the past 20 years. Unfortunately we did not get to tour the manufacturing operations during our visit.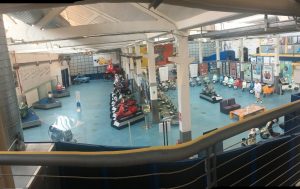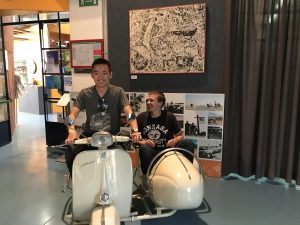 Written by,
Ian Wallace, Erik Hurson & Jordan Butler