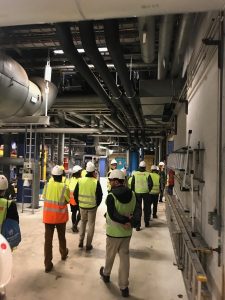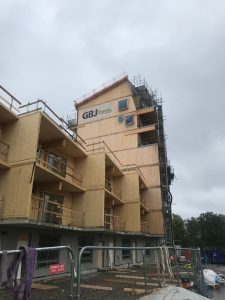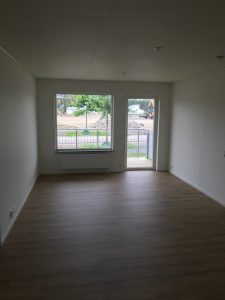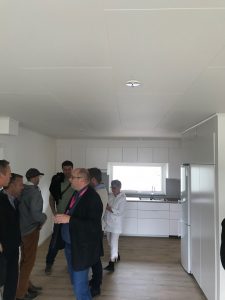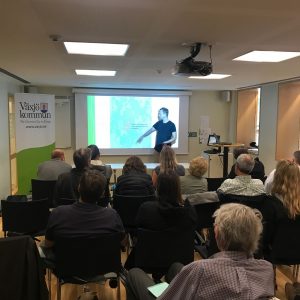 Today, we traveled into Sweden to visit the municipality of Vaxjo, the greenest city in Europe. We heard from representatives at the city and learned about their journey to that honor.
As we learned in Denmark, much of the difference in attitude between the United States and Scandinavia towards environmental issues is a result of the 70's oil crisis, which transformed practices around energy and transportation.
We also heard from representatives from BoKLoK, a collaboration between Skanska and Ikea to build affordable homes and units using modular design. We drove to one of their developments, and while it felt like walking into an Ikea store, it was great to see how affordable sustainable design was being made available to all.
After our visit to BoKLoK, our group split up, some going to learn about the restoration of a lake in Vaxjo and some going to visit several buildings that are being constructed using cross laminated timber (CLT). CLT is a wood product that has a number of benefits including design flexibility, the ability to be pre-fabricated, and a sustainable resource. Several companies in or near Spokane are scaling up to offer CLT products to our community, and the new Catalyst building in the University.
After that, we joined the rest of the group and visited Vaxjo's biomass plant, VAEB. The prevalence of waste to energy, biomass, and district heating plants is definitely a compelling thought for all on the trip.
What is becoming clear on this trip is that communities like Vaxjo and Copenhagen possess a strong and distinct will to implement innovative projects and policies. Action transcends politics. It was inspiring to know that both companies were going out of their way to make sure that "everyone should have a good chance to have a great home".