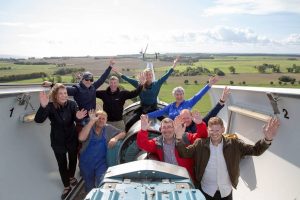 We spent most of today learning about Samso Island, and their efforts to produce all of their electricity from renewable sources. By 2000, 11 one-megawatt (MW) wind turbines supplied the island's 22 villages with enough energy to make it self-sufficient. An additional 10 offshore wind turbines were erected in 2002, generating 23MW of electricity to offset emissions from the island's cars, buses, tractors and ferries that connect it to the mainland. One of the main instigators behind this work is the Energy Academy. By providing leadership and strategy, the Academy helped lead the transition to renewables on Samso.
We had the good fortune to visit one of the wind turbines on the island that's owned by a local farmer. He invited us to the top of the turbine–a once in a lifetime experience for a few of the folks in our group!
These types of transitions towards energy independence seem daunting and difficult, but the Swedish and Danish cities and towns we have visited so far point to a common denominator–the oil crisis of the 70's–as a turning point. While the United States and others chose to double down on oil production and acquisition, Scandinavia recognized that in order to thrive, they needed to use the resources they had in their system. That's why we saw the prioritization of wind (plentiful), waste to energy and biomass (great use of a secondary resource), and then when needed, imported fossil fuels.
This is a fundamental shift in mindset that any city or region can reflect on, or better yet, take to heart.