This year there are 32 mentees, 30 peer mentors and 31 faculty/staff mentors. This page will highlight some of the mentorships from this year.  Their stories show how important these mentors are to incoming freshmen and give a snapshot of the bonds they have formed with their mentors.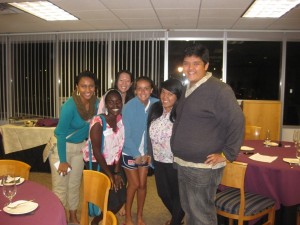 March 28, 2013: I chose to join LEADS as a mentor because I myself experienced the power of mentorship as a new student attending Gonzaga. I found it difficult to relate to the completely foreign culture that I experienced in Spokane. I came to Gonzaga knowing no one, and it was my mentors that I met through UMEC and Student Life that helped connect me with people I could relate with and discover new realms within myself.Throughout my four years, I realized various gems that have made my Gonzaga experience shine; and sometimes I wonder what if I had seen these pathways sooner. Gonzaga taught me to love communication, specifically listening. Upon hearing about LEADS, I realized this mentorship program would provide an excellent and exciting opportunity to lend a supportive presence to new students filling in the uncomfortable shoes of freshman year.

As a mentor, empathic listening and transparent communication skills are very important in my mentee-mentor relationship. Once a month at the very least, my mentee and I make plans to grab a bite to eat. We talk about academics, friendship, sports, parties, relationships, and extra-curricular activities. In our relationship, I make it my intention to remain completely open; I answer any and all questions about my experiences at Gonzaga with complete honesty. I find authenticity on my part encourages our relationship to strengthen and prosper.

I personally dislike receiving advice unless I ask for it. But hey, maybe that's just me! As a result however, I never try to force any advice onto my mentee unless he asks for it. I do my best to reserve my advice for when it is requested and really try to be there for him whenever he needs me.

Both being in the position of mentee and acting as a mentor have taught me the value of having positive and encouraging role models in one's life. By facilitating a relationship centered on transparency and authentic communication, I notice that my mentee and I are encouraged to enter into vulnerable conversations more often. Through an honest relationship, we learn to trust one another; and as our connection grows, so too do we develop as individual people

Life is full of unpleasant vulnerable situations, but that does not mean we can transform these situations and allow them to blossom into exciting opportunities for growth and friendship.

-Richard Redford, '13

March 26, 2013: I absolutely love LEADS. I am so grateful to have been in the program because it provided me not only a great support system for my transition to college, but also a wonderful environment to share and meet other friends with their unique cultures and heritage. You see, I didn't just meet a great and enthusiastic mentor who loved me unreservedly, but also other great and generous friends. I want to be a mentor in the future because I know how much a mentee appreciates having a friend who I don't have to impress when I am swarmed with so many new faces. It's like having a sibling in college!
-MariaFernanda Gomez, '16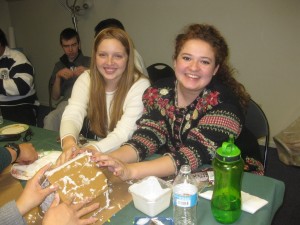 MariaFernanda, right, at the Holiday Social
January 16, 2013: I have been fortunate enough to have shared relationships with others for three years as mentors and as a mentor with LEADS. Currently, my mentee is Corey, a freshman now who went to the same high school that I went to. When he came to Gonzaga, I recommended that he sign up for BRIDGE and that is where we officially met. We had a lot of conversation on the first night of BRIDGE; talking about experiences in high school clubs, trips to Kalaupapa for service, and just differences that we see on our island home Maui. Since then, I have learned that Corey is quite the jokester. Whenever we hang out, it is never just a talk over lunch or a sit-down-talk-story session; it is loud and filled with lots of laughter. I always talk about how much older I feel than him as if two years really made that much of a difference. So one day he says to me, "Ruben, in dog years, you're like ninety something; you're like dinosaur old." And thus began the nickname "Papa Roobz."I would be lying if I said that I haven't learned anything from Corey. Mentoring, like leadership, is a two way relationship in which each person can learn something from every other person involved. Having one mentee a year has allowed me to be able to really get to know them on a personal level. With Corey, I know he has a story that has influenced the way he lives his life now. From that story, I have learned that change is possible, change is good, and change is inspiring. His change has shown me the reality of a fresh start with positive outcomes. In a way, he has helped me in my journey to finding myself and seeing that changes can be made in my life right now. Changes such as making more time available for others, showing more appreciation for those who have stood by me during hard times, and being willing to take risks and do things I wouldn't normally do. When I think of the experiences that I have had in the past three years with LEADS, the first word that comes to mind is "family." When I was a freshman, Mark Beattie and Guillermo comforted me and gave me advice that helped me stay here at Gonzaga and get involved. As a sophomore, Garion has become a real friend and I have great memories of cooking, snowboarding, and joking around with him. And now, my perspective of my mentee Corey is completely positive and I can say that I truly appreciate the growth I see in our relationship. Being a mentee has shown me how important mentors are – they help you with decisions, take you out to dinner, and give you great advice. My experience as a mentee with Mark Beattie has shown me that mentors want the best for, as Mark would say, the "protégé" and I believe that compassion is a crucial ingredient in such relationships. Therefore, I would say, that success as a mentor does not come from how much advice you give or how much you hang out; it is really about showing your mentee that you genuinely care about them and want to see them succeed. 
-Ruben Yamada, '14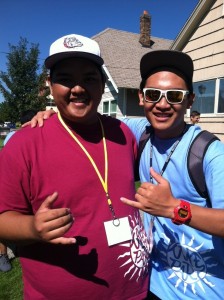 Ruben (left) with Corey (right) during the BRIDGE pre-orientation program
January 4, 2013: This first semester of college has been filled with many new adventures. I am so thankful that I have an amazing peer and an amazing faculty mentor to help me through it all. Naseeb Bhangal is my peer mentor. She is a super fun spirit to be around! She's always doing something productive and it's really inspiring how she manages her time with all her activities.  Naseeb has many words of wisdom but her most helpful piece of advice was during spring semester registration in Novemeber. I had no idea how to do any of it or how the process worked! She went out of her way to help me figure out how to navigate Zagweb and prepared me for the midnight registration craziness. Sarah Alami is my faculty/staff mentor and she is also phenomenal! We typically do something every Sunday like go to lunch, the mall, or for coffee. She has taken me to places in Spokane that I otherwise would not have known about because I do not have a car and she is always so wiling to take me. She's awesome! Activities with my mentors this semester were always a blast! Having them both is great because I feel like they genuinely want to help me out. They have both made Gonzaga feel like home especially when I was going through my homesickness stage this fall. I'm super excited for another semester of LEADS with both of them but I know our friendships will last even longer.
-Susie Lira-Gonzalez, '16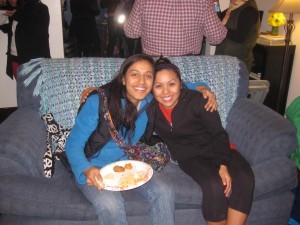 Naseeb and Susie at the Holiday Social
January 3, 2013:  My name is Jordan Alcantara and I'm currently a junior psychology major, minoring in sociology! I've been involved in LEADS since my sophomore year as a mentor. I'm also an alum of the Summer BRIDGE program and got the chance to be a counselor this past summer. I love the great programs that UMEC puts on and I have such great memories through programs like LEADS! My freshman mentee this year is Becca. I have loved spending time with her and getting to know her during her transition to Gonzaga. While freshman year can be a stressful and chaotic time, I think Becca has made the most the new experience and has transitioned very well into her life as a GU student. Both of us have packed and busy schedules, but it's great to be able to sit down over coffee in Crosby and talk about what's been going on and how she's doing. Some of the advice I've given over the year has included dealing with homesickness, getting involved in clubs and activities, and getting over the "freshman friend rut" in the first semester. It's great to know that I can look back on the experiences I had as a freshman and offer any advice I can about similar experiences happening to Becca now. I've encouraged her to pursue her interests and find what she is passionate about when it comes to choosing her major, and not to feel too stressed out about one class, one exam, or one professor. College is an experience that has to be lived over four years, so I remind her to try to take things day by day, not get too caught up in the trivial things, and enjoy each day as much as possible! Mentoring Becca has been a greatly rewarding experience and I have learned that my college experience is a valuable tool in helping others through theirs. Looking back on the things I've gone through and mistakes I've made, I can offer advice based on what I learned then and what I have learned since then. Mentoring has also taught me to slow down, give and serve in any way I can, and enjoy the little moments in my day that make me happy. Life in college is full of stress and anxiety, but through mentoring programs, I have come to recognize that there are other important things in college and in life, in addition to academic success. I've learned to appreciate all of the wonderful people around me and enjoy the time I get to spend with them in the midst of a hectic schedule. A large part of my college experience is devoted to giving back to the incredible Gonzaga community however I can, and LEADS is such a great way to do that! I think it is important and beneficial to have a mentor during transition and freshman year of college because the initial experience of college can be hugely overwhelming. Everything is entirely new and to have someone who has been already been through these same experiences and can show you the ropes can spare you a lot of stress and help you make the most of all the new things around you. As a freshman, I was lucky enough to have mentors and role models to look up to and go to for advice when I needed help with school, friends, juggling my activities, and everything in between. I'm so thankful for the people in my life that offered me guidance and mentorship during this critical year of self discovery. I can only hope to offer that kind of advice and friendship to the mentees in my life! I think it's incredible for the LEADS mentees to have not only their student mentor and faculty mentor, but an entire community of mentors that are willing to offer advice and share our experiences.The most rewarding part of being a LEADS mentor is seeing that Becca has been having a really great freshman year! However much or little she may need or use the advice I give her, it's great to know that I am there for her should she ever need help.
-Jordan Alcantara, '14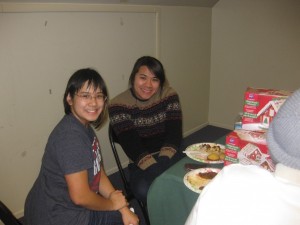 Jordan (right) and her sister Sydney (left) at the Holiday Social