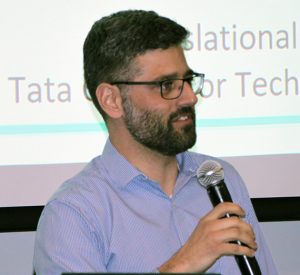 Jason Prapas, Ph.D. showed his passion for social enterprise at Renouard Distinguished Lecture event on February 22. His talk, "Translating Research Into Impact," focused on the connections and communication needed to improve lives in emerging markets.
"Most well-intentioned engineering-impact projects don't involve the people they're supposed to support," he warned the audience of Gonzaga students. "Recognize the area and cultural differences. Simply throwing tech at a problem is not going to make it better."
Prapas, from the MIT Tata Center for Technology and Design, explained that his title "Translational Research Director" comes from the medical term of 'translating' lab results into practical medicine. In the same way, he reviews energy-related research & development projects and works to prepare items with the most potential for market.
While earning his doctorate, Prapas collaborated with fellow grad student Marc Baumgardner, today a mechanical engineering assistant professor at Gonzaga. The two wrote a paper examining how a chimney affects the amount of carbon monoxide released, and developed a more efficient cook stove. Prapas used that example to demonstrate the importance of networking.
"He helped me develop a kinetic model. He helped me accomplish a technical task, and got his work into a half a million homes," Prapas said. "Connections are crucial. Leverage each other for the world's benefit. It's tied to ethics – you need to have a network that respects you. Ethics are good for business. Got bad data? Admit it. That ensures your brand as a person."
The Renouard series, funded by Ed and Bunny Renouard, also sets up an informal lunch for SEAS students to chat with the speaker. Earlier in the day, Prapas talked about turning ideas into start-ups. As co-founder of the venture development firm Factor[E], he helped connect creators of technology to social entrepreneurs specializing in business.
He advised the students that personality is key to making a match. "It's not so simple or clear-cut," he warned. "After a few months sometimes you realize it's just not going to work. Don't be discouraged, try again with someone else or with a related project."
The Renouard Distinguished Lecture Series