Justice for Fraud Victims Project
In Spring 2023, the Justice for Fraud Victims Project performed a forensic examination of the Fairfield Care Center last year that led to an arrest. Students documented the $71,000+ of fraud/embezzlement. Hopefully, this prevented the community center, the suspect's current employer, from also becoming a victim of fraud. The article is available here.
Innovation Dinner
Fourteen students attended a VIP dinner for Gonzaga students with Taylor Black, Principal at Microsoft Incubation Studio, and Al Stephen, CEO at Soovu Labs, as part of the Innovation Collective Story Summit in Coeur D'Alene on Oct. 6, 2023.
Students visit with JPMorgan Chase CEO
Four SBA students and Dean Anderson attended a lunch discussion with Jamie Dimon, CEO of JPMorgan Chase in Summer 2023. Dimon was in the Inland Northwest as part of his annual bus tour to Chase Bank branches across the United States. You can read more about this event here.
Students Trek to New York
Gonzaga's Career and Professional Development offers "Treks" to key metropolitan areas in the country. Treks include career development activities such as job fairs, visits to employers, and networking events with alumni. The SBA participates in all Treks, but plays a special role in the New York Trek where students are selected to go on tracks for Finance or Marketing.
In Fall 2023, 12 students will go on the finance trek and another 12 students will go on the marketing trek in New York City.
Canfield Lifelong Learning
The SBA's Canfield Lifelong Learning Series was held for about 70 alums and friends in San Francisco on Sept. 29, 2023. Inspirational speaker and author John O'Leary, who also spoke at the SBA's Regis Lecture in the Fall 2022, provided the group with his Live Inspired message.
Regis Lecture
Cynthia Cooper will give the keynote speech at the Regis Lecture on Oct. 26. Cooper was named one of Time Magazine's Persons of the Year in 2002 for her role in reporting the fraud at WorldCom.
School of Business Administration Podcast
The podcast on G-Suite provides in-depth conversations with Gonzaga School of Business Administration graduates, faculty members, and friends.
Women in Finance Leadership and Balance
Eighteen SBA students will participate in this fall's inaugural Women in Finance Leadership and Balance (WiF LaB) initiative. The group will meet six times this semester with influential women in the finance field to learn more about how to design an individual pathway for personal and professional leadership in the field. The WiF LaB will be facilitated by Linda Underwood, one of the SBA's Executives in Residence. Sessions will include storytelling, professional guests, and applied skills.
One-credit weekend series
The one-credit weekend series of classes continues with deep dives into topics that often do not get enough coverage in regular classes and that reflect our values of Excel, Engage, Inspire. Spring 2023 and Fall 2023 class include:
Excel
Business Leadership
Excel Skills
Engage
Landing Jobs in Marketing and Advertising
Career Preparedness
More Like You: Dream Job
Women's Career and Confidence
Inspire
Development and Self-Confidence
Intercultural Business Communication
Equity and Storytelling
Nonprofit Fundraising and Marketing
Resiliency
Gonzaga University Investment Club
The Gonzaga University Investment Club (GUIC) gives students the opportunity to invest and manage real money in a $100,000 portfolio. This student-run club meets weekly to practice analyzing and pitching stocks.
Numerica Board of Directors
Gonzaga has several juniors and seniors who have served on the Board of Directors at Numerica Credit Union. The students have the opportunity to learn about the inner workings of a financial institution and to network with people in the industry. It is good experience for any business student who is looking for experience in non-profits, community organizations, or servant leadership.



To qualify, you must be a junior-level business or accounting major and be able to commit to two years of service to the Board as a non-voting member.
VITA – Volunteer Income Tax Assistance
In 2022, 11 students participated and worked 232 hours. They completed 281 returns with tax refunds of $252,000 for Spokane taxpayers. Gonzaga did not participate in 2021 because the program was canceled due to COVID or in 2023 due to significant turnover with a partner organization.
Community Projects
In Fall 2023, several classes are developing projects with community partners, including
Thrive International, an organization that provides transitional housing to refugee and immigrant communities and seeks to empower refugee women and youth.
EXPO '74 50th Anniversary Planning Committee, an organization working on the city's events for the upcoming anniversary.
Christ Kitchen, an organization providing work, job training, and other support for women living in poverty in the Spokane area.
Bite2Go
Faculty and staff participate Second Harvest's Bite2Go program by delivering food to Linwood Elementary School for children who do not have food security on weekends.
Internships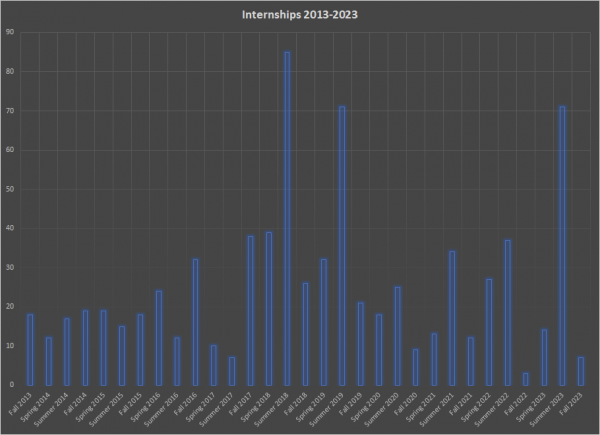 Beginning in Summer 2018, students could take internships in the summer for zero credits (i.e., zero tuition). This raised the number of summer internships in 2018 and 2019. The pandemic reduced internships for 2020, 2021, and 2022, but summer 2023 internships were back on track.
Students present their internship posters to first-year students in the Business 101 class.