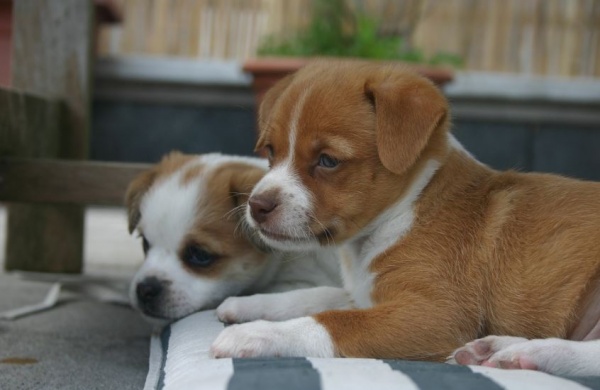 We are into Week #2 – Where did week #1 go?!  Hopefully settling into week number TWO has you feeling as comfortable as these TWO cute puppies. If not yet – then, hopefully, these cute puppies at least brighten your day!
You found all of your classrooms, collected all of your syllabuses, now have all your books, and are starting to establish a new routine to keep up with your assignments and reading.
For your spare time when you need a study break, check out some of these upcoming events for Week #2:
Monday (September 3rd)
Labor Day Holiday
Men's Soccer vs. UW (free with student ID) | 7pm | Luger Field
Wednesday (September 5th)
Last Day to Add Classes
Veterans and Service Members Welcome Lunch | 12pm | TVRAS Office (Hemm. 211)
GSBA Elections Info Session
Service Fair | 10am – 2pm | Hemmingson Ballroom
Coffeehouse: Open Mic Night | 8pm | Hemm Den
Thursday (September 6th)
GSBA Elections Info Session
Friday (September 7st)
Last Day to Drop Classes
Club Fair | 11am – 2pm | Bulldog Alley
Men's Soccer vs. UC Davis | 3pm | Luger Field
SpikeNites:  Laser tag and Bubble Soccer (free) | 10pm | Mulligan & Foley Lawn
Saturday (September 8th)
Zag Volunteer Corps: Saturday of Service | 8:30am – 12:30pm | sites vary
SpikeNites:  Bingo (free) | 10pm | Hemmingson Ballroom
Sunday (September 9th)
Mass | 5pm (Sat. Vigil), 8:30am 11am, 5pm, 7pm | St. Aloysius
*8:30pm – University Chapel
Men's Soccer vs. CSU Bakersfield (free with Student ID) | 7pm | Luger Field
Monday (September 10th)
Transfer Luncheon – theme: Academic Success (free lunch, all transfer students invited) | 12pm | Hemmingson 314A
GSBA Senate Meeting | 8pm | Hemmingson 314
Tuesday (September 11th)
Classes beginning before 4:40 pm are cancelled
Mass of the Holy Spirit | St. Aloysius
If you're looking to stay in the loop on University events this semester and beyond, make sure to check out these spots!
Looking for more? Come talk to us in the TVRAS office and we can help connect you with the type of events you're looking for!