Food is arguably the best mobilizer to make friends. Ask any GU student, and they will have a memory of uncontrollably laughing over a BARC meal or a life-enlightening moment while at coffee at Margie's.
You may be apprehensive about leaving your home-cooked meals, but contrary to what the movies tell you about college cafeteria food, dining at GU is quite delicious! Dining services are provided by Zag Dining by Sodexo and offer a variety of options. Are you vegetarian, gluten-free, or vegan? A registered Dietician and Executive chef are always available to assist with any dietary needs and allergies. You'll need proper sustenance to fuel your energy when you're working hard in the classroom. Read on for dining options at GU!
Meal Plans: Meal plans consist of two facets: Dining Dollars and Swipes. Dining Dollars are accepted at all 15 on-campus retail locations. Swipes are accepted at The Marketplace at the BARC and The Marketplace Express. You also have the option of purchasing Bulldog Bucks, accepted both on and off campus. Bulldog Bucks is an optional declining balance account tied to your ZAGCARD and is accepted both on and off campus. Your Bulldog Bucks account will provide you flexibility, variety and value you deserve. Your unused Bulldog Bucks balance rolls over from semester-to-semester and year-to-year. For more information about meal plans, visit Zag Dining's website HERE.
The Marketplace: Your dining hall is located in the Marketplace at the BARC. This bright and modern facility at the corner of Hamilton and Desmet will be our home for the next year; we will be moving to the new Hemmingson Center once it is completed!  Our focus is on fresh, delicious food that brings the community together at the table. Every meal will feature a variety of stations from classic to exotic. Look for your favorites and try something new! We are especially excited to feature Simple Servings, a station dedicated to preparing fresh, flavorful dishes without any of the following allergens: wheat, soy, dairy, shellfish, peanuts, tree nuts, gluten, or eggs. Look for the "Simple Servings" banner at the Marketplace and enjoy seamless healthy dining.
SubConnection: A custom-made sandwich bar, SubConnection is located on the ground floor of Welch Hall. The new SubConnection features two sandwich lines for faster service, more seating, an expanded menu including breakfast sandwiches, and late night hours.
Einstein's Bagels: The newest addition to on-campus dining options, Einstein's is located in Cataldo Hall.  Fresh baked bagels, sandwiches, pastries, and their darn good coffee will be ready for you all day long, and late night, too!
Margie's at Tilford's, Barney's Cafe, Cafe Lawte, & Crosby Cafe: Our full-service coffee shops feature locally owned Craven's Coffee along with sandwiches, fresh baked pastries, delicious soups, and other quick lunches! A Thomas Hammer Coffee is  located in Jepson, however this does not accept dining dollars.
The Marketplace Express: Located in Cataldo Hall, Marketplace Express offers all-you-care-to-eat quick, light, lunch Monday through Wednesday. Choices include deli sandwiches, soups, gourmet salads, beverages, and desserts! New this year: Lunch on Thursdays will feature family-style dining with each table hosted by a GU faculty member or administrator. This unique opportunity promises stimulating  conversation, community engagement and delicious food.
Panda Express: Gourmet Chinese food, wok-cooked, and served fast! Centrally located in Cataldo Hall.
Duff's Bistro: Located in the Kennedy apartments, a great place to grab a meal, snack or espresso in a casual lounge atmosphere. Continental breakfast, weekend brunch, dinner and freshly prepared grab-and-go items available throughout the school year. Best paninis on campus!
Jamba Juice: Yup, that's right. Our own Jamba Juice located in the Rudolph Fitness Center! These blended-to-order masterpieces practically invented smoothies.  All of your favorites are in the mix: real whole fruit, 100% fruit juice, sherbet, and frozen yogurt, plus nutritional boosts.  Come in for a refreshing treat that's always served in a fun and uplifting environment!
Iggy's Pizza: No, not like "Fancy" Iggy. Like "St. Ignatious" Iggy. When it's snowing out and you're too cold to walk to the BARC, Iggy's serves fresh, hot pizza, calzones and more right to your residence hall! Iggy's makes their dough fresh with local Shepherd's Grain flour, and uses real milk cheeses. Gluten-free? Iggy's got you covered with gluten-free crusts. And it doesn't stop with pizza – try Iggy's hearty and delicious sandwiches, too! Available for pick-up from Cataldo, or delivery to your campus dorm or apartment.
Zaggin Wagon: Rock your lunch with food truck fare, Gonzaga-style! Menu and location changes with the season. Always something tasty and new, check Zag Dining on Facebook for the latest location, menu and hours. Popular recent items include Kahlua pulled pork sandwich, BBQ chicken sandwich, and chicken Caesar salad. Yum!
LoCro Market: Located in Lower Crosby, LoCro is Zag Dining's Convenience Store. LoCro Market also serves Simply-To-Go sandwiches, salads and entrees as well as homemade soup in our Famous Shepherd's Grain Sourdough Bread Bowls. LoCro also features specialty organic, healthy and gluten free items.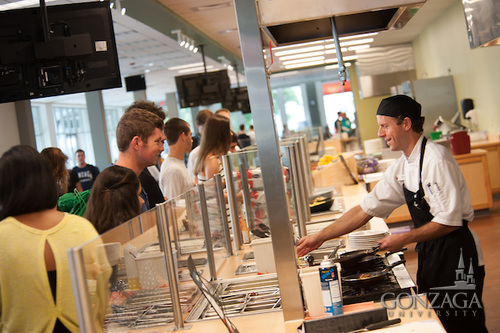 You have the first week to make changes to your meal plan, which can be done at the Zag Dining Offices located in the white house across from Marketplace at the BARC.  Call the office at (509)313-6906 or stop by and say "hi" to the team.  They will be happy to help you make meal plan decisions, reload your Bulldog Bucks, or issue a temporary meal card if needed!
Need food for a party or special event?  Flavours Catering is now located in the house at 729 E Desmet Avenue.  Check out Flavours Shoestring Catering, a casual catering option designed just for students!
As you can see, there is a lot to check out!  Look for fun events and offers at all our campus restaurants throughout the year. Zag Dining really values student input, so let them know when you like something or want to see something different, and they will listen. Zag Dining recognizes dining together is an important part of building our community.  They are here to support you as you face a new season of challenges, and are excited to be a part of your Gonzaga experience!
Get the latest campus dining news and deals throughout the year by following Zag Dining on Facebook and Twitter. Visit Zag Dining for more info about dining and meal plans on the Gonzaga campus.