In early August, I returned from the Association of Jesuit Colleges and Universities (AJCU) Leadership Institute at Loyola University-Chicago. The institute focused on the Jesuits' four Universal Apostolic Preferences: Showing the way to God through the Spiritual Exercises and discernment, walking with the excluded, journeying with youth, and care for our common home. It was an amazing experience to spend time with colleagues across the Jesuit network as we reflected and engaged more deeply in our work together to form "people for others."
I'm still pondering the lessons from the institute. In particular, the work of discernment, as it can mean so many different things to people. As pointed out in the institute, discernment is more than just making a single concrete decision. It's about listening.
Many years ago, I was first introduced to the Ignatian way of listening and discernment at a Jesuit retreat house. Over the years, I've been drawn deeper into the Ignatian way, eventually completing a 2-year internship in Ignatian spirituality, co-leading discernment workshops with Jesuits, and writing about it for the secular press.
Throughout this journey, St. Ignatius' teachings on spiritual freedom, discernment of spirits, and discernment of God's will have had an enormous impact on how I teach and lead, pay attention to what attracts or repels me, and how I make professional and personal decisions. You may have noticed this in my leadership when I survey people to get a sense of how they feel about a given problem or when I ask about what enlivens people about their work.
It's this kind of Ignatian listening that led me here to Gonzaga. Let me share how.
Discerning the path ahead
After reading an article in America magazine about women leaders transforming AJCU institutions while remaining true to themselves and the Jesuit mission, I felt a deep sense of "rightness" and quiet excitement. These feelings of spiritual consolation were the nudge to start looking to see who in the AJCU network might be hiring. A month later, I saw the Gonzaga advertisement. As I read more about Gonzaga, I thought, I'd love to work at a place like this! The emphasis on educating the whole person, the close-knit community, the Jesuit commitment to justice, and the common good are just some of the characteristics that stood out for me.
Yet, when I expressed hesitation and dragged my feet about writing the letter of interest, saying, "This is really not the right time," a friend looked at me with disbelief: "This is everything you are looking for, and they are looking for you!", she said. What fed into my hesitation? My attachment to the safe and familiar—I knew everyone at my old institution, I knew how things worked, I knew where to grocery shop, I loved my child's school, and he loved his friends and teacher (and I was worried about ruining his life!). I had never lived in the West and had no family close by. But, I came to see these feelings as they were—it's normal to feel like this when confronted with change. At the same time, I was not feeling entirely free to choose the next right thing offered to me. Once I had worked through those feelings of resistance or desolations, I was able to write my letter. The search committee also discerned, and I accepted the position in December 2019 to start July 1, 2020.
Being a people for others – in the College and beyond
I share this example to show that discernment is a listening process that takes time, can reveal where we are not entirely free, and requires that we consult with trusted others when possible. I see the fruits of discernment when I look at the amazing work we've accomplished together during the pandemic in the three priority areas of academic excellence, cura personalis, and building an inclusive community. I believe we have been able to do these things, in part, because we are each discerning our next right steps individually and as a College. As we enter the next academic year, I hope that we can more deeply embrace these gifts of Ignatian discernment to listen to each other and co-create action plans in the College to pursue the common good and prepare our students to build a better world. I am grateful that the AJCU Leadership Institute supports this collective work within and across our institutions and that it elevated the four apostolic preferences as key guides of our work together.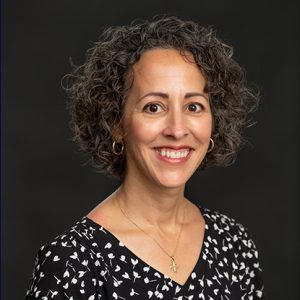 Annmarie Caño, Ph.D. is Dean of the College of Arts and Sciences and a Professor of Psychology at Gonzaga University.