I fill various service roles as a Communication Studies faculty member, but I had not joined the Dean's IDEAS in Action Committee, a group dedicated to enhancing the College's diversity, equity, and inclusion [DEI] efforts. This committee, I later learned, has been remarkably productive, and the dean supported training for faculty members needing targeted skills to fulfill particular roles. I'll admit, I felt some FOMO. When I saw Dean Caño was launching a summer faculty fellowship, I was elated to have a chance to learn more about her commitment to DEI.
In addition to asking fellowship applicants to propose a project focused on one of three areas (I chose hiring), Annmarie's email promised lessons in leadership and higher ed administration. I have been serving on the Faculty Senate for five years, which lends me a partial view of how our university's commitment to shared governance operates. In its best moments, the Senate demonstrates profound commitment and collaboration among the faculty. Sometimes it also exposes ruptures, and in a spirit of goodwill, I'm always looking to bridge the gaps in trust, time, and willingness. One of those areas of potential rupture is hiring.
Focus on Hiring
Hiring is a leap of faith. Despite the many hours of service on job search committees, ultimately, we never really know if a hire will find success here, particularly in the long term, and this can be only more pertinent for colleagues from under-represented backgrounds entering a predominantly white institution in a mid-sized city. One part of this fellowship has involved reading and discussing scholarship about creating a more inclusive university, and I am reassured by the fact that the resources exist to do the work of hiring better.
Inspired by the work begun by the IDEAS in Action committee last year, I am working with Vince Velonza in the dean's office to design a website that will host resources for a range of stakeholders, including faculty, staff, students, and job applicants. The site will assert the fundamental connection between our mission, Vision 2024 priorities, and Dean Caño's call to strive to be more equitable in hiring and at all levels of our professional and personal lives.
Bringing Students into the Process
I also have been charged with developing guidelines for hiring committees inviting a student member to advance their efforts this year, an inclusive practice that I learned is not uncommon across peer AJCU institutions. As a faculty advocate, I am creating a set of options that deliver flexibility for departments determining how to include students in their own hiring processes—including the option for students to earn internship credit by serving on a hiring committee.
My project work is satisfying, but I did not anticipate the broader benefit of the fellowship was about relationships. I have enjoyed the simple opportunity to chat with Annmarie, hear about her daily schedule, and gain insight into how administrators often function as professional problem solvers. This look behind the curtain of being a dean has been inspiring and invigorating.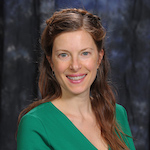 Karen Petruska, Ph.D., is from St. Louis, MO, and is a graduate of a Jesuit university. Incorporating a wide range of media into her classes, Karen gives students the tools they need to successfully navigate a world dominated by screens. In her research, she studies the past and present of television, focusing in particular upon the business models that drive the industry.