On August 20th, Toni Lodge (Turtle Mountain Chippewa), CEO of the Native Project, and Margo Hill (Spokane), Associate Professor of Urban and Tribal Planning at EWU, co-hosted an event celebrating the recently renamed Whistalks Way.
The event also celebrated the woman who inspired the name, Whist-alks, a Spokane woman, warrior, and wife of Yakama sub-chief Qualchan. She fought in Plateau War battles alongside her husband and, upon his hanging at the hands of Colonel George Wright, rode into Wright's camp and threw her spear into the ground in front of him. Her defiant challenge asserted that Plateau Peoples would not be defeated and her courage made the U.S. Army see Plateau women. Whist-alks personified Plateau women's commitment to community, culture, family, and homelands.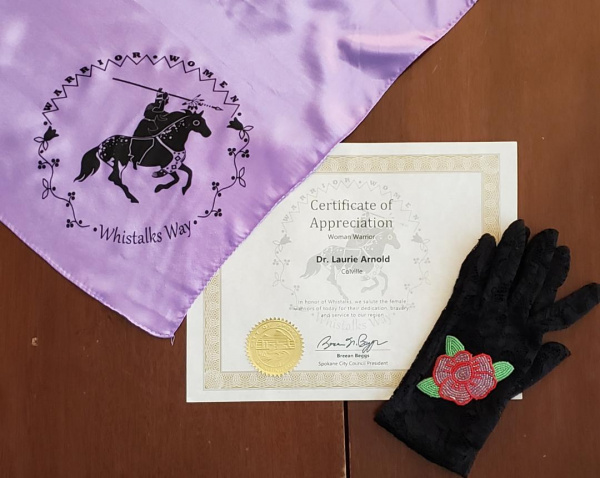 Ms. Lodge and Professor Hill, a Gonzaga Law School alumna, joined with other leaders in the community to identify contemporary women who inherited the legacy of not only Whist-alks but of generations of grandmothers. More than 70 Native women and allies from fields including health care, education, law, Indigenous language preservation, community organizing and activism, and more were honored as Warrior Women. I am humbled and grateful to be among them, and proud to see Gonzaga recognized for the contributions of Wendy Thompson (Salish Kootenai), Director of Tribal Relations, and Rachelle Strawther, Director of Leadership Training and Development.
People have asked what specific action or accomplishment garnered recognition, but there is no single reason, no formula. While our names were read individually, in that setting we stood side-by-side as part of the whole. We each serve our communities in our own ways, and we do so as people raised with Native American cultural and kinship practices. We are responsible to this place and each other.
Centering Native-based Knowledge
My academic work is one way I contribute to the Plateau and my communities. This year marks the ninth year of the Native American Studies (NTAS) program, a minor established to embed Native content in the curriculum and to reinforce Gonzaga's responsibility to place and community. Faculty who teach Native American Studies invite Native knowledge holders into classrooms and campus events because we want this campus to hear Native people speak for themselves and center Native-held knowledge. Approximately 40 guest speakers from the region and 20 speakers from Indian Country have shared our campus spaces, participating in conversations about tribal sovereignty, Native arts, Plateau health, Indigenous architecture, film, theatre, politics, Indigenous science, TEK, MMIW, and more.
NTAS students engage in research projects that advance Native-centered knowledge. This fall, the Introduction to Native American History course will work with Plateau knowledge holders to create digital interpretations of canoes and sn̓k̓ʷul̓mn̓ (things we use) as part of a larger digital humanities project. One year, students worked as "historical consultants" in the Jesuit Oregon Province Archives, researching tribal materials held in the collections, then preparing reports about the contents. At the end of the semester, one group's report resulted in members of that community visiting the archives and reproducing materials to bring home with them. This kind of work connects students and community members in shared pursuits of knowledge and interpretation.
Research is part of my academic practice as well, and I'm lucky that I've been able to co-author scholarly articles with Indigenous women including Shelly Boyd (Sinixt), Emma Noyes (Sinixt), and Miki'ala Pescaia (Native Hawaiian). According to The Chronicle of Higher Education, in 2019 approximately 457,000 women taught at four-year private institutions. How many of those women were Native? 550. How many Native women were tenured? 136. I am the second Native person and the first Native woman to be tenured at Gonzaga—and I have only held tenure since 2020, 133 years after Gonzaga was founded. Institutions must do better. If we want to achieve equity, we absolutely must do better.
Standing on the shoulders of ancestors
Toni Lodge and Margo Hill reminded honorees and attendees that we stand on the shoulders of our grandmothers and walk the paths they blazed for us. My grandmother was with me that day in the roses she once beaded for my moccasins. The moccasins don't fit anymore, but I moved the roses to a dress and a pair of gloves—I know she would be happy to see I still carry them with me as I travel some of the same Plateau paths she did.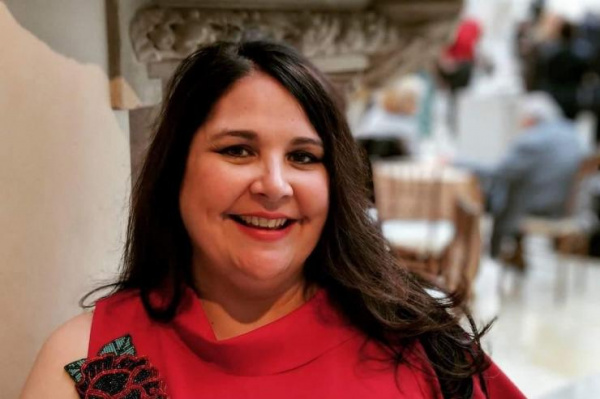 Laurie Arnold, Ph.D. (Sinixt Band Colville Confederated Tribe) is the Director of Native American Studies and an Associate Professor of History.