This past weekend, I was able to experience my very first Fall Family Weekend. OK, so I missed Kraziness in the Kennel, but I did enjoy seeing the fruits of faculty and student labor and learning more about what excites and animates our students. What I experienced gave me a much-needed jolt of inspiration and energy when I was beginning to feel a bit stretched. From my conversations with faculty and staff, I don't think I'm alone in finding October both exhilarating and exhausting.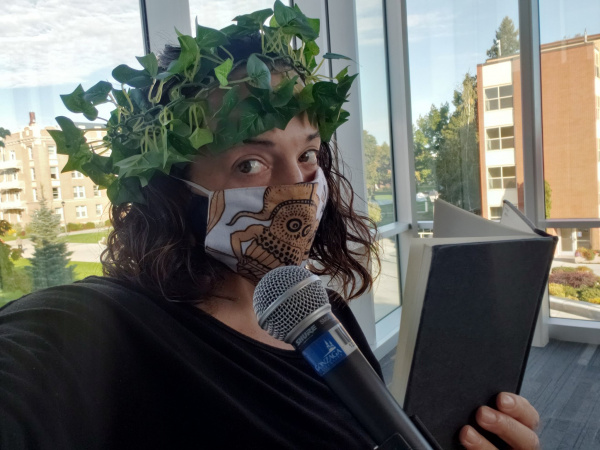 My weekend started with attending the Homerathon, billed as the "most epic tradition at Gonzaga University." I didn't stay for the entire 12+ hour epic reading of Homer's The Odyssey, but I did stop in with my 10-year old sidekick, who was off from school that day. It was so inspiring that he committed to reading a little bit next year if someone could help him with the Greek pronunciations (and wear some cool ancient Greekwear). Classics for the win!
Showcasing Undergraduate Research
Saturday, I visited several College of Arts and Sciences students at their posters, during the Undergraduate Student Research Showcase, which represented the culmination of their scholarly and creative work in their majors. I learned about patterns of racial segregation in the Midwest, the representation of political and cultural themes in Milton's Paradise Lost (which still resonate today), the impacts of the COVID-19 pandemic on older adults living in assisted living facilities, music and dance as a manifestation of the varieties of the immigration experience. I also learned more about neofascist behavior in social media networks, intravenous drug use patterns among incarcerated people, algorithms to solve equations related to chemical energy more efficiently, and behavioral signaling and competition in insects.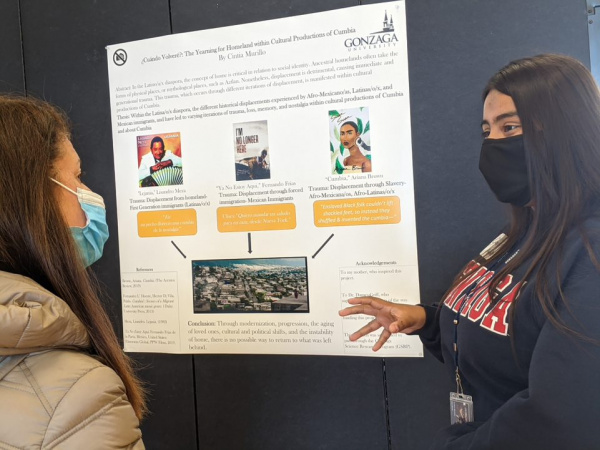 But what was truly inspiring was how all of these students were able to share their knowledge and passion for their topics. As a long-time mentor of doctoral students, I had to keep checking myself: "These are undergraduate students!" I enjoyed hearing what they hope to do next. Among this group of students are future K-12 teachers and professors, doctors, attorneys, public servants, researchers, and therapists. And to see family members' beaming with pride about their students' work was a treat.
Music makes the soul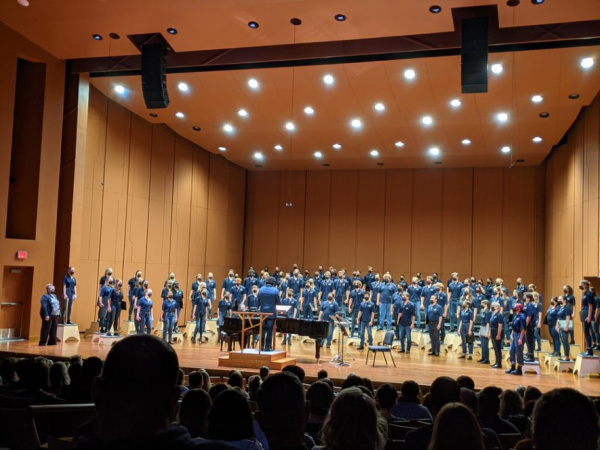 Later in the evening, I attended the Gonzaga University Choirs concert We'll All Rise Together, led by our amazing Department of Music faculty, Dr. Amy Porter and Dr. Jadrian Tarver. How uplifting it was to enjoy the voices of our students, and after only about six weeks of practice! Compositions varied from traditional to contemporary and included African-American spirituals and Spanish choral pieces, showcasing that choral and musical excellence requires diversity. I hope the rest of the audience was uplifted and transformed by what they experienced. I can't wait to see what our talented conductors and students bring to us next!
Fall Family Weekend is not just for students and families. As I mentioned at the beginning of this post, October is often when we begin to feel depleted, but Fall Family Weekend revived my sense of wonder and instilled new hope even as we still move through this pandemic. And looking even farther into the future, I know we're going to be OK because we're launching thoughtful, compassionate, and curious students into the world.
---