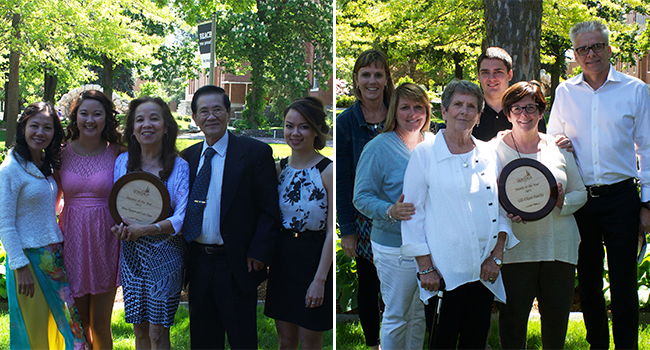 My family does not look like the traditional Gonzaga family, nor was I the traditional Gonzaga student. In fact, I am a "non-traditional" student and I am fifty-five years of age. My immediate family is my husband Chris and my twenty-two year old son Stefan. I have a much larger extended family: my mother, three sisters, one brother, and a community that has helped me to fulfil my dream of graduating from Gonzaga University.
My parents, Anna Nguyen and Lan Chau, have been amazing role models. Without them, my future would not be possible or at least where it is headed. Words cannot explain the amazingness and the reasons my parents deserve to be recognized for the Parents of the Year Award, but I will do my best!
"Most students coming out of college have thousands of dollars in student loan debt….Now, people are taking advantage of that," WBAY reports, in an article that quotes NASFAA board member Sara Beth Holman.
Excitement is building across campus as Zags anxiously await the opening of the John J. Hemmingson Center. One of the most anticipated features, the new two-story COG community dining room featuring six restaurant-style platforms and a hydroponic greenhouse, promises to provide endless culinary possibilities.
Join the Save Student Aid campaign in our effort to pass federal legislation that will protect the programs that keep higher education within reach for millions of students.
Comparisons can be odious, especially when comparing with valued colleagues. But most of us on the University Ministry team (affectionately called UMin) consider the Montserrat Retreat to be the deepest of our various retreat programs. The name comes from a town and a Benedictine monastery in Catalonia, Spain, one hour from Barcelona. It's important to us Jesuits because St. Ignatius, our founder, spent a few days there early in his own conversion process. He lived there briefly as a hermit, confessed his sins, and almost definitely received a copy of a book on which he was later to base his famous retreat, "The Spiritual Exercises."
I owe it all to a nameless girl. She was at one of the booths during orientation weekend and I'm not sure if she was tired or just not as enthusiastic as some of the other students, maybe it's my flawed memory but, whatever it was, in her monotone voice she said, "Hi, you need to go on First Year Retreat, you will meet a lot of people." My dad, who was with me at the time, gave me money to sign up first thing next week.