Story by Megan Carroll ('18); Photos by Danny Chastian ('16)
Epiphanies
The trip began in fragmented moments of chaos. Some of the travelers lost their luggage, others almost missed the plane heading to Lusaka, Zambia, from Dubai, United Arab Emirates, and many struggled to adjust to the drastic time change.
The Gonzaga Chamber Chorus's trip to southern Africa began as overseas travel often does.
Twenty-eight singers, director Timothy Westerhaus, pianist Celeste Johnson, Center for Global Engagement lead Joseph Kinsella, and Global Bridge Program chair Jennie Sevedge traveled in May to Zambia and Zimbabwe for an intercultural exchange and choir tour in regions where Gonzaga and Jesuits have developed relationships.
Watch It Unfold
Despite the choir's collective exhaustion upon arrival in Lusaka, Ian Loe ('18), a broadcasting and music composition major, realized the group had landed in a warm and welcoming place the moment they stepped out of the airport. Zambia's St. Ignatius Catholic Choir promptly greeted the singing Zags with smiles, song and dance after waiting for their delayed plane for more than six hours.
"That's how the people were – so giving, happy and excited to see us," Loe said. "It was so real. You can't sit at an airport for six hours and fake excitement."
During the trip, Loe joined a group of singers visiting a girls' school at the Jesuit Chikuni Mission in Monze, Zambia, where they introduced themselves, played some games and sang with one another. He would remember what happened next long after he set foot on American soil again.
"We sang a verse of our music and they started clapping and cheering for us, which was very humbling," Loe said. "Then as soon as we were done, they asked if they could sing this beautiful song called 'Nobody Knows When Jesus Will Come.'"
In that moment, the students witnessed the young girls' genuine reciprocity and willingness to share the gift of touching music. Though these girls lived on a continent nearly 10,000 miles away from home, they were not too different from Loe and his friends. They wanted to listen, enjoy and sing.
Previously, Loe traveled to Bogota and Cali, Colombia, for a similar exchange in 2015. Both trips reaffirmed a valuable new perspective: America is not everything.
"I like to say that America's number one export is media, which means that all we ever see is what we have going on," he said. "Both trips were eye-opening experiences because I realized the world is so much bigger than we make it."
Music Communicates
While visiting Chikuni Mission, the choir also interacted with students from a local boys' school. At first, the young boys were guarded, shy and uncomfortable when interacting with the American visitors. Then, the boys began to exchange high-fives and fist bumps with their friends while grinning from ear-to-ear when the Chamber Chorus shared its music.
"Music was a way to bridge that social gap," Loe said. "We showed each other that we are similar, and could actually communicate and just be people who love to make music together."
Westerhaus, director of Choirs and Vocal Studies and Music Department chair, says vocal music is "a part of our identity beyond the distinct sound of our voice. It weaves itself into our personal narrative" after countless hours of rehearsal and preparation.
"When we receive music from others, it's a transmission of really personal story," Westerhaus said. "Music is not a universal language in that there are differences in how we perform, and different literal languages."
Nonetheless, music is a vehicle for communication between those who may be different from us. The common melodies and harmonies that the Chamber Chorus shared, taught and received bonded two cultures in friendship.
Embracing Differences
Time. Presence.
In the U.S., we typically glance at our phone or wristwatch often to ensure we are effectively utilizing each minute, and run a race against the clock almost every day. The sense of time and priority in Zambia and Zimbabwe is markedly different, and encourages living in the moment.
Westerhaus says this was both a challenge and a great opportunity for the Gonzaga group.
"With music, we need to make the most of our time but also be able to live in the moment," he said. "For me as a conductor and for our students, it took some breathing and allowing the space to be created for that musical interaction, and for a slower pace of just being with one another."
The Zags soon realized they would have to cast aside expectations and cultural norms to learn lessons about patience, relationships and respect.
Some of Westerhaus's fondest memories of the journey occurred at the ends of collaborative work. The Chamber Chorus performed at the National Gallery of Zimbabwe in Harare with the Chitungwiza Harmony Singers. There, the two choirs performed several collaborative pieces, including "Hymn for America," and the spiritual "Over My Head I Hear Music in the Air." Then, the Chitungwiza choir began to sing another song new to their guests, and the singing Zags joined in as they learned on-the-spot from their Zimbabwean friends.
"Everyone felt this incredible enthusiasm, and we went on and on until we eventually danced out together. It was joy heaped upon joy," Westerhaus added.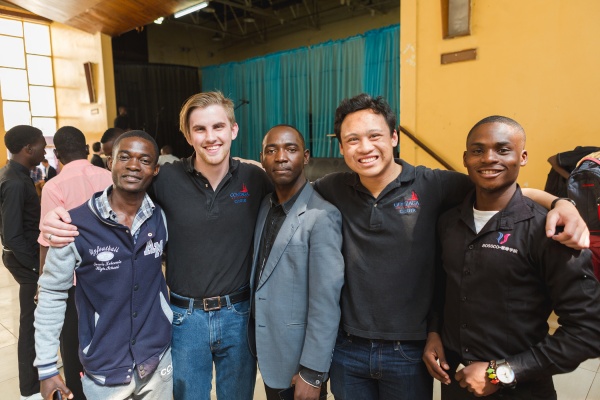 Humility and Wonder
Both Westerhaus and the singers learned to encounter beautiful new lands and people with humbled hearts on their trip.
In the Bible, God commands people to take off their shoes because the ground is holy (Exodus and Acts). Westerhaus hopes his students would treat the intercultural exchange with the same reverence.
"We have a mandate not to approach a culture different from our own with judgment, but with humility. The ground that we walk on, the music we are hearing and the land that we are seeing is sacred," Westerhaus said. "I think we tend to look down on countries in Africa, and this has helped us dispel that and open up our eyes and ears and hearts to its beauty and the richness."
"Being in awe of beauty, being in awe of the spirit of welcome. Those are lessons we need to keep in mind."