By Raymond Reyes
Associate Academic Vice President & Chief Diversity Officer
Originally published for Spirit, the Gonzaga Faculty and Staff Newsletter (September 2017), this message conveys much of the tension and the action and the passion on our campus surrounding the issues of diversity, equity and inclusion. The struggle is real – not only at Gonzaga but on campuses across America. Dr. Reyes eloquently expresses the heart of the matter in a Jesuit tradition and shares updates being made at Gonzaga to work toward deepening our intercultural fluency.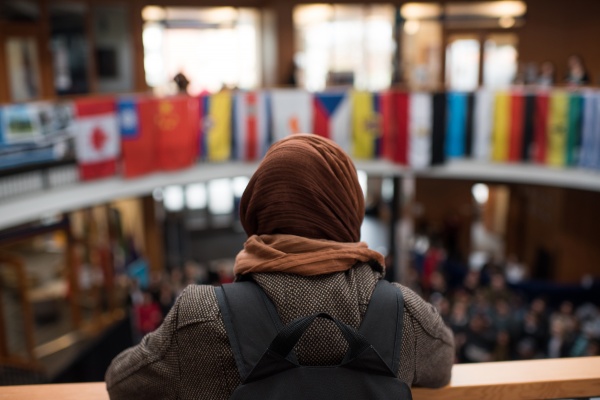 In another place, in another time, i.e., the Isle of Wright, August 1970, during a concert one month before his death, Jimi Hendrix remarked between songs that "we live in a room full of mirrors."
Perhaps the man with singing fingers was summoning an observation made by Fritz Perls,
the father of Gestalt Therapy, when he noted that in cultural relationships we enter a matrix that invites the potential experience of "through the face of another, I am." A Hawaiian elder once told me that Hendrix may have been referencing the notion that "you spot it, you got it." Here is what I see reflecting back to me and what I hope I know as I begin my 30th year at Gonzaga.
In my rear-view mirror resides an image from May 5, 2017, when a group of students produced and disseminated a YouTube video entitled "Where Were You When." It is a group of students giving voice to their GU experience that reflects back to all of us how they describe the gap between rhetoric and reality as it pertains to issues of inclusion, equity and intercultural awareness. In front of me I see the reflection of a new academic year bringing forth a constellation of new images with 1,257 new students becoming part of a
student body just south of 8,000 being served by a workforce of approximately 1,440 staff, faculty and administrators. Imagine this: Each student, staff, faculty and administrator embodies a cultural world unto themselves.
We are a predominately white institution that embodies a multicultural community where
around 10,000 individual cultural worlds orbit in relationship with each other as we co-inhabit and co-create the same space to learn, live and work. I suspect that some of you have experienced what Vincent van Gogh's colors may have felt when they were asked by his brush to mingle in "Starry Night." However, please find comfort in knowing that together with our students, faculty, staff and administrators, you are contributing to a new stroke toward painting an intercultural portrait of our community that commits to walking the talk
of our Jesuit mission.
I see the image of St. Ignatius of Loyola manifesting in the faces of our students. Ignatius
has been characterized as a "practical visionary." I see the impeccable ability to fly kites (the idealism of youth) dancing with the compelling need to drive nails (the realism of adult
initiation) sitting in our classrooms, resident halls and prayerful spaces. Let me challenge you
with a dose of idealism to manifest into reality.
For academic year 2017-18, I would like to see us experience the spiritual significance of human diversity by linking practices of inclusion, equity and intercultural awareness to our educational mission as a Jesuit social apostolate.
One of the hallmarks of Jesuit education, based upon Ignatian spirituality, is the belief that God can be found in all things because the world is saturated with divine presence. He describes a cultural reality wherein every moment of our life God is communicating to us through person, place and thing. The Composer of Grace and Keeper of Promises is constantly trying to draw us into an awareness of the reality of who we are through His eyes and our experience of "the other." I would like to challenge all of us to raise our awareness of the "active presence of God" in all our intercultural relationships. Can you see the other through God's eyes?
Where there is a will, there is a way. Will a College Democrat see a College Republican through God's eyes and vice versa? Will a heterosexual staff or faculty see a gay, lesbian, transgender or questioning staff or faculty through God's eyes and vice versa? Will a Christian staff see a Muslim student through God's eyes? Will an able bodied student, faculty or staff see a physically challenged student, faculty or staff through God's eyes? These are questions with potential answers inviting us to close the gap between the promise and the practice of culturally inclusive teaching, or recruiting and retaining a diverse workforce, or creating a safe, supportive campus climate for everyone.
To walk this talk will require the acumen of a practical visionary but also institutional structures, policies and processes that hold us accountable for results. In January 2016, President Thayne McCulloh established the University Council on Equity, Inclusion and
Intercultural Awareness. The Council is an advisory body to the president, Cabinet and the chief diversity officer. Co-chaired by Chris Purviance and myself, this Council is the primary institutional mechanism to manifest the intentions and desires articulated in the GU mission statement. At the heart of this desire is to create a campus climate that supports a deep appreciation for, and respect of, diverse social identities; a learning, living and working environment free from discrimination; and an educational experience that prepares its
graduates to serve and thrive in a culturally diverse world.
What makes diversity work distinctive at GU compared to other regional institutions of higher learning? Here is the image I see in the room full of mirrors called Gonzaga University.
The spirit of a Zag, the soul of a Bulldog is nurtured by the invitation to become a contemplative in action. At Gonzaga, in every moment of our community life as students, faculty, staff and administrators, we are invited to be alert and vigilant to God's presence in all our relationships.
We are blessed with the choice to use this awareness of our intercultural relationships for a greater good by actively addressing issues of social justice as it pertains to exclusion, oppression or marginalization.
In reflecting upon my time at GU through a Platonic mirror, I see that I am pregnant in soul
with great hope and gratitude. Hope comes from the awesome work that our Diversity
Inclusion Cultural Engagement (DICE) colleagues, through UMEC and LGBTQ+, have been doing and continue to do for the greater good. I offer a heartfelt welcome to Joan Iva Fawcett as assistant dean and Ricardo Ortega, as program manager, new colleagues with DICE. You gift me with hope. Gratitude comes from how truly grateful I am to our student activists who remind me that a Jesuit university is a catalyst and container for creative tension and loyal opposition, where truth is achieved through dialogue and the miracle of listening. You teach me that listening is the midwife of action.
In his book "The Active Life: Wisdom for Work, Creativity, and Caring," Parker Palmer describes how "action, like a sacrament, is the visible form of an invisible spirit, an outward manifestation of an inward power." To be fully alive is to act! I sincerely hope that all of us will look in the mirror, see a practical visionary reflecting back, and act upon the image of this likeness. So what's next toward transforming words into action? Here is what resides on our community's immediate horizon:
Faculty & Staff Social Justice Learning Circles based upon the Intergroup Dialogue (IGD)
principles and practices for developing intercultural communication skills
Intergroup Dialogue Program for students
On Oct. 18, Sue Rankin & Associates will disseminate the Spring 2017 GU campus
climate assessment results in two community forums and recommend actions to address
our inclusion and equity challenges and opportunities.
The Center for Teaching & Advising (CTA) will provide professional development
programs for faculty on culturally inclusive teaching, productive discomfort and using
universal design pedagogies aligned with equity education practices.
We have four diversity post-doctoral fellows teaching in four disciplines in the College of
Art & Sciences. This is an initiative designed to develop a more culturally diverse faculty.
In addition, we will continue to assist faculty search committees in their desire to create
more diverse candidacy pools.
We are implementing a Bias Incident Assessment and Support (B.I.A.S.) team.
This is a partnership between the student development and academic divisions to
improve the reporting of, and response to critical incidents.
Students will have the opportunity to participate in co-curricular and/or extracurricular
programs such as the International Conference on Hate Studies, Oct. 19-21.
All this to say: Let us act and form collaborative partnerships in solidarity toward creating a
sustainable campus climate characterized by empathetic caring and respect for the dignity
of all our intercultural relatives. In the Spirit of Our Ancestors, May the Blessings Be!