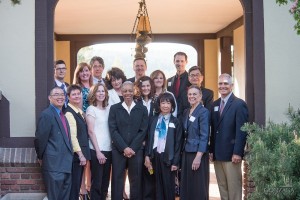 With the ending of the Spring Semester and the Academic Year 2014-2015, I wish to share some DPLS news by way of Congratulations to newly graduated PhDs, Thanks to many Graduate Assistants, and a Good-bye to one of our favorite people.
1. Congratulations to new PhDs. This year Gonzaga University held its Graduate Commencement on May 9, 2015. DPLS is proud to announce the inclusion at Commencement of 13 newly minted Doctors of Philosophy. Including two from earlier in the year, we introduce you to the following fifteen new graduates of The Doctoral Program in Leadership Studies at Gonzaga University: Rev. Dr. Elizabeth Kierulff Armstrong, Dr. Shawn W. Brigman, Dr. Sharon K. Canda, Dr. R. Scott Francis, Dr. Trina Miller, Lt. Col. Allen E. Patty, PhD, Dr. Nathaniel G. Pearson, Dr. Sarah Y. Piper, Dr. Khalida Rashwan, Dr. Rebekah Page Rogers, Dr. Dung Q. Tran, Dr. Fugen "Jaz" Tulgar, Dr. Faith Valente, Dr. Enoch K. Wong, and Dr. Kirk Desla Young. Congratulations to all of you and to your dissertation chairs. May you always remember the Ignatian magis as you lead others and do work that serves the common good.
2. Thank You, Graduate Assistants. To those who worked this academic year June 1, 2014-May 31, 2015, thank you for your work. You gave of your energy, time, and expertise to help professors with their research, help DPLS with needed reports and research, and you helped other departments and the greater Gonzaga community. We are grateful for your willingness to work for us. THANK YOU!!
3. Good-bye to Ms. Marnie Broughton. Many of you already know that July 1, 2015, Marnie is retiring from Gonzaga University. Although this will be a sad time for DPLS, it will be a very happy time for Marnie who is planning to spend much time with family and grandchildren. Marnie has been at Gonzaga for 18 years, at least 12 with DPLS. Marnie has helped shape and grow DPLS in many overt and subtle ways. In fact, this was the 10th Doctoral Banquet Marnie prepared and oversaw. Marnie is often one's first introduction to the doctoral program, and the final check-person when one finishes the dissertation. We will miss Marnie's kindness, her sympathetic ear, her ability to help us focus, her knowledge of the program and its people, and her "Zagness." Gonzaga will plan a retirement party, so those in the Spokane area keep an eye open. When DPLS knows, we will announce, so those who wish to come will have the chance to thank Marnie in person for all she means to us. Marnie, you know you will be missed deeply. Marnie, with much appreciation for all you have done for DPLS and for all you mean to DPLS, professors, current doctoral students, and DPLS alums bid you good-bye and we wish for you a most happy retirement and many wonderful adventures with your husband Ed!
May all of you, DPLS current students and alums, staff and faculty, make time for replenishing, for a refreshing break from your studies and your work.
JoAnn Danelo Barbour, PhD
Chair and Associate Professor, DPLS