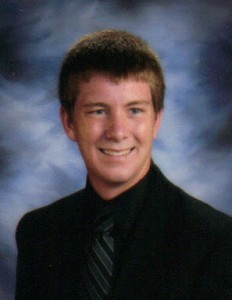 "College is all about finding out who you are and what you want to do," says Edward Lesniowski ('15), who is working hard to hone in on his own interests and forge a path for his future – a future made possible by the generosity of the donors to the Gonzaga Scholars Program.
Edward came to Spokane from Los Angeles, Calif., during the summer before his senior year of high school. He and his best friend toured the campus and Edward instantly fell in love with the Gonzaga community.
"Everyone was kind and courteous, and even the smallest thing like holding open the door for a complete stranger really shocked me. Everyone is willing to drop whatever they are doing to help you, even if you are a stranger. It is really great to have that type of support from the community as a whole. Being from a fractured family, I appreciate the closeness of the faculty, staff and students."
As much as he loved the community, it was going to take a lot of hard work for Edward to become a part of it. He grew up as the middle of three brothers. The youngest of the brothers is disabled and their single mother serves as his caretaker, making her unable to work and the family reliant on state assistance to get by. The family's situation helped to inspire the Lesniowski boys' resolve in working toward a better future. Edward's older brother attended and graduated from West Point and now serves as a First Lieutenant in the U.S. Army. Edward wanted to go to college, but how he would pay for it weighed heavily on him.
"Because of my unique family situation, cost was the only factor when considering schools," Edward said. "It was a frustrating situation because my mom could not take out any school loans due to our poverty status – no collateral and no real income."
The Gonzaga Scholars Program helped to make what seemed impossible to Edward, possible. "Gonzaga gave me a very generous financial aid package and matched some of my other outside scholarships. No other school would do what Gonzaga does for its students. Gonzaga really goes above and beyond what is expected."
Edward recently discovered an interest in marketing and hopes to narrow his focus as he approaches his upper-level classes. He works part-time at the University and in the summer he works as a lifeguard and swim instructor at a local military base, but his scholarships are truly what made his education possible.
"I am grateful every day for the generous contributions from strangers for making my dreams come true. I want to thank the donors from the bottom of my heart. What you are doing for me as well as other college students in similar situations is truly an amazing thing. Thank you for blessing us and for making our dreams a reality." Edward is looking forward to following in the footsteps of those who helped him, too. "I have every intention of 'paying it forward.'"
There are many students like Edward who need your help to realize their dream of a college education and Gonzaga experience. You can help make a real difference in their lives by making an additional gift to the Gonzaga Scholars Program this year. Visit gonzaga.edu/proudzagsgive today to get started.