Alicia Bies came to Gonzaga with the intention of volunteering, like she had in high school. So, when she found out about GUSR, a program that works with adults with development disabilities, she immediately knew she wanted to be involved. The only problem was, she thought GUSR worked with children: "I made it through the whole application process thinking that, and then showed up one day in February and realized I was working with adults with developmental disabilities. It was kind of a shock, but it was the best surprise of my life and so much fun." What started as a misunderstanding has become one of the most important aspects of her college experience.
Gonzaga University Specialized Recreation is a program run by the Center for Community Action and Service Learning (CCASL) at Gonzaga University. Led by a team of seven students and a staff advisor, GUSR brings approximately 50 Gonzaga students together with 50 adults with developmental disabilities in a community focused on creating inclusive relationships and breaking down stereotypes. Together, they participate in weekly sports programming, an annual retreat, monthly events and two full-stage play performances complete with weekly rehearsals.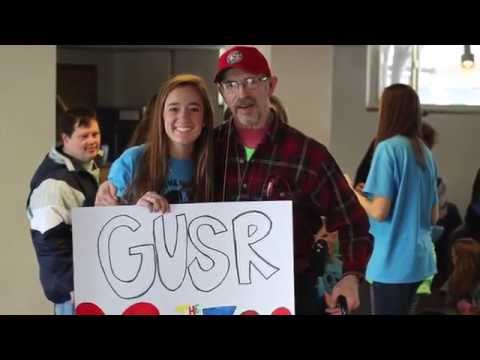 After volunteering as a freshman, Alicia became a coordinator her sophomore year. As lead coordinator, Alicia puts in roughly 300 hours of work in a semester. She is in charge of keeping everyone on track: ensuring they meet their goals, the events are fantastic for both participants and volunteers, and that everyone is supported and having fun. She also volunteered with Aprils Angels (now known as Zag Volunteer Corps) as a freshman, but quickly realized that she wanted to make sure she was focused solely on GUSR and making it the best program it could be.
To Alicia, GUSR is unconditional love:
GUSR has been my entire Gonzaga experience and when I think about graduating, I'm not upset about graduating, I'm upset that this is going to be my last play performance in April. It's really tough because GUSR is why Gonzaga has been so special to me. You can go to programming in the worst mood and the participants will make you feel ten times better in five minutes.
Despite the long hours, Alicia is inspired to stay because she can't picture herself doing anything else at Gonzaga. It's her favorite part of the week. "They actually care about how you're doing: the volunteers, the participants, everyone. That's definitely why it's worth the hours and the stress before an event, to see everyone enjoying those moments really makes me love to do it".
Alicia, an Accounting and Supply Chain Management major, will be working at Boeing after graduation as an industrial engineer. After she moves on, she hopes GUSR will keep expanding, possibly to other universities. She did research last year and found out they were the only program like GUSR in the country that is run by college students. There are programs where you can pay a fee and join the program, but there is no other student-run volunteer program, so it would be inspiring to see other schools start something like GUSR in their communities.
Alicia's favorite moment from GUSR was during the first Coffeehouse experience when one of the participants sang My Heart Will Go On. "Whenever the crowd would clap, she would shush them because she thought they were trying to stop her and she wanted it to be her moment. After the performance she came up to me and said, 'Alicia, that was my dream come true.' It was so touching and such a great feeling knowing you could help give someone an experience like that."