Cole Fiscus, a fifth year senior from Colorado, has made CCASL a cornerstone of his Gonzaga experience. He has served as a Reality Camp and Mission: Possible leader, as well as a mentor and student leader in Campus Kids. Cole and his mentee, Kadinh, have fostered a relationship of mutual admiration and respect for the past three years. The two were first paired as mentor and mentee in 2013 and have continued growing their relationship since. Below is an interview with Cole about his relationship with Kadinh and his experience with CCASL.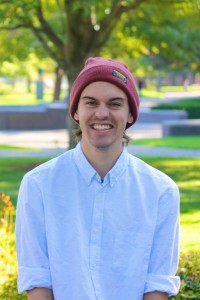 What is your name, year, age, and positions at CCASL?
Cole Fiscus, Super Senior, 22, Mentor for Campus Kids, Student Leader for Campus Kids, Student Leader for Mission Possible, and Student Leader for Reality Camp.
Where did you go for mission possible?
Sophomore year, my first time, I went to Knoxville. My junior year I went to St. Louis. My senior year I was a student leader for the Knoxville trip, and this year I am leading the St. Louis trip.
What site impacted you the most?
I was greatly impacted by the work we did at The Boys and Girls Club in Knoxville. This was my first experience being in a mentor role. We went there and hung out with the kids, but I got caught up with that fact that we would have to leave a week later. I realized I was probably never going to see any of them again. I knew I wanted to spend more time with kids and so I came back, worked at a summer camp, and the next year I volunteered for Campus Kids. I wanted to be a mentor for more than a week.
Anyone who sees you and your mentee together can tell that Kadinh looks at you with so much admiration. In what ways do you look up to Kadinh?
Our first month together was really awkward because Kadinh didn't really want to talk to me. He was just like "who is this person, he's a stranger", but I think eventually he realized I was there to just be with him, be his mentor and see if we could grow together. What I admire in Kadinh is that he is much more willing to do that than I am sometimes. I think seeing him open up to me and being able to trust me has allowed me to be able to do that in my own life. We're the same personality, definitely introverts, but together we can go far. I guess I see a lot of him in myself. We are a good match.
How does your role as a mentor and leader for campus kids translate into the work you want to do in the future?
I've thought a lot about whether or not I want to work with youth in my career, and I'm still thinking. I had a conversation with Luke Lavin from UMIN, he did JVC, and the tag line he told me for JVC is 'Ruined for Life'. I really like that because it spoke to me in the work I've been doing. I've never felt more passionate or connected to my purpose in life than when I'm doing service.
What is your favorite moment so far with Kadinh?
My favorite moment with Kadinh so far came at the end of my second year as his mentor. There were a lot of conversations happening around CK regarding the closing of matches because mentors weren't able to return the following year for various reasons. Because of this, Kadinh asked me something along the lines of "You're coming back right?" I answered "Of course!" And he followed that with "Good. You better be." It made me laugh and it also made me really happy to know that he was enjoying our time together as much as I was! Another moment that sticks out to me is when Kadinh opened up and we started to have inside jokes and play little games. This was when he started trusting me enough to be himself.
What was the first moment you felt you were making a difference and breaking the barriers, what did it feel like?
It was humbling because I didn't have too many mentors growing up. There was one guy named Luke, who I met at a basketball camp and I really looked up to him. He was our coach and I thought he was the coolest guy ever. He was on the high school varsity basketball team and I was in 6th grade. When Kadinh started opening up to me it was weird realizing that I was in Luke's spot and Kadinh was in my spot. It was a role reversal and it was the best feeling in the world.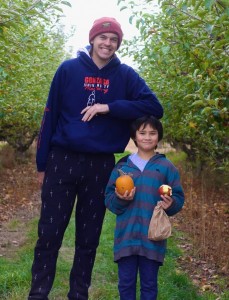 The Spokane community has a lot of negative connotations and stereotypes. How do you see Kadinh surpassing those stereotypes?
When I was a freshman, I called Spokane residents Spokies. I don't say it anymore because of negative connotation it has. Since I've learned that everyone you love and meet has infinite worth, I've been really impacted. Kadinh is just me, in a different town, born ten years later. Being born in Spokane doesn't affect his potential or what he wants to do in life any more than where I was born, same with everyone else in the Spokane community. I am in a class called Service and Leadership where we go to the House of Charity every week and visit the homeless clientele there. It's the same thing. I think people are scared of what they don't understand but if they get exposure then they will grasp the fact that every person has infinite worth.
What is the biggest thing you can take away from your time at CCASL?
The biggest thing I can take away from it all is what I've learned through trainings and events put on by CCASL, especially a discussion led by Kent Hoffman. His idea that every human being has infinite worth and that each of us matter absolutely has changed my life in more ways than I can describe. I used to try to fit in with the cool kids in high school and do sports and be popular, but now, going through service and CCASL that's really not important to me. I think I was growing to learn that exact lesson through all of my experiences in CCASL, including Campus Kids and my time with Kadinh.  Kent Hoffman just figured out how to put into words. I try to remember those words when I'm interacting with anyone and everyone. This lesson has been life-giving.
What hopes do you have for the future of Campus Kids?
My hope for CK is that mentors strive to remain within their match for three or even four years! Every year we do the mentor appreciation. There are a sparse amount of people who can say that they've been a mentor for the same mentee for three or four years. I'm very happy to be included in that this year! I know that's a lot to ask, but I just feel like it's so cool when a match is able to grow together for the maximum time that they have together. Saying that, I also feel like there's a lot of growth potential for CK mentees to see what Connections is like, so that program can start to grow in numbers. If the necessary mentors who apply to Connections are sticking with their CK mentee, even better.
What is one piece of advice or one thing you'd like Kadinh to know before you graduate?
Wow.. I want him to know that he can do pretty much whatever he wants to do in life if he works hard. He has more potential than he thinks he does, or at least more than he gives himself credit for. And that he'll always have people around him to support him, including me!