By Megan O'Malley ('17)
All 12 of us, boxes and bags of groceries in hand, stumbled up the clay-colored gravel to find a wooden gate with a No Trespassing sign stapled to its timber.
The months leading up to this Mission: Possible trip to Phoenix, I had emailed and called and realized my inability to make a simple spreadsheet. In the midst of my planning, I had forgotten about the fear that comes along with a service immersion experience: what if my group trespassed into people's lives in a painful way? The sign's warning pushed me to think about how this intrusion could take form: would we ask questions too shallow or too personal, assume the wrong ideas about life after homelessness, or let expectations trump our experience?
I had to plant my trust in the directions we'd received an hour before that led to this threshold. I held fast to faith in myself and my group, with the knowledge that our dinner with the women of House of Promise would be a true encounter, but not one that could even begin to sum up the experience of any woman building a new life after homelessness.
I unlatched the gate and we took the path to the joined back porches of twin houses. We were swept up by the warmth of two women, Debbie and Terry, who met us eagerly.
We assumed the two worked at House of Promise, a transitional housing program for single women, but quickly learned that Debbie and Terry were residents, not employees. They showed us the beautiful house they called home, excitedly showing us their rooms and all of the blankets they had knitted to decorate the house.
My seedling fear was pushed aside by the sacred way the two women had already embraced our group of 11 students and one faculty member from a school no one we met could pronounce. We were strangers, and they welcomed us – just the beginnings of a living Gospel we encountered that night.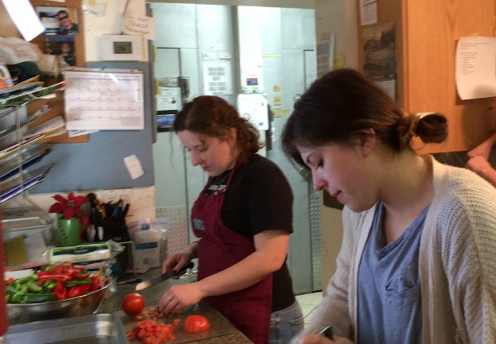 Our group began to work in a way that would become secondhand by the end of the week. Sydney and Ally chopped bright vegetables in a corner, Chandra and Heidi seasoned the meat for our burgers, I slowly stirred baked beans on the stove. We quietly hummed at our own tasks until a rush of unadulterated joy, Dena, burst through the door. She was asking our names and forgetting them before we had a moment to remember to pretend to be anything we weren't. Laughing like she needed the buoyant sound as much as breath, her very presence invited kinship. Just off her shift at Wendy's, still apron-clad, she jumped into our group effortlessly and quickly assigned herself as the kitchen DJ.
That's how the night continued and House of Promise became a home to us too. We smiled, almost knowingly, as we heard Dena's laughter echo and entangle with that of Madi and Brandon from our group, as they struggled to light the barbecue outside.
And later, standing beside the barbecue finally lit, her joy tumbled over her tear ducts as she filled our hearts with the life of her story.
We listened to her talk about her dream to open a home for kids on the street, to offer them a place of solace, something she never had.
We marveled at her strength as she told us of the forgiveness she's sowing for her father, and the patient way she is facing being forgiven by her own kids. We heard about the strategic ways she seeks to improve the days of those who pass through her drive-through window and the way her deep conviction of her identity in Christ serves as the root of her joy.
Gathered around the table, I watched as our groups became one: host and guests all gathered together, united by the joy of authentic conversation, where a fear of trespassing failed to flourish.
About Mission: Possible
Gonzaga's Center for Community Action and Service Learning (CCASL) offers many options for weeklong service immersion during spring break called Mission: Possible.  In 2016 more than 100 Gonzaga students traveled to 10 sites around the country to serve local communities.
In Boise, students volunteered with Full Circle Exchange to accompany women in job training.  A four-minute video of the experience is available here.
In Knoxville, students supported Operation Backyard and Boys and Girls Club.
Working with 2014 Opus Prize winner, Hour Children of New York, Zags worked with children of incarcerated parents.
In St. Louis, participants helped clean an emergency shelter for homeless women, children and families through Gateway 180.
Sites are coordinated by a student leader with the support of university staff and faculty. The purpose of Mission: Possible is to enter into mutually beneficial relationships with community partners, focusing on student learning, as well as community impact. We do this through the use of our four pillars: simplicity, spirituality, community and justice. You can read about all of the teams on Gonzaga's News site.