by Autumn Jones ('10)
It's tournament time. March Madness is here. As a Gonzaga alum and one of the leaders for the Denver contingent of Zags, it's been a crazy week of event planning, media relations and, of course, the actual games.
Our local chapter of Gonzaga graduates is thrilled to have the Zags in the Mile High City for the first two rounds of the tournament. We got to run around town with Seattle and Spokane news stations, introducing them—and the greater Northwest—to life in Denver as Zags post-graduation.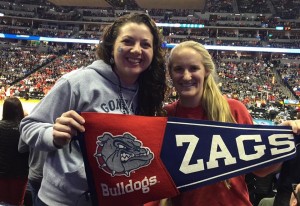 Thursday night's game against Seton Hall at the Pepsi Center was nothing short of electrifying. We watched Sabonis and Wiltjer scramble for every loose ball. We celebrated Perkins, our hometown Zag. The cheers we learned five, 10, 15 years ago echoed throughout the arena. The Kennel Club showed up loud and proud on that snowy evening in a space more than three times the size of the McCarthy Athletic Center.
Now fully assimilated to our post-college careers, the game was a way to connect with our former selves. It was a blend of nostalgia and reality, the reality that is our Gonzaga experience, lived out in our professional and personal lives beyond our university experience.
I love Gonzaga basketball. But more than Gonzaga basketball, I love what it means to be a Zag.
Over the course of my five and a half years in Denver, I've met and celebrated Gonzaga with some incredible individuals. This week, in particular, I've been on the "Gonzaga high." Yes, it's about the game, but, even more than the game, it's about rekindling the shared Gonzaga experience and learning how Gonzaga graduates are living out the Gonzaga Mission in this tricky thing called "adulthood."
You see that Zag? He's the principal of a Title I elementary school. That one over there? She's a nurse at Children's Hospital. What about him? He's a financial analyst and volunteers at church on the weekends. How about that one? She's the mom of three under four, and she works full time. What about him over there? He started his own photography business and is marrying a fellow Zag later this year.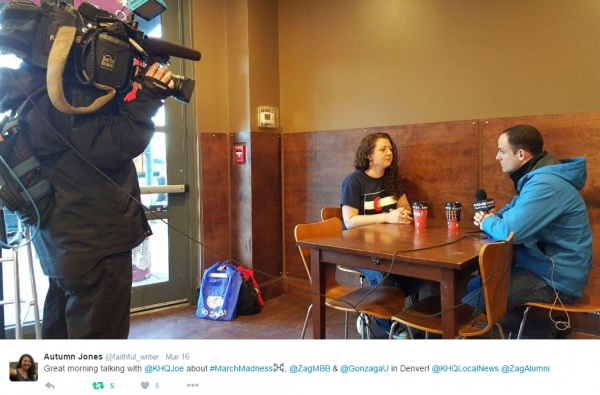 I gave an interview with a Spokane news outlet earlier this week and the reporter asked, "Why is it so important to have a Gonzaga Chapter here?" As I answered, the idea of basketball games faded to the background, and a more powerful and much deeper resonance settled into my heart:
"There is this sort of life-changing spirit we experience at Gonzaga. Through the chapter and how we engage in social justice, service and faith-based activities beyond college, we continue to discover that spirit. It becomes an extension of the community we built at Gonzaga, lived out here and now in our adult lives."
I realized that when I meet other Zags, we automatically reach a new level of intimacy by the simple fact that we have a common experience—a rich experience—in faith, community and social justice. We can talk about profession in the context of vocation. The words "calling," "service," "Ignatian" and "Jesuit" are a regular part of the dialogue.
These are the elements of a Gonzaga alumni basketball event: to come together through fun activities and basketball, in community, to share meaningful conversations about work, life and our call to be "women and men who will make a difference for good in their communities and the world." And to continuously support the opportunity for this kind of experience for current and future Zags.
This is the foundation that exists in the madness that is March as a Gonzaga alum.
To some, my college basketball passion comes up short. I never camped out for tickets, I only own one Kennel Club T-shirt, and I rarely went to more than a couple basketball games per season during my four-years in Spokane. I've never been to Vegas for the WCC tournament. Or the Bahamas. Or Battle in Seattle.
But I love my Zags—perhaps now even more than ever—because basketball games introduce me to the many extraordinary people who carry out the Gonzaga Mission in their lives beyond the walls of DeSmet, Catherine/Monica, College Hall and Crosby. They are the ones who help us "find God in all things," and show us what it means to truly "go forth and set the world on fire."
Ad Majorem Dei Gloriam.
Autumn Jones graduated from Gonzaga University in 2010. She is the Digital Content Editor at the University of Colorado Boulder, where she earned her M.A. in Journalism in 2014. To read more of her work, follow Autumn on Twitter or check out her blog, The Faithful Writer.