By Megan O'Malley ('17)
It's Wednesday night.
Gonzaga students flock as they do each week to their beloved mid-week traditions: listening to visiting bands at Coffeehouse, lining up for twelve warm cookies and a carton of milk at SubCo, sprinting to Mulligan for an intramural soccer game as the field lights flicker on.
For Comprehensive Leadership Program (CLP) students, Wednesday nights hold another midweek routine: pulling the wide doors of Tilford open to gather for leadership class. Every week, roughly 40 students from each class study leadership and its interdisciplinary application. Each class's cohort spends almost four years together on Wednesday nights.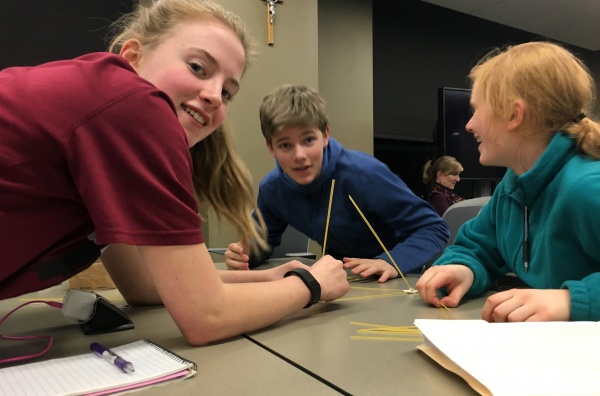 In February, the usual cohorts were joined by a group of 8th-10th grade students from Helena, Montana — members of the PEAK program.
PEAK, or Providing Educational Activities for Kids, is a program for 3rd-10th graders in the Helena Public School District who are considered gifted and talented.  It provides them with opportunities for early leadership development during school breaks or after school.
They were here to participate in an exchange — to immerse themselves in CLP, and to work with Gonzaga students to improve their Legacy of Leadership projects, which they presented to CLP students and professors on the last day of their trip.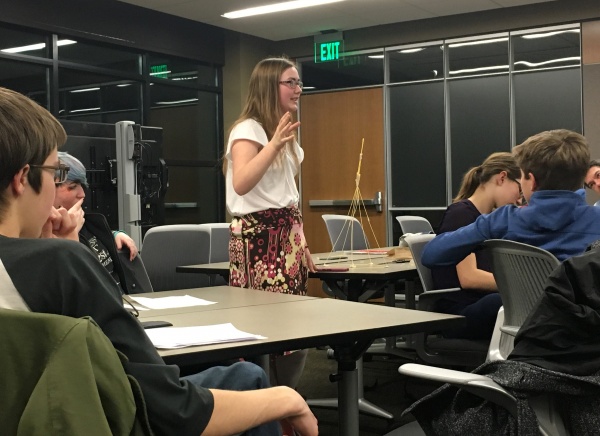 After class, two junior CLP students, Maggie Douglas and Bree Fealy, facilitated a few leadership activities for the PEAK students. Maggie and Bree encouraged PEAK students to work together to build the highest marshmallow tower, a classic leadership activity. The groups all huddled around their table, rolling the thin strands of spaghetti noodles in their hands, quickly throwing out ideas for the challenge.
Once the towers were measured and one group was declared the winner, the PEAK students reflected on their experience of communication styles within the group dynamic. PEAK students shared how they had witnessed their own roles in the process, and how every communication style is an asset to a group process.
Then, the PEAK students continued their process of revising passion projects to address a problem close to their hearts and searched for creative solutions.  The students had real objectives they were planning to put into action like Salomé's fight to end the stereotypes attached to populations experiencing homelessness. Other students shared ideas that would impact their local community, like Caroline's dream for exercise clothes to be available for all of her middle school peers, made possible by a 'lending library' system.
Among the whirlwind of project proposals, which included feminist book clubs, websites with supportive outlets for musicians, and debunking myths about experimental psychology, one value remained universal: each idea was formed from a personal connection or love. Each project gave back to something that shaped the PEAK student's identity in a significant way.
Gonzaga participants were inspired by the PEAK students' passion.
Patrick Holcomb, junior, said, "The PEAK students were innovative and intentional in the ways that they saw a problem in their community and collaborated with one another and different organizations to be advocates for change. To be able to see passion and creativity come together in a group of middle school and high school students inspired me to go out and make a difference in the community. I was very fortunate to have had the chance to hear and see the legacy the PEAK students are leaving behind and the better world they are working toward.