By Dale Goodwin ('86), father of a 2016 graduate
Father Brad Reynolds, S.J., walked into the rows of soon-to-be graduates while delivering the homily at Commencement Mass, not so much to get the attention of these new alumni, but more intentionally to touch them one last time with his spirit and the Spirit of God. Of course, this was nothing new to Fr. Reynolds, longtime Oregon Province Jesuit and now assistant director of University Ministry. This is the way he always addresses our kids. He engages them, and they respond.
"That's why we all love him so much," remarked my son, Ben Goodwin, who I shared graduation festivities with on a blessed Mothers' Day weekend.
Fr. Reynolds had the future grads and family members alike, glued to his every word and gesture. He took out his phone and talked about how our young people communicate today, referring to popular social apps like Yik Yak, which Ben is sure Father has never used. Then he went back up the ramp onto the stage, and tried to take a selfie with the students in the background. The students loved his efforts.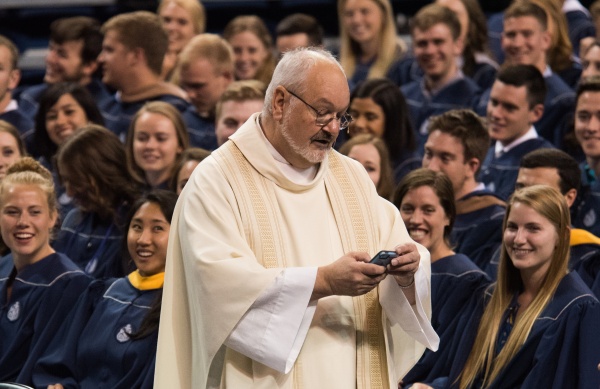 "I like that you're graduating on Ascension Sunday," Fr. Reynolds said more seriously. "Because, believe it or not, Christ's Ascension and your graduation have some things in common."
"Both of them are about saying goodbye, and letting go. But without saying goodbye and without letting go," Fr. Reynolds said.
"There are some things that need to be left behind. Mistakes and betrayals, wounds, words that should not have been said. Words that should have been said.
"And there are things that lie ahead. More mistakes, more betrayals, wounds and words, said and unsaid.
"But there are also things to look forward to: miracles, conversations, life-changing conversations and encounters," Fr. Reynolds continued. "And gifts from the Spirit. Gifts that are much better than a nifty set of pens that look like light sabers, or a set of luggage made from recycled tires. These are gifts to get you through life, gifts like love, joy, peace, patience, kindness, generosity, faithfulness and gentleness.
"Your role as graduates is the same as that of the disciples – to go out in the world and to place yourselves in service."
His emotions took charge as he shared the words of Society of Jesus founder St. Ignatius of Loyola: "Go forth, and set the world on fire."
Going Forth: to New York
My son had spent the last few years volunteering in the University Ministry office, which is a melting pot for great young students and Christ-like colleagues, all serving others. More than what he learned in the classroom, Ben's spirituality and sense of humanity have blossomed here at Gonzaga. A true blessing.
The UMin staff had chosen Ben to receive the Saint Peter Faber Award for leadership and community building in his UMin work. Faber was a close friend of Ignatius, and co-founder of the Jesuit order of Catholic priests and brothers. Ben's reward was a copy of the New York Times best seller, "The Jesuit Guide to (Almost) Everything," by Father James Martin, S.J., who just happened to be the undergraduate Commencement speaker this year. Fr. Reynolds asked Ben to bring his book by the office and have Fr. Martin sign it.
Ben had a nice chat with Fr. Martin, and made an important connection for his next journey:  a two-year assignment with Teach for America, teaching high school chemistry in a New York City public school. Fr. Martin, who writes for America Magazine in NYC, asked Ben to look him up, and "Let me know how I can help." He also asked Ben for some advice. "I have two jokes, and I'm trying to determine which one will resonate best with students, one about the Pope or one about a Franciscan. Which one would you choose?"
I love you. Thank you. Forgive me. Why not? Yes.
At the undergraduate commencement, Fr. Martin was part author, part standup comedian.
As he received his honorary doctorate degree, he commented, "So, my fellow graduates, congratulations. I look forward to coming back to our 50-year reunion when you will be 72 and I will be 105 . . . so please be nice to me."
Father mentioned another rather well-known Jesuit had visited the country recently, Pope Francis. After landing at JFK in New York, his designated driver had a heart attack. So the Pope says, "I'll drive you to the hospital." On the way, a cop pulls him over. He sees one guy in the back seat and the Pope at the wheel, goes back to his car and reports he has a problem. He had pulled over someone very important.
The voice on the other end of the radio call asks if it's the mayor. Cop says, "No, more important." The dispatcher says, "Governor?" Cop says, "No, more important than the governor." Dispatcher asks, "The president?" Cop says, "No, more important than the president." The dispatcher asks, "Who could be more important than the president?" Cop replies, "I don't know, but his chauffer is the Pope."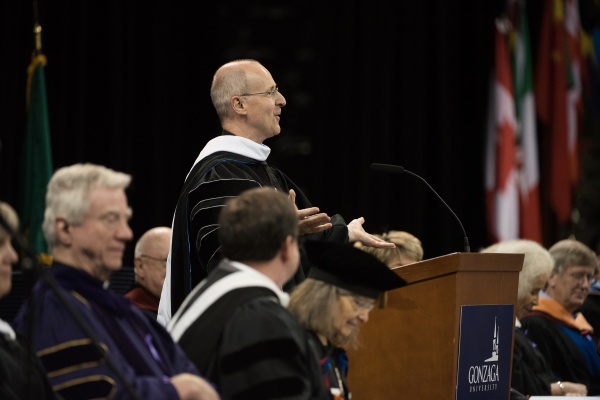 With everyone's attention, Fr. Martin proceeded to give the graduates, and the 7,000 others in attendance, 10 things to make their lives easier and more fulfilling.
The first was rather amusing. "You're not God. This isn't heaven. And don't be a jerk." This resonated with all of us.
Here are his other major points, every bit as important for we parents as for our students:
Your deepest desires are God's desires for you. Listen to His voice.
You can be your best self.
You cannot force people to approve of you, agree with you, be impressed by you, love you or even like you . . . so stop trying. Just relax and accept that some people will and some won't.
Stop comparing yourself to other people. Their life is never as good as what you think it is.
Be yourself. And stop trying to be someone else. "We look to other people for a roadmap of who we're supposed to be, when all the direction we need is inside of us, planted by God. Whether you are man or woman, young or old, black, brown or white. Short or tall. Gay, straight, lesbian or transgender, you are beautiful. God does not make crap . . . as God said, or should have."
Even when you realize the right thing to do, it is still hard. Others may choose to cheat a little, but once you realize the right thing to do, it isn't hard.
Listen to the right voices, the ones that say, "Have hope, don't be afraid, things will change, you can get through this."
Happiness and freedom are linked. The stuff you own ends up owning you. "Be free from anything that keeps you from being a good person and you'll be happier."
Seven things to say every day: I love you. Thank you. Thank you God. Forgive me. Congratulations. Why not. Yes.
More than Survivors
After the Mass and commencement ceremony had concluded, the goodbyes had been said and we were in the quiet of our own home, I asked Ben what the most meaningful part of graduation weekend was for him. The answer was not hard for him to find.
"Hugging the other biochem majors after we graduated, knowing how hard it was, and how much we relied on each other, and now, knowing we made it," Ben said. "We started with more than 40 biochem majors, and we graduated 11 of us. Survivors."
For this dad, I was overwhelmed with gratitude to Gonzaga University, its faculty and staff who made such a positive imprint on my son. After listening to the speakers, and chatting with the graduates and their parents, I could not help but feel the blessing that is a Gonzaga education. We sent our kids here to get a professional education. But what they received was so much more.
Like Ben, so many of our graduates are headed out to serve others, to work for the common good, to find God in all things. And despite the current state of our world, I can't help believe that it will be a better place in the years to come, thanks to the fine young women and men institutions like Gonzaga are sending out to set the world on fire.
Note about the author: I have worked at Gonzaga University for almost 35 years, earned a Gonzaga degree, and have attended a couple dozen graduation ceremonies during that span. But this year was special. My eldest child received a Bachelor of Science degree in biochemistry.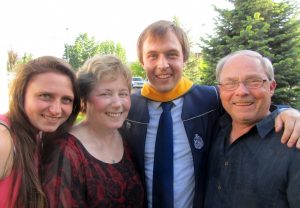 It was special for his mom, too. My wife Mary (Scooter O'Neill) Goodwin ('84), received a second lease on life almost five years ago with a double lung transplant at the University of Washington Medical Center, and is living a very productive and joyful life as a result. It was certainly a dream of hers to see her son graduate from college. And now, as it turns out, Gonzaga and UW Medical School are partners in the Spokane operation of that esteemed medical institution. As you might guess, we have more than a professional allegiance to this partnership.  Who knows, maybe someday Ben, when his service to Teach for America is complete, will return to become a student there.