Sabra Williams: Re-humanizing incarcerated individuals through art
By Kailee Haong, '17, English major
Generated in 2006, The Prison Project sprang up in response to prison overcrowding, impact of offenders and re-offenders on society, and the high recidivism rates. Sabra Williams and Tim Robbins teamed up to combat these issues with The Prison Project, which has served more than 600 inmates. This fall, Gonzaga invited Sabra to campus to share about this work with students.
"I am master of my mind, not a victim of my thinking…"
Stages and shoes, spinning and swaying – the dance floor is where Sabra Williams' journey into her current career began. More than just an expressive form of art, dance is emotive, alluring, transformative. When realizing that, Sabra packed up everything to move from London to New York at age 19. Risking it all and often working paycheck to paycheck, she put everything on the line for her passion, something that she would soon see unfold into theater and film and television.
The Actors' Gang Prison Project
Weaving passion and vocation is something many people spend their entire lives attempting to achieve. Back home in England, Sabra noticed the incredible power and hold that art had when applied in prisons, which originally piqued her interest in bringing something similar to the United States. After auditioning for The Actors' Gang and working alongside artistic director Tim Robbins, Sabra quickly became fully engrossed and invested in this project.
In prison, she explained, you're either numb or angry. The Actor's Gang hopes to equip incarcerated individuals with the skills to identify that perhaps that anger is something else, something like sadness or fear which has been repressed due to the need to remain hyper-masculine in the prison environment.
"We tell them to leave their baggage at the door."
Participants paint masks on their faces, getting into character. They help each other apply the make-up and no longer are hesitant to do so. When these individuals put on their fake masks, she said, they can take off the ones they've been wearing their whole lives. In these environments, they are treated as equals and given a safe space for expressing themselves.
One at a time, the crew focuses on four main emotional states – happiness, sadness, anger and fear – to really delve in and understand how they manifest and function in an individual.
"The Prison Project uses the Actors' Gang's theatrical techniques to foster self-esteem, empathy and non-violent expression," says Sabra. "This work aims to unlock human potential in the interest of effective rehabilitation."
One of her project participants, Israel Guillen, shared, "This class really gives the tools to change. Myself, I've been wanting to change for a while and a lot of guys in here want to change, but we don't have the tools."
It's like we are standing on the ground wanting to find a way to get up on the roof and then here you guys come with a ladder."
– Israel Guillen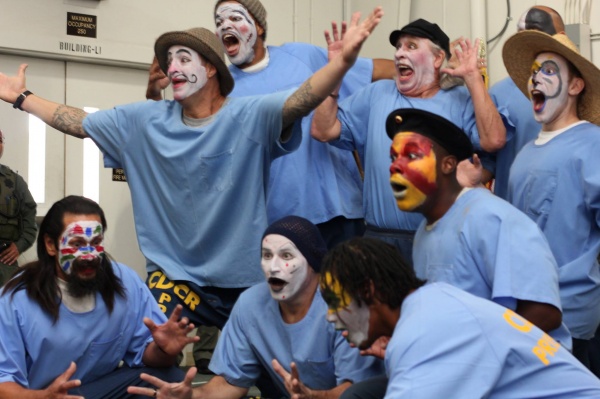 Artistic influence in modern culture
In today's society, she notes, art is often considered a pastime for the rich. A cultural commodity exchanged solely between those who can afford to do so, and who have the leisure time to do so. Sabra wishes to change this view of art meshed with commodity, however.
"The arts can touch a part of life that nothing else can."
In a conversation over dinner with Sabra, she elaborated on the idea that anger is a negative or "bad" emotion. What we don't do enough is channel that anger and outrage into passion with which we can change and create value out of things we might have seen as valueless before.
A strong supporter of arts in education, Sabra believes the arts provide a different way to learn, especially for those who struggle with the conventional methods of learning and teaching in many public schools today. If art is not required as a subject, she notes, only artists will seek art as an elective, thus beginning the distance that most of society, especially incarcerated individuals feel from the arts as a whole.
Prison reform and social justice
When asked what the biggest issue with our current prison system today, Sabra responded quickly and passionately.
"We've got to stop incarcerating our children. It's just a sin. It's evil. They are in prison for our failures, not theirs. We failed them. It's our society's mistakes."
She discussed the cycle that is prevalent today, in which young women will be incarcerated, not learn anything of value to help with their current situation, have children who will then also be incarcerated because they too lack the education and skills necessary to make it in society. Above everything, she noted, we need reform.
"We teach these individuals to be able to take responsibility by starting to see themselves through the lens of the characters they play, to manage their emotions and to be able to work creatively with others so when they come out they can create value instead of destruction in our communities."
More than 2 million people are incarcerated in the United States. They cannot vote, but we can. 

If you care anything about the kid sitting in juvie or the 2+ million people incarcerated, you better go vote. I believe we can do better, and we must do better.




(Sabra Williams)

Where to go from here
In front of impressionable young students at Gonzaga, Sabra's message really hit home. Her call to action was for us to read "The New Jim Crow," by Michelle Alexander. After a quick Amazon Prime delivery, the book is now sitting on my coffee table, already full of markings and tabs pointing to sections that have piqued my interest.
For now, I can educate myself. I've learned that you don't have to be a front-runner of a massive social movement to make change. You can make change simply be informing yourself on issues and making sure you vote, especially on pressing issues like prison reform. So I'll keep reading. I'll keep having challenging conversations with my friends. I'll remain open to learning and understanding the world from a different lens, from a different viewpoint. And I'll never give up the fight for equality and justice for every human being.