By Eli Francovich ('15)
Father Greg Boyle's (S.J.) 2015 commencement speech was not easy to listen to. Not because he's not funny. He is. Not because he's boring. He isn't. Not because he doesn't have something important to say.
He does.
It was difficult because he demanded that we assembled graduates think beyond ourselves. On a day that is, for most, the single biggest achievement of our lives thus far, he said, so what? Instead of reveling in the present success, he demanded we look toward future service.
"It's appropriate, I think, actually to brace yourself, because what Martin Luther King says about your time at church is the same as Gonzaga: it's not the place you come to, it's the place you go from, and you go from here hoping to make the world look different than it currently looks," Boyle said.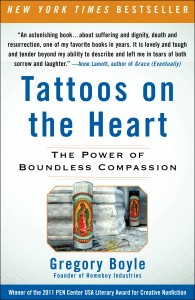 That message resonated with Helen Reinecke ['15]. Twice during her four years at Gonzaga Reinecke traveled to Boyle's Homeboy Industries in Los Angeles through the university's Comprehensive Leadership Program. She also attended his lecture at Gonzaga as a freshman, and read his book Tattoos on the Heart the summer before she attended. Now that she's graduated Reinecke is enrolling in Loyola Marymount University's PLACE Corps. While working toward a master in education she will teach in underserved Catholic schools in Los Angeles. Her decision was influenced by Boyle's example.
For her, Boyle personifies the Jesuit ideal of men and women for others. When she visited as a sophomore they didn't "do" anything. Instead they spent time with the "homies," the former gang members now employed at Homeboy Industries.
"I think that's when I really understood the idea of men and women for others," Reinecke says. "We weren't going down there to do something tangible. We were going down there to talk with people and get to know them as people."
The ability to be present with others, to serve and love the stranger we've been taught to hate, that's why Boyle didn't mention the success of graduating college. Because he's not interested in that – instead he's interested in how we use the skills and knowledge we have to make the world a better place.
"I loved that he didn't speak about us graduating," Reinecke says. "We're graduating from this place, and it's awesome, it's great. We've put in a lot of work. Yada, yada. But at the end of the day it's not the point. It's not where it ends. That shouldn't be the story."
It's not easy to hear that on the day of our biggest success. But it's vital we do. Otherwise, what's the point?