A collection of encounters and memories from the gathering of ZagNation in Las Vegas for the 2016 West Coast Conference Championship
Always Winners, Even When We Lose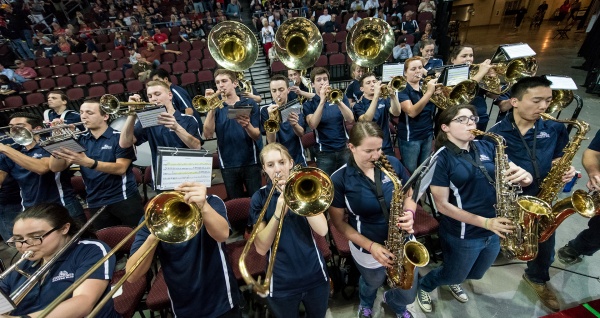 On the first night of the WCC Championship, the Women's basketball team members played their hearts out against Santa Clara – a game in which both teams refused to let the other get more than a 5-point lead, a game that ended with only a 1-point win for our rivals.
Our women were noticeably frustrated with the loss, which ended their short stint in the WCC tourney. And their courtside companions – the members of the cheer squad and Bulldog Band – felt just as bad.  They wouldn't show that, however, even when face to face with smiling, winning opponents.
As band members from both schools carried their instruments back to a common room they shared for equipment storage, there were no news crews to capture their reactions.  But someone did witness the quiet action of a band member, who, despite feeling dejected by the loss, stood and graciously held the door open for members of the opposing team's band.
That famous door-holding courtesy the Gonzaga community experiences daily on its own turf continued even in the bowels of Orleans Arena where competitors fought for a title.
#BelieveinZags.
Coach Few:  "All's Well in Zagville"
In post-game interviews with the media, Coach Mark Few and two players took questions from reporters.  Here are some thoughts they shared.
On beating BYU: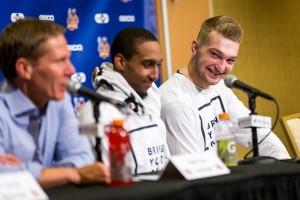 "Both teams were fighting for our lives," shared Kyle Wiltjer, senior forward. "Hats off to BYU – they are a great team.  It was one of the hardest games we've played."
On this year's Zags:
"These guys love to compete. They've shown that this whole year," shared Coach Mark Few.  "When Przemek [Karnowski] went down December first, we had a long road ahead.  And yet these guys have been the most resilient team I have ever seen.  We've not had a bad game yet this year and I know not many teams in American can say that."
On losing to St. Mary's at home, and then claiming victory in Vegas:
"At that home game, we lost by 3, but it felt like 20," remembered Eric McClellan, senior guard.  "In the last month, we've been paying attention to scout reports and being teachable.  When we do that, we put ourselves in a pretty good place to win."
"They took it to heart," added Coach Few.  "For a while, it was hard to take coaching – they took it personally.  But, they grew up.  They learned not to take it personally.  Never could I be more proud of a team."
"All's well in Zagville," he said.
 Coach Few, on looking forward to the NCAA:
"If I were one of those 1 seed or 2 seed teams and saw myself up against GU, I wouldn't sleep for a week."
A Very Merry Zag Wedding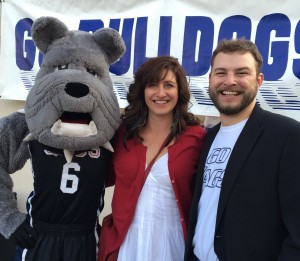 Jessica Smith and Garrett Frey ('08) were already engaged to be married when they arrived in Vegas for the WCC.  They'd planned a large wedding ceremony for September when they found a home to buy and learned that the process of closing on the house would be easier if they were already married.  So, what better place and time than in Vegas surrounded by friends and fellow Zag fans at the WCC tournament?
Jess and Garrett asked Zag fan Mark Khole to be their officiant, then secured a marriage license in Vegas. Just before the 6 p.m. championship game, Jessica and Garrett exchanged vows, then celebrated with the crowd gathered for the pre-game social.
Garrett works as a mechanical engineer for a major construction company in Portland and Jessica is using her entrepreneurial education making and marketing cast tattoos.

Not "GonZAHga" Here
Wendy Knopp ('82) pictured with husband Lowry, was shopping at an outlet mall in Vegas when a store clerk saw her Gonzaga shirt and said, "Go Zags!"  Naturally, Wendy inquired about the connection and the clerk said there had been so many Zag fans in the store that she decided to learn everything she could about the team.  She knew we had another 20-win season, were league co-champions, and that we'd be facing BYU that night.  The encounter left Wendy thinking how incredible it is that a city the size of Vegas notices when Gonzaga is there.
For One and All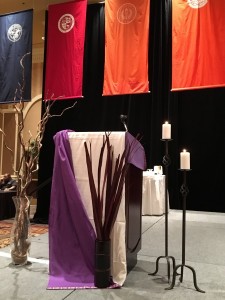 Gonzaga has had a longstanding tradition of offering a Mass on the Sunday during the tournament, continuing its commitment to the faith formation of Zags long beyond graduation.  In recent years, Gonzaga has expanded it to include guests attending from any of the schools in our conference, and the WCC itself now helps to organize the effort.
The same Orleans Hotel room that had sported buffets, Zag merchandise and the energy of cheerleaders, band members and fans gathering for a pre-game social was now a sanctuary, tastefully decorated for the celebration of Mass.  While the majority of attendees represented the GU family, most of the WCC schools were represented to some degree, and all were delighted and challenged by the message of Father Pat Conroy, S.J., a 1977 Gonzaga alum who serves as the chaplain for the U.S. House of Representatives.
He jokingly referred to the Bible's reference to Jesus being with tax collectors and sinners and connected that to the role he now plays in the federal government.  He also said that when people ask him what it's like to be chaplain of one of the most reviled congregations in the U.S., 'I say, 'Well, I did have a little experience.  I was chaplain at San Quentin State Prison."
The audience roared as Father Conroy continued to joke about the nature of his work.  But when he was finished, those who listened also had to admit they were convicted.  After all, Father had painted a picture of politicians that we often don't consider – the time they spend away from their families when Congress is in session, for example.
It was a reminder of the Jesuit ethos to assume the best, and to find God in all things.  Even politics.
An NCAA Basketball Beginning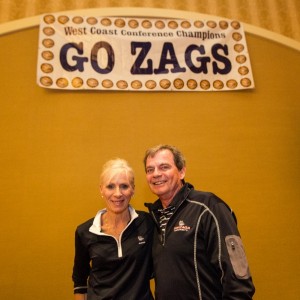 "Our story with Gonzaga started with the basketball team in 1999," says Henry Kornegay.
His son, Kaine, had received a letter from Gonzaga, saying his application fee would be waived.  Initially, Kaine wasn't even planning on applying to Gonzaga, but dad had other ideas.  The free application was a start, but he would need something bigger to interest his son.  Fortunately, 1999 was the year the Zags made it to the NCAA tournament's Elite Eight, and their Sweet 16 game against Florida just happened to be taking place in Phoenix where the Kornegays were already scheduled to travel for business.
Henry remembers it well: the shocked response he received when he called to see if Gonzaga actually had any unclaimed tickets for that game.  On a whim, he called Florida's ticket office, which said they had about 300 tickets no one was using.
And thus began a memorable journey for the whole Kornegay family of Coeur d'Alene.  Kaine graduated in 2003, followed by Henry in 2013 and Claire in 2014.
Now, says mom, Beth, they're working on bringing neighbors and friends into the fold.
Have a ZagNation story to share?  Email editor@gonzaga.edu
To see our photo galleries, visit these pages:
WCC Championship game vs. St. Mary's
WCC Games (men's and women's)
WCC Alumni socials