By Dale Goodwin ('86)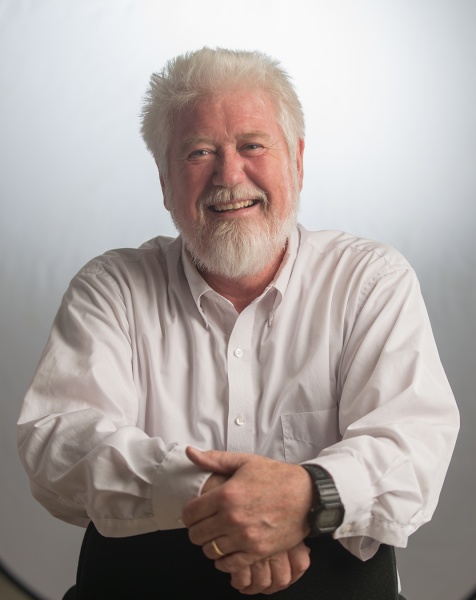 Mike Herzog first set foot on Gonzaga's campus as a youngster in 1958. Boone Avenue divided the Administration Building from the neighborhood to the north. McGoldrick's Lumber Company bordered campus to the south. When Herzog arrived as a freshman in 1962, he found most classes were taught by Jesuit priests, who occasionally had to stop classes to allow for the rumble from Great Northern trains to subside as tracks crossed just southwest of Jesuit House.
Having graduated from GU in 1966, he returned in 1970 as one of 16 "young turkeys," as veteran Gonzaga Professor Tom Rukavina used to call a new breed of university faculty that arrived that fall. Gonzaga was on fragile ground – money was in short supply, partly from a campus building boom in the 1960s that wasn't fully funded, President Richard Twohy took the driver's seat (rather unprepared), and laymen took seats on the Board of Trustees for the first time.
Herzog retired last fall after serving 45 years as English professor, soccer coach, administrator and most recently as chief of staff for the president. He shares reflections on the past half-century here.
Best Herzog Memories
Faculty recall Mike's tenacity in support of faculty initiatives such as the creation of the Center for Teaching and Advising, faculty-driven Core Curriculum revision, effective evaluation of teaching, and bridge-building with the administration and GU's governing boards.
Then-interim Academic Vice President Thayne McCulloh first persuaded Herzog to help him connect better and more collaboratively with faculty, and Herzog carried that effort into McCulloh's presidency.
"Dr. Herzog's dedication and loyalty to Gonzaga spans more than 50 years, as a student, professor and administrator. His door has always been open to mentor a student or meet with a colleague," says McCulloh.
"All you have to do is watch Mike to learn how to be a leader," says Associate Arts and Sciences Dean and English Professor Patricia Terry. "First, you have to care deeply about people. Then, you use both critical and creative thinking to solve problems. And you find the smartest, most capable people you can to work on the issues with you. He's a leader many faculty have turned to for advice."
50 Years of Change
"My first few years here we were trying to figure out how to strengthen academic majors without losing that rich humanistic curricular training," Herzog recalls. As a student, he had only two female professors. Herzog played his part in hiring more women. "The next step in this progression is to be more representative than we are with various minority faculty colleagues," he says.
Herzog recalls other notable changes in the last 50 years, in many of which he played a role:
• Moving from the assumption that everyone understood what it means to be our kind of university, to an intentional effort to educate everyone about what makes us distinct
• The decision to allow the president, academic vice president and dean of the College of Arts and Sciences to be lay people
• Addition of female administrators
• Inclusion of students on university committees, giving them empowerment
• Being more cosmopolitan in recruiting, programmatic expansion, thinking bigger, playing in a larger athletic arena, and becoming more global
• "President McCulloh thinking bigger, imagining the John J. Hemmingson Center as more than just a student center. This is an example of students, faculty, staff and administrators all having a say in what we created, and is symbolic of what we are trying to be, a truly collaborative place," Herzog says.
• The 2014 Opus Prize endeavor exposing Gonzaga students, colleagues and this community to the good that's happening all over the world.
50 Years of Character
No recap of the past 50 years would be complete without Herzog's insight into a few of Gonzaga's "characters" through the years: "Dan Brajcich's joy in goading good friend Rukavina, seeing Bud Barnes go from novice teacher to such a successful fundraiser, Jane Rinehart refusing to be intimidated by anyone in power, Betsy Downey teaching her male colleagues that a woman can be an effective leader, Jim Vache making sure the law faculty were engaged with the larger institution, Father Frank Costello standing up for his junior lay colleagues, Tony Wadden spewing ideas and outrageous jokes, Father Pat Carroll living life with enthusiasm and joy, Pat Twohy and Don Hackney creating the Rancid Band to produce bad rock and roll, and Franz Schneider producing impromptu eloquent defenses of the liberal arts. He admires and respects many more of his recent colleagues and is awed by the demonstration of the deep commitment to mission in our (non-teaching) staff's everyday work.
"Gonzaga has been, and is, a wonderful place," Herzog continues. "I have never felt better about its willingness and ability to be the kind of place it aspires to be. Under President McCulloh's leadership, it is turning more and more into an institution that can be truly proud of what it has accomplished and ever more certain that it can achieve everything it values and sets out to do."