By Corey Tanaka, '16, Commencement Speaker
Wow, here we are, Class of 2016. Throughout our time at Gonzaga, we have learned so much. We've learned things about equations, philosophical theories and how long pizza actually stays good for.
For four years we have shed our blood, sweat and tears to earn the right to be known as college graduates. Although I have learned so much from this amazing place, the most valuable lessons I have learned are about time. Every year, I found myself with a new realization about time, and I would like to share them with you today.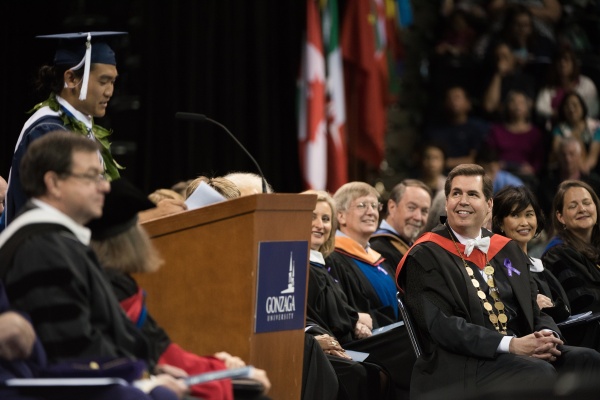 In my freshman year, I learned the importance of showing up on time. Classes have scheduled times of when to start and professors will not wait for you. I've missed out on lectures and inside jokes because I showed up late or didn't show up at all. Just like classes, life is going to happen, with or without you, so make sure you show up on time because you don't want to miss out on something great.
In my sophomore year, I realized that it is okay to lose track of time. Some of the best memories I have of Gonzaga took place on the creaky, metal futon that Neal J. and I owned in our concrete suite in Dooley. Armed with a takeout plate of Panda Express, Xbox and NBA 2k13, Neal and I would spend hours in Dooley playing video games, singing and napping. I found happiness in the simplicity of losing track of time with a good friend and some subpar Chinese food.
I was also enrolled in a computer engineering class where we had to program a functioning digital clock that could be reset using binary logic. I did not think that programming a clock would be that difficult, but my lab partner and I spent days in the lab trying to figure out the different lines of code that we would need to make it work. Although we didn't plan to spend so many hours in the lab, we did what was necessary to get our project finished. Lose track of time doing what needs to be done. Be flexible in your schedules and plans, and be comfortable losing track of time.
In my junior year, I was forced to realize how precious time is. In October, my mother was diagnosed with breast cancer and this devastated our family. We were faced with the reality of running out of time. In speaking with my mom over the phone, I could tell that she was tired. Tired of being sick, tired of feeling helpless, and tired of having to fight for every little thing in life. There wasn't much I could do to help her, but I knew that having her son home for Christmas would cheer her up a little.
I surprised my mom by being home on Christmas Day, and I will never forget the huge smile on her face as I walked through the door. Those few days I was home with my family meant so much to us. We didn't do anything fantastic or out-of-the-ordinary, we just enjoyed each other's company and spent time with each other.
During this year, our final year, I have had to learn when is the right time to say goodbye. In the past months, I have had to say goodbye to loved ones who are in a better place now. I've had to part ways with people who needed time to grow on their own. I wasn't ready to say goodbye to these people who meant so much to me, but I realize that those goodbyes had to happen.
Now, I stand here, in front of all of you – 1,200 Zags that have gone through this amazing journey together, and I wonder when I will have to say goodbye to you all. Do I say goodbye right now? Right here on the stage? Do I say goodbye outside after this? We'll be giving each other hugs and probably crying. That seems like a reasonable place to say goodbye, but I don't think we'll say it there because we'll meet up at the after party. So when do we say goodbye?
People say that "There's never a right time to say goodbye," but as Zags, there just is no need.
We have gone through too much together to leave each other's lives. We've screamed in The Kennel with Dippin' Dots. We've fought on the field of battle – the intramural field of battle. We've shared 16 spicy wings from Iggy's at 1 in the morning, but most importantly, we have grown into men and women for and with others together.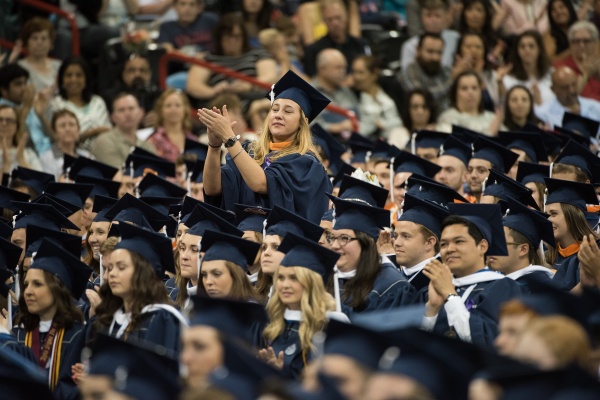 The friends you have here sitting beside you and the squads you have made will never leave you.
Among Zags, there are no goodbyes. For now, we'll say "until next time."
So, Class of 2016, I wish you all of the happiness and success as you move on into the next phase of your life.
Until next time.