By Sarah Schwering, '04 '07
Quiet. So quiet.
I arrived early on that sunny Saturday to St. Aloysius Catholic Church. Murmurings from musicians, staff members, a Jesuit or two, barely filled the air. Silence before the noise. Quiet before the collective jubilation.
I sat. Sat silent. In a pew that would be filled by friends and family members of the soon-to-be ordained individuals. Seven men who chose to give their lives to the church. To follow their dream of serving as part of the Society of Jesus. Ordinates, as they are called, who, after that day, would find new communities and guide parishioners in their own journeys.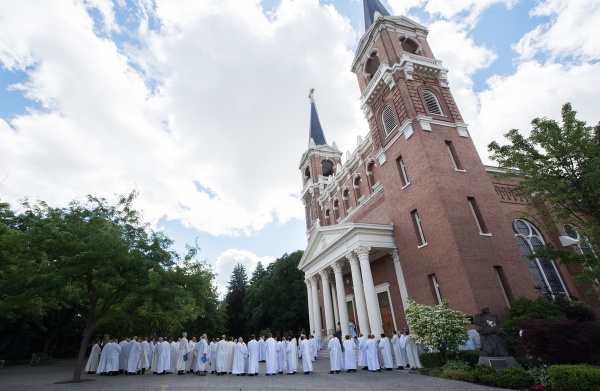 Since first setting foot on Gonzaga's campus as a student in 2000, I have felt wholeheartedly the difference between receiving a college degree and receiving a Jesuit education. The Jesuits teach the art of reflection: only when we look inward toward ourselves can we understand our fellow person. Walking with others, not in front or behind, on their journey. The practice of accompaniment.
Anyone who has had the privilege of working with Jesuits knows firsthand: it is a different way of thinking. A distinctive approach to teaching and to social justice. It's questioning the norms, not settling for the traditional. It's in always searching for better, magis, and doing your part to make fundamental changes happen.
As I sat in that pew, watching these seven men officially become Jesuits, it became abundantly clear to me just how momentous an occasion this was, and how honored I was to witness it firsthand.
These seven men, and the other Ordinates around the world, they are the future of the Society of Jesus.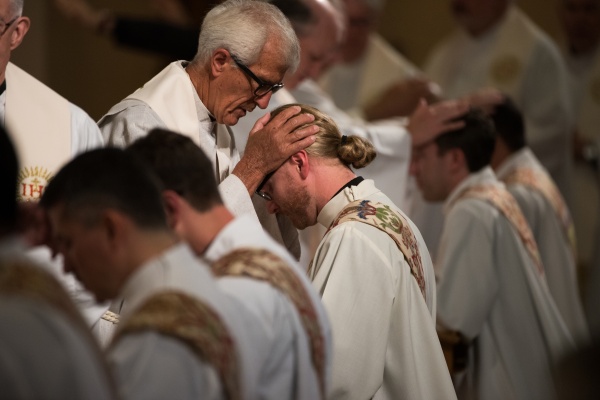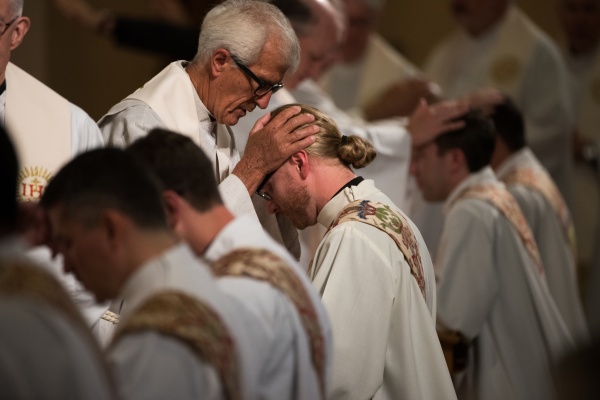 Like any commencement ceremony, there were feelings of immense pride felt by both the Ordinates and their families. But as I watched the men lie prostrate in the center aisle, a feeling of gratitude overwhelmed me. A symbol of the Ordinates' dependence on God and prayers from the Christian community, this physical act of lying down in front of the congregation left me speechless. I could hear a pin drop.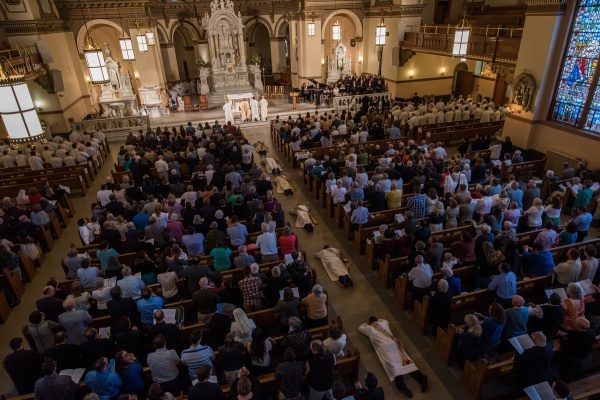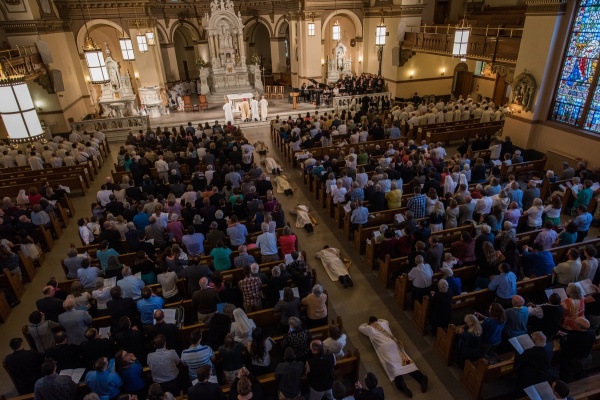 As the day concluded and I arrived back at my car, I was left with thoughts of what I had just experienced. The next generation of Jesuits formally beginning their mission of serving and providing guidance to their communities. I do not know exactly where they will go, and what they will do. But what I do know is that they will carry forward a mission that I have been so grateful to experience.
I sat in my car with these thoughts going through my mind. I quieted them to enjoy a moment of reflection, just as the Jesuits taught me to do.
Quiet. So quiet.
(Photos: Rajah Bose and Chris Anderson)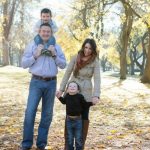 About the Author
Sarah Schwering received her BA from Gonzaga in 2004, followed by an MBA in 2007. Today, she is the Director of Marketing & Communications for the university, and proud mom of two young boys with her husband Tim.
Editor's Note
The declining number of Jesuits is a top-of-mind concern here at Gonzaga University. With concerted efforts and plans underway to build a new Jesuit Residence and provide additional formation programming aligning with our Mission, we are confident that the strides made here will result in welcoming even more individuals into the Jesuit Order. A first step of many needed to maintain a strong Jesuit presence on our campus. You can learn more at www.gonzagawill.com.