Larry Perkins and Valerie Shayman receive the 2016 Outstanding Service in Support of Mission Awards
By Dale Goodwin ('86)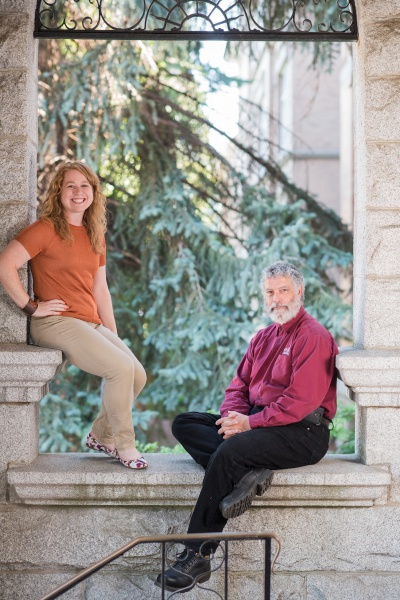 Long-sleeved shirts and black jeans are his sartorial selection. She has a hard time dressing down on casual Fridays.
He'd give that long-sleeved shirt off his back to help anyone in need. She asks "How you doing," and always listens to your answer.
Larry Perkins, Gonzaga's data network manager, and Valerie Shayman, student academic adviser, are exemplifying the Jesuit ideals of magis, doing the more; and cura personalis, care for each individual. They are Gonzaga.
The pair was recognized recently for its service to others with the Staff Assembly's Outstanding Service in Support of Mission Awards. And one would be hard-pressed to find two better examples of people living our mission.
Perkins' start at Gonzaga was originally slated for May 19, 1980, but a little volcano erupted across the state just the day before, and his start was pushed back two weeks until the ash settled. He lives out of town, and on more than a few occasions has driven in at 3 a.m. to get the computer network back up and running so that everything was normal when the rest of us arrived. And he wouldn't change a thing.
"I've been told I'm 'lucky' to be at Gonzaga; I am not lucky; I am blest (archaic form of "blessed" intentionally chosen by Perkins). Luck describes momentary outcomes – your pizza lands face-up on the carpet. Blessings endure. They comprise circumstances which deepen your faith and strengthen your relationship with God – even when your pizza lands face down," Perkins told the audience of coworkers at the Spring Staff Assembly when he received his award.
"I am blest because I work in a space where "G-O-D" is not a four-letter word; I am blest because my colleagues are good people striving to do good things for other people; I am blest to be part of our faithful community. I am blest to be at Gonzaga." (*
Shayman moved to Spokane from 3,000 miles away in January 2014, sight unseen, to accept a job as case manager in the Center for Cura Personalis. She didn't know a soul, but she trusted her instinct to come to a place that was caring for each individual the way Gonzaga does.
Her experience included emotionally exhaustive work at Virginia Tech as a graduate assistant, working with the provost and the U.S. Department of Education to help individuals and families recover from the devastation of the mass shooting there, April 16, 2007, that resulted in 32 deaths. That helped her discover her passion for helping others in crisis.
"I didn't know what I was getting myself into," Shayman said. "I thought I'd be helping with menial tasks. But it was far more than that, far more rewarding helping others, and it truly changed my life."
True Zags, both of these fine people, at opposite ends of their careers.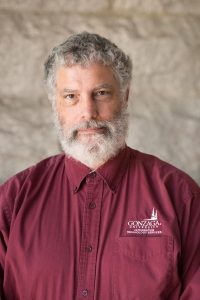 One colleague wrote about Perkins: "Larry has been an amazing teacher, role model, listener and mentor to so many colleagues throughout the years. He embodies the University Mission in all that he does."
But another thing those around the University may not know is that Perkins is the perpetual pun master. "He can pun with the very best of them," said Peter Hanlon, longtime IT colleague. "Nothing is more enjoyable or disruptive to a meeting than to play off of Larry with puns. For years we have had pun contests, which I always lose. The ones that always happen the fastest pertain to electricity. I might say something about voltage, and he'd say how shocking that is. We'd go on and on. It's amazing what he'll dig up, on any subject."
Shayman's colleague, Kevin Rounslee, said Valerie likes to meet as many undergraduate students as she can. "She loves helping students who might be on academic probation or going through life crisis. She also talks with students struggling to pick a career path, and helps them find an appropriate major. Often she gets the most challenging cases because of her experience in crisis management."
Her steady manner helps calm students, and keeps them focused on the next positive steps they can take. She's great about following up with students to see how they're doing after she has sent them on their way. "She's not done when the student leaves the office," Rounslee said.
More about Perkins
You see Perkins in the hallways or on campus and say hello, and you get his 'Hidy ho' right back, reminiscent of Wilson, Tim the Toolman Taylor's next door neighbor in the Tool Time sitcom. Perkins is described by more than a few of his colleagues as one of the most giving and kind individuals that they've ever met. "It's amazing how far out of his way he'll go to help you with something," colleague Peter Hanlon said.
Then Hanlon quipped: "OK, I'm done being nice. He looks like he just came out of the woods, and he hasn't heard the war ended 25 years ago. He's got a gnarly beard and dresses like a model for Big R," Hanlon said.
While quite worldly, Perkins did grow up on his family farm outside of Orville, Washington, but don't ever accuse Larry of living in the city. He's a proud country boy.
He also is a longtime volunteer scoutmaster, and is first to Facebook the honor bestowed upon all his new Eagle Scouts.
In the end, he probably knows more about our campus than anyone except maybe Director of Plant and Construction Services Ken Sammons. Perkins has been over or under nearly every inch of this campus stringing cable for Gonzaga's data network.
More about Shayman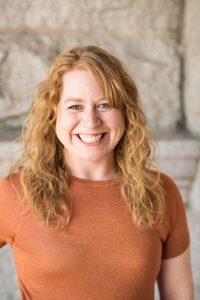 One of Shayman's favorite pastimes is serving as adviser to Gonzaga's Bomb Squad dance team, which performs at several basketball games and for special events.
"As adviser to the Bomb Squad, my dancers fill me with so much joy. My work sometimes involves dark days and my bombies are my light.  We're a close family and I am lucky to be a part of their lives every day," Shayman said.
There is something neat and welcoming about Shayman.
"She is always in a good mood, and puts others in a good mood, too," Rounslee said. To meet her, it's obvious why she is an all-star in the Center for Student Academic Success.
Valerie had set out to be a television reporter, earning her undergraduate degree in broadcasting. But her next move to Virginia Tech, and her experience helping others there, helped define the path she wanted to take. Much of her work included proactive efforts to avoid future such attacks, and here at Gonzaga she is a subject-matter expert for Gonzaga's Behavioral Intervention Team, which works to assess, intervene and prevent violence in our community.
At Gonzaga she is pursuing her doctorate in leadership studies, writing her dissertation on the impact of vicarious trauma in threat-assessment professionals in higher education.
"I'm a southerner, not Catholic, didn't know anyone coming in, but I have never felt like I fit better anywhere else in my life than I do right here. From day one I have been embraced by my colleagues and students. I don't take that for granted. Everyone wants to feel like they matter, and I have felt that every day."
"I love that I get to come to work every day and give people hope," Shayman said. "I work with students when they feel like they're at their worst, and I reassure them that they are not in this alone, together we can face the task ahead of them. It is a privilege to do this work."
Perkins blest to be here, Shayman privileged to call Gonzaga home. Two people who have experienced the long and the short of the Gonzaga experience, and yet both truly committed to the mission, and feeling gratitude for the relationships and ideals they have formed here.